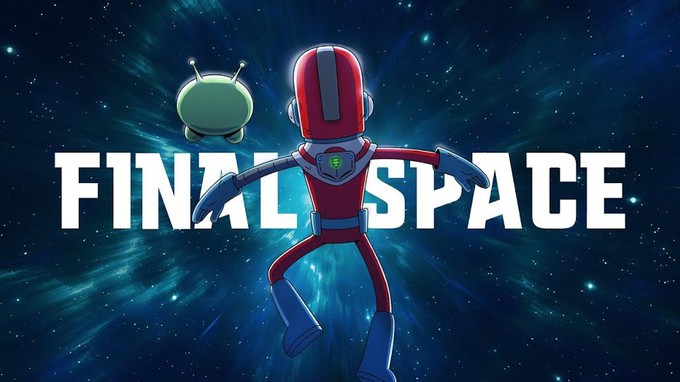 Good morning geeks!!
I am a growing fan of TBS's programming since they first picked up Conan O'Brien after that whole fiasco with NBC: "Hey you're taking Jay Leno's place on the Tonight Show, just kidding, you're in the exact same time slot and Leno is playing in front of you again. LOL". (I was with Coco). I also enjoyed from TBS more recently the first two seasons of "People of Earth". They also rescued "American Dad" from complete cancellation (not much of a fan of it anymore, but it definitely becomes superior to "Family Guy"). Now they are bringing us the original TV series "FINAL SPACE"!
"An astronaut named Gary and his planet-destroying sidekick called Mooncake embark on serialized journeys through space in order to unlock the mystery of where the universe actually ends and if it actually does exist."
At first glance, the art style and setting seem pretty clearly aimed at "Rick and Morty" fans, and ya know what, I don't have a problem with that. Take a look at the trailer to see what I mean. This series appears more story-driven and not bent on antagonizing the audience like "Rick and Morty", where we will be given a sympathetic backstory for the main character only to have it taken away at the end of the episode. Dan Harmon, that rascal.
Speaking of Conan O'Brien, he is actually producing "FINAL SPACE". O'Brien is also a former writer and producer for the original first seasons of "The Simpsons". Any "Simpsons" fan I have met will tell you that those are the better episodes. Olan Rogers and David Sacks are writers and executive producers for this TBS original.
Some big names are attached to the cast: Fred Armisen ("Portlandia"), Keith David, John DiMaggio ("Futurama", "Adventure Time"), Conan O'Brien himself, Ron Perlman, Andy Richter, David Tennant, and Steve Yeun ("Walking Dead").
"FINAL SPACE" is looking very promising, and I can't wait to watch the first episode! But for now, here's another promo for the series you may have missed that came out back in December.
Catch "FINAL SPACE" on TBS February 26th!
~Big Eyes