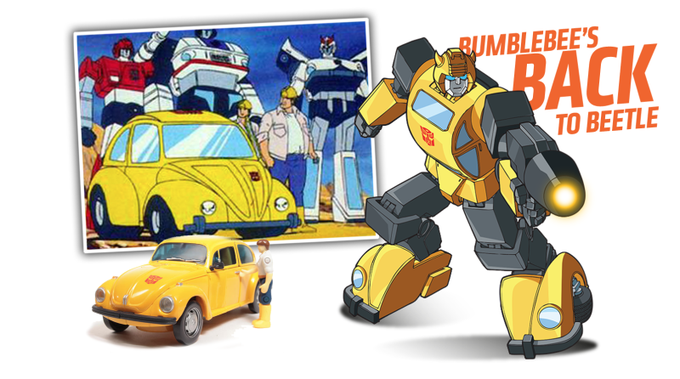 Hola Dannie aqui,
Ok, folks, this project has me hopeful for the first time in years that we may get a Transformers film that does not suck total ass. How can this be? Well, not only are they returning Bumblebee to his original slug bug glory but praise be to all the gods and goddesses Michael Bay is not directing! Transformer geeks assemble the new film entitled "BUMBLEBEE" is going to be handled by some very talented folks. Let us start off with the bad ass director taking the helm Travis Knight who we all remember from his directorial work on the emotionally poignant "KUBO AND THE TWO STRINGS," to his work as an animator on the "THE BOXTROLLS," the terrifyingly delightful "CORALINE" and "PARANORMAN." This has me very hopeful that the "BUMBLEBEE" movie will have a soul and astonishing effects!
More good news, cast as the lead and Bumblebee's human counterpart is the amazing actress Hailee Steinfeld many may recognize from her work on the films "TRUE GRIT," "EDGE OF SEVENTEEN," "PITCH PERFECT 2 & 3" and "TERM LIFE." Joining heron the film are Pamela Adlon from "BETTER THINGS," and the now banned "LOUIE", WWE's John Cena from "DADDY'S HOME 2," "TRAINWRECK," and "12 ROUNDS", Stephen Schneider from Comedy Central's hilariously raunchy "BROAD CITY", Jorge Lendeborg Jr. you may remember from "SPIDER-MAN: HOMECOMING", Jason Drucker "DIARY OF A WIMPY KID: THE LONG HAUL", Kenneth Choi from "AMERICAN CRIME STORY", Ricardo Hoyos who was in "DEGRASSI: NEXT CLASS", Abby Quinn from "LANDLINE," and "THE SISTERHOOD OF THE NIGHT", Rachel Crow from "DEIDRA & LANEY ROB A TRAIN", and Grace Dzienny from the show "ZOO".
Now I know the addition of John Cena may have many dismissing this film already, however, I have faith in the director and the writer Christina Hodson who wrote "UNFORGETTABLE" which was in my opinion very "Blah" and "SHUT IN" which I really enjoyed. So here is hoping that Travis Knight and her work well together!
With no further adieu here is the new picture of a retro rad Bumblebee and the lovely Hailee Steinfeld!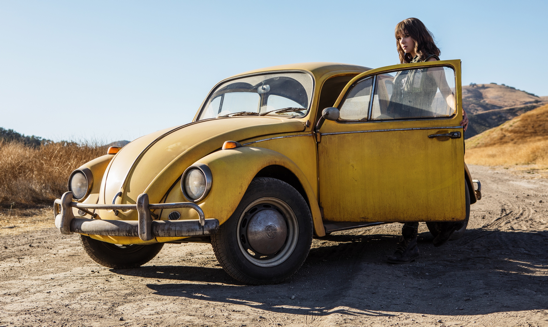 Hailee Steinfeld in BUMBLEBEE, from Paramount Pictures. Photo Credit: Jaimie Trueblood © 2018 Paramount Pictures.
All Rights Reserved. HASBRO, TRANSFORMERS, and all related characters are trademarks of Hasbro. © 2018 Hasbro. All Rights Reserved.
The Synapsis supplied to us by Paramount Pictures:
"On the run in the year 1987, Bumblebee finds refuge in a junkyard in a small Californian beach town. Charlie (Hailee Steinfeld), on the cusp of turning 18 and trying to find her place in the world, discovers Bumblebee, battle-scarred and broken. When Charlie revives him, she quickly learns this is no ordinary, yellow VW bug."
Sounds like the studio is banking on capitalizing on the eighties, this is smart as long as it is handled carefully, you know like an "Atomic Blonde-Transformer" movie would be my 80's alternated timeline fantasy! BUMBLEBEE is produced by "TRANSFORMERS" franchise veterans Lorenzo di Bonaventura and eeewww please stay away, Michael Bay! Along with executive producers Steven Spielberg, Brian Goldner and Mark Vahradian. Chris Brigham who worked on "ARGO," and "INCEPTION" will also executive produce.
BUMBLEBEE WILL BE RELEASED IN THEATERS NATIONWIDE ON DECEMBER 21, 2018
#BumblebeeMovie
Stay Strong, Live Good, Love Movies!
Dannie aka Pekosa Peligrosa