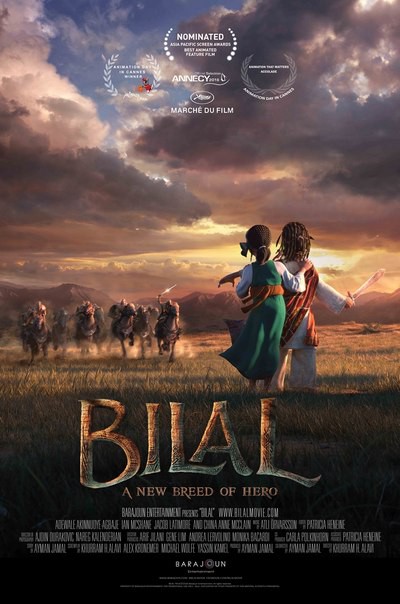 Hola Dannie aqui,
I hope everyone had a Happy Holidays! AICN received a beautiful trailer for the upcoming animated film "Bilal: A New Breed of Hero" set for release in the U.S. on February 2, 2018. The film was written and directed by the dynamic duo of Khurram H. Alavi ("All The Wonders of the Universe" and the currently in pre-production animated film "Mirlo & the Magical Opus coming out in 2019) and Ayman Jamal (Ayman also worked on "All The Wonders of the Universe," "Mirlo & the Magical Opus" and he is working on "Lost in Infinity" which is currently in pre-production as well) helping them pen the project are Michael Wolfe who is making his writing debut with this project, art director/writer Yassin Kamel ("El Alamy" from 2009) and Alexander Kronemer ("The Sultan and the Saint" a documentary).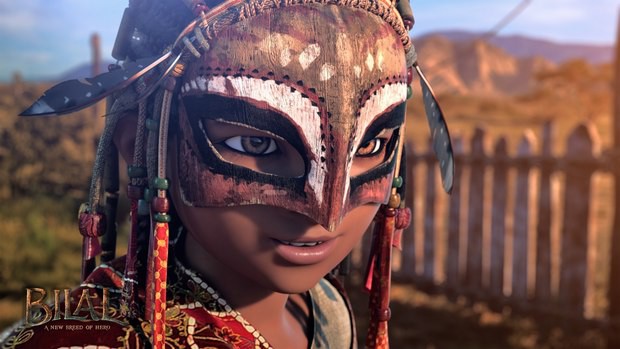 The synopsis supplied by Roger & Cowan describes the film as-
"1,400 years ago, Bilal, a seven-year-old boy, with a dream of becoming a great warrior, is abducted into slavery with his sister and taken to a land far away from his home and thrown into a world where corruption and injustice rule all. Throughout his life he undergoes many hardships, through which he discovers an inner strength he did not realize he possessed. Through these experiences, Bilal comes to realize that if he is brave enough to raise his voice and choose his own path - everything becomes possible. It is through his courage, that he frees himself and ultimately his community; It is through the power of his voice and faith that his lifelong dream of freedom comes true. Bilal grows into a man who will inspire the world."
Check out the trailer and let us know what you all think!
"Bilal: A New Breed Of Hero" stars Adewale Akinnuoye-Agbaje from "Suicide Squad," and "Thor: The Darkworld," as the voice of adult Bilal. Actor and all around bad ass Ian McShane "American Gods," "John Wick: 2," "Pirates of the Caribbean: On Stranger Tides," and my favorite HBO show "Deadwood" Ian is the voice of Umayya, Bilal's evil master, we all know Ian McShane is a great villain and or anti-hero to some in his prior work, so I am very excited about him! Jacob Latimore who as in the films "Detroit," "Collateral Beauty," and "The Maze Runner" is the voice of teenage Bilal. China Anne McClain who was in "Descendants 2," "Descendants: Wicked World," and "A.N.T. Farm" is voicing Bilal's teenage sister Ghufaira. Cynthia Kaye McWilliams some may know from "Bosch," and/or "Nashville" voices Bilal's mother, Hamama, and Michael Gross we all know from "Tremors," "ER," "The Young and the Restless," and the classic "Family Ties" as Okba the cowardly slave trader. Icelandic composer Atli Örvarsson is challenged with scoring the music for the film you may know his work from 2011's "The Eagle," "The Hitman's Bodyguard" from 2016, "Rams" from 2015 and his many television projects like "NYPD Blue" and "Law and Order" to name a few. The multinational cast and crew are truly coming together to tell the tale of Bilal, I am very interested in this film as it could build and bridge cultural understanding in the youth of our world. The trailer I found gripping and gorgeous I can not wait to review this one!

Stay Strong, Live Good, Love Movies, y Feliz Año Nuevo a Todos!
Dannie aka Pekosa Peligrosa