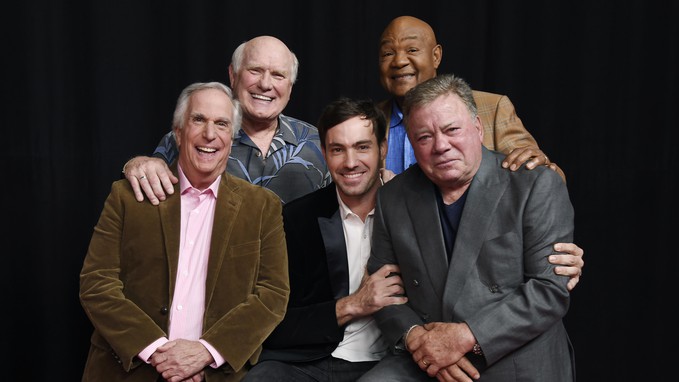 The takeaway from tonight's return of "Better Late Than Never"? For every word George Foreman utters, Terry Bradshaw utters 10,000. By the end of hour one, set entirely in Lithuania (home, we're told, to Canadian William Shatner's ancestors), I was rooting for George's mighty fists to hammer Bradshaw's jaw closed. If you've not seen the series, it's about Shatner and Henry Winkler accompanying a pair of retired gentile athletes on their visits to wildly inauthentic tourist traps around the world.
Premiering or returning tonight:
The Bachelor (ABC) Jan. 1
Better Late Than Never (NBC) Jan. 1
The Gifted (Fox) Jan. 1
Kids Baking Championship (Food) Jan. 1
Love & Hip Hop (VH1) Jan. 1
Lovesick (Netflix) Jan. 1
Lucifer (Fox) Jan. 1
NFL Football Fanatic (USA) Jan. 1
Ridiculous Cakes (Food) Jan. 1
60 Days In (A&E) Jan. 1
Unkitty (CN) Jan. 1
Valor (CW) Jan. 1
The Wall (NBC) Jan. 1
NBC did better with its old Boris Karloff Grinch cartoon than it did with its Jim Carrey Grinch movie.
How excited were American audiences to meet the first female Dr. Who? The big regeneration episode beat the Christmas repeat of Fox's "The Gifted," but lost to The Hallmark Channel's latest episode of "When Calls The Heart."
Mondays, Oct. 30-Dec. 25, 2017
(Adults 18-49; repeats in gray; older weeks in parentheses)
3.5 (3.1) (3.8) (3.5) (2.7) (3.5) (3.0) (3.8) (3.5) NFL Football
1.8 (0.3) (---) (---) (---) (---) (---) (---) (---) NBA Basketball
1.6 (---) (---) (---) (---) (---) (---) (---) (---) Grinch Cartoon
1.3 (---) (---) (---) (---) (---) (---) (---) (---) Grinch Movie
1.2 (1.1) (1.3) (1.5) (0.9) (1.1) (---) (1.0) (1.1) SportsCenter
0.9 (---) (---) (1.2) (---) (---) (---) (1.1) (---) Big Bang Theory
0.8 (0.9) (0.8) (0.9) (0.9) (1.0) (1.1) (0.9) (0.9) WWE Raw
0.7 (1.1) (1.1) (---) (1.2) (1.2) (1.3) (1.2) (1.2) Kevin Can Wait
0.7 (---) (---) (---) (---) (---) (---) (---) (---) Young Sheldon
0.6 (0.8) (0.9) (0.9) (1.0) (0.9) (1.0) (1.1) (1.1) Love & Hip-Hop
0.6 (0.9) (1.0) (1.1) (1.1) (1.0) (1.0) (---) (---) Man With A Plan
0.5 (0.8) (0.9) (---) (0.9) (0.9) (0.8) (0.8) (0.7) Scorpion
0.5 (---) (---) (---) (---) (---) (---) (---) (---) When Calls
0.4 (---) (---) (---) (---) (---) (---) (---) (---) American Dad
0.4 (---) (---) (---) (---) (---) (---) (---) (---) Doctor Who
0.4 (---) (---) (---) (---) (---) (---) (---) (---) Showtime/Apollo
0.3 (0.4) (0.4) (0.4) (0.5) (---) (---) (---) (---) Floribama Shore
0.3 (0.4) (0.8) (0.8) (0.4) (0.9) (1.0) (1.0) (1.1) The Gifted
0.3 (0.4) (0.4) (0.4) (0.5) (0.4) (0.4) (0.4) (---) Holiday Baking
0.3 (---) (---) (---) (---) (---) (---) (---) (---) Jingle Ball
0.3 (0.6) (0.7) (0.7) (0.7) (0.6) (0.6) (0.6) (0.7) Teen Mom
0.2 (---) (---) (---) (---) (---) (---) (---) (---) Whose Line