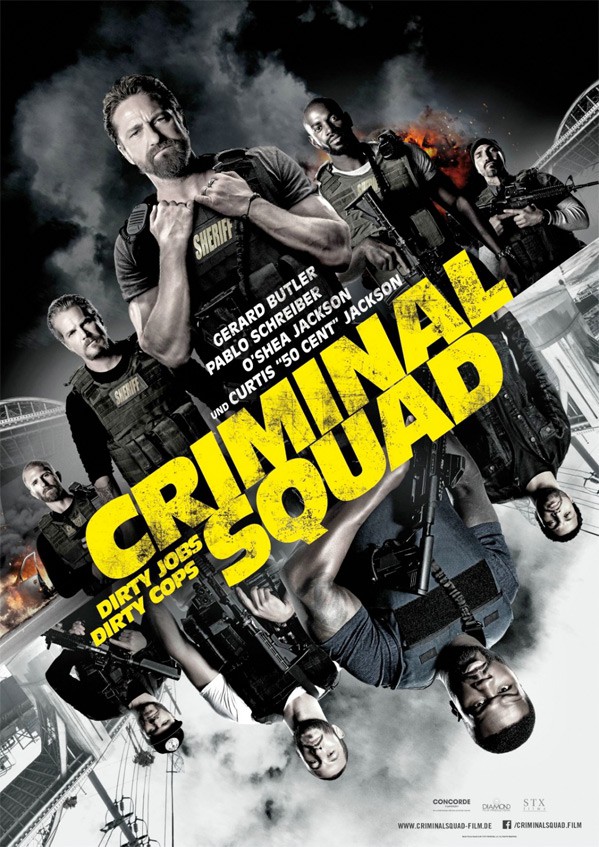 Hola Dannie aqui,
Today STX Entertainment released the final trailer for the film "Den of Thieves" known in Europe under the title "Criminal Squad." This action crime thriller's trailer has me hoping for a film like 1995's "Heat" or even fingers crossed similar to the great film from 1992 "Sneakers" or even the South African bank robbing goodness of 2003's "Stander" which if you have not seen is a genius film based on an enthralling true story! The trailer for "Den of Thieves" portrays the characters as highly professionally organized bank-robbing criminals in a cat and mouse game with the authorities!
The film stars Gerard Butler from "300" and "Phantom of the Opera", the rapper turned actor 50 Cent "Get Rich or Die Trying," Pablo Schreiber "13 Hours" and Netflix's "Orange is the New Black," O'Shea Jackson Jr. "Straight Outta Compton" and "Ingrid Goes West," Sonya Balmores from Marvels "Inhumans," Maurice Compte "End of Watch" and Netflix's "Narcos," Evan Jones "Guardians of the Galaxy 2" and "Jarhead," Brian Van Holt "S.W.A.T." and "Black Hawk Down," Jordan Bridges from televisions "Dawson's Creek" and longtime soap opera star Eric Braeden from "The Young and the Restless" and 1971's cult classic "Escape from the Planet of the Apes."
Making his directorial debut with this film is Christian Gudegast who is a known for his writing on "London Has Fallen," "Pink Panther Mafia," "A Man Apart," "Beyond the City Limits," and the T.V. Movie "Soldier of Fortune." Gudgast penned the script for "Den of Thieves" with fellow writer Paul Scheuring. Gudegast and Scheuring have worked together before on the film "A Man Apart" which did not suck. I am hoping this film will be an edge of the seat bullet filled nail biter!
Check out the trailer below!

The film comes out stateside on January 19th, 2018 so action addicts do not have to long to wait!
Stay Strong, Live Good, Love Movies!
Dannie aka Pekosa Peligrosa