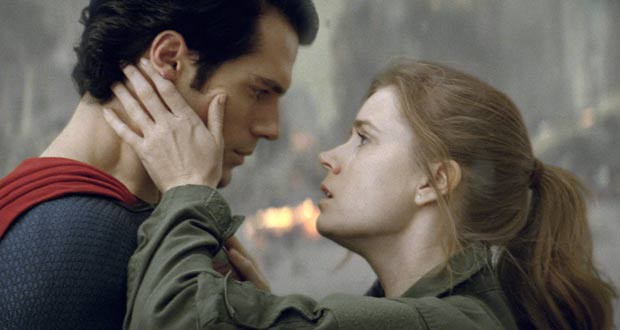 "[Matthew Vaughn] actually phoned me up a few months ago, and he said, 'Hey, listen, DC, they're very interested in me doing Man of Steel 2. Do you want to come in and do this?'" comic-book superstar Mark Millar told a soon-to-air El Fanboy podcast. "And I was like, 'I'm exclusive to Netflix for years. We can't even have that conversation.' And he was like, 'Oh, man. What's the chances of this?' And then he kind of drifted away. And he's attached himself to a couple of things and all that. Y'know so, it's one of those things that might, I mean- if somebody phones Matthew up and offers him enough money it could all change tomorrow."
Vaughn co-wrote and directed "Kick-Ass" and "Kingsman," both based on graphic novels scripted by Millar.
"It was actually a massive, uplifting, hopeful thing," said Millar. "There's no point doing Superman unless you feel good. You should walk out of 'Superman' just feeling like a million dollars. You should feel great after a Superman film. The movie itself was going to be a big, vast fun epic. But Superman's got to be a laugh, as well."
Vaughn last week confirmed that he was in talks with DC, but did not specifically mention a sequel to "Man of Steel."
"I do love the world of DC, and I've been talking to them at the moment about a few things," Vaughn told an IGN UK podcast. "It's more fun getting involved with franchises when they're on the down, because then it's easier to make a good film. So if I got involved with a few of the superhero movies out there that have been disappointing, it's going to be… if I do OK, it'll probably be better."
And DC is arguably "on the down." In terms of worldwide gross, this year's top DC movie, "Wonder Woman" did not do as well as last year's top DC movie, "Batman V Superman." 2017's #2 DC Comics movie, "Justice League," incredibly still trails 2016's #2 DC movie "Suicide Squad."
Top 10 DC Comics Grossers
(worldwide grosses in millions; unadjusted for inflation)
$1084.9 The Dark Knight Rises (2012)
$1003.0 The Dark Knight (2008)
$873.3 Batman v Superman: Dawn of Justice (2016)
$821.9 Wonder Woman (2017)
$745.6 Suicide Squad (2016)
$668.0 Man of Steel (2013)
$636.6 Justice League (2017)
$411.3 Batman (1989)
$391.1 Superman Returns (2006)
$372.7 Batman Begins (2005)
DC product also continues to lag Marvel movies at the box office, with "Spider-Man Homecoming," "Guardians of the Galaxy Vol. 2" and "Thor Ragnarok" emerging as this year's three top superhero films.
Top 10 Marvel Comics Grossers
(worldwide grosses in millions; unadjusted for inflation)
$1518.8 The Avengers (2012)
$1405.4 The Avengers: Age of Ultron (2015)
$1214.8 Iron Man Three (2013)
$1153.3 Captain America: Civil War (2016)
$890.9 Spider-Man 3 (2007)
$880.2 Spider-Man Homecoming (2017)
$863.6 Guardians of the Galaxy Vol. 2 (2017)
$842.4 Thor: Ragnarok (2017)
$821.7 Spider-Man (2002)
$783.8 Spider-Man 2 (2004)
Find all of Steve Seigh's JoBlo exclusive on the matter here.