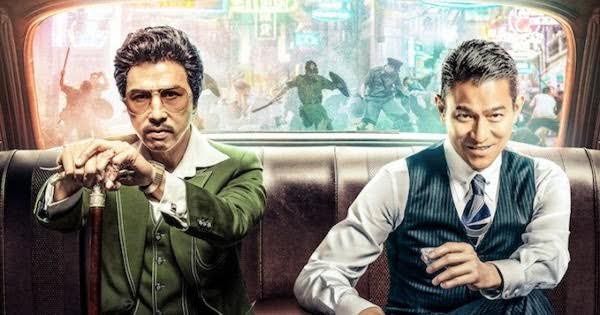 Wheels here,
Donnie Yen (BLADE 2) and Andy Lau (FULLTIME KILLER) are arguably the two biggest stars in Asia and have been for many years. Their film releases are major events in mainland China and Hong Kong. So it was only a matter of time before these two superstars appeared in a film together. The film with that distinct honor is Wong Jing's (GOD OF GAMBLERS) newest film to hit stateside, CHASING THE DRAGON, soon to be released on home video by WellGo USA!
CHASING THE DRAGON tells the dramatized story of real-life Chinese gangster Ng Sek-ho, played by Donnie Yen, who illegally enters Hong Kong in 1963 from mainland China and brutally works his way up the criminal underworld to become a drug kingpin. Andy Lau plays real-life historical police figure Lee Rock, the man who tries to end Ng Sek-ho's violent reign. Interestingly this is Lau's third time playing Lee Rock as he portrayed the policeman in two very popular Hong Kong films in the 90's.
This film is being billed as Donnie Yen's first real foray into non-martial-arts based roles and the word is, from people who have seen the film in its limited US theatrical run, that he does a stellar job in this purely dramatic role. Let's check out the trailer:
That looks very stylish and like a film, any gangster or Asian movie aficionado should have on their radar! I got a heavy Martin Scorsese vibe from that footage as well. I suppose that's only fitting since Scorsese adapted Andy Lau's smash hit INFERNAL AFFAIRS into the equally excellent and very American film, THE DEPARTED.
Look for CHASING THE DRAGON on DVD and Blu-Ray January 23, 2018!
Wheels out!