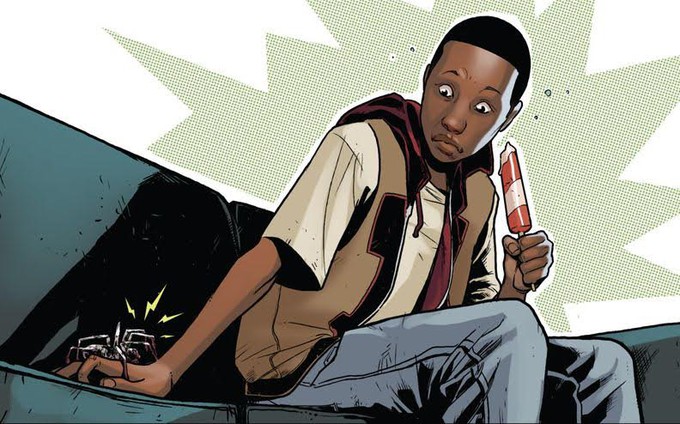 Heya geeks, Big Eyes here bringing you some sweet news in animation!
An elegantly stylized CGI Spider-Man movie coming out next year! Starring not Peter Parker, but Miles Morales in "SPIDER-MAN: INTO THE SPIDER-VERSE".
I knew about Miles as Spider-Man for some time now in the comics, but I didn't actually get around to reading Ultimate Spider-Man until about month ago when my boyfriend decided to just hand me a compilation of Miles' origin story in Ultimate Spider-Man from his collection. What I read was quite and enjoyable and held some of the best reaction faces I had ever seen. I had to stop and appreciate some of them.I wish I could have found some online to share with you all what I'm talking about. In that particular story, we get to see Peter Parker die, but Disney seems to be favoring having multiple spider people in their animations as of late. Plot of the movie is currently still under wraps!
I was worked up by a lot of the stuff I saw in the new trailer, but soon as they reveal his face, I was actually disappointed to see a cartoony Pixar-like face on Miles when everything else was looking so great. I mean there is great comic book style art in the buildings, the framing, and l just felt that Miles' Disney face just doesn't really work with the comic book feel seen in everything else!
This movie has THREE directors: Bob Persichetti ("Puss in Boots"), Peter Ramsey ("Rise of the Guardians"), Rodney Rothman ("Year One"). Hopefully this doesn't spell for too many cooks in the kitchen!
Get ready for "SPIDER-MAN: INTO THE SPIDER-VERSE", coming Christmas 2018. But I want it nooooooooow!
~Big Eyes