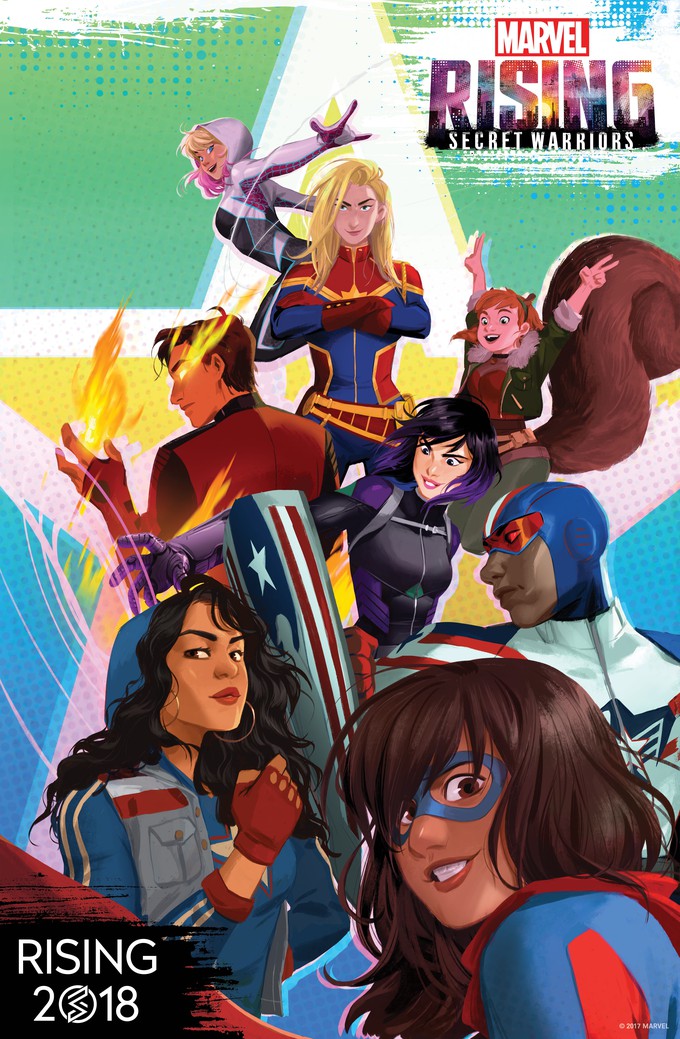 Greetings geeks! It is my pleasure to share this story with you today. A new animated series and a movie and I'm losing it!
Marvel Entertainment has finally unveiled "Marvel Rising", what looks like Marvel's shot at cashing in on their own version of "Teen Titans" or the recently successful "DC Super Hero Girls". Marvel is introducing a whole slew of super heroes to a wider audience in their new ANIMATED series!
Just check out the cast and characters!
Kathleen Khavari – Kamala Khan/Ms. Marvel
Milana Vayntrub – Doreen Green/Squirrel Girl
Dove Cameron -- Gwen Stacy/Ghost Spider
Chloe Bennet – Daisy Johnson/Quake
Kamil McFadden – Rayshaun Lucas/Patriot
Tyler Posey – Dante Pertuz/Inferno
Cierra Ramirez – America Chavez
Dee Bradley Baker – Lockjaw/Tippy Toe
Ming-Na Wen – Hala the Accuser
Booboo Stewart – Victor Kohl/Exile
Kim Raver – Carol Danvers/Captain Marvel
Holy shitballs, you guys! Squirrel Girl! Ghost Spider! Ms. Marvel! By pushing these characters forward and them onto TV, that brings us that much closer to seeing these gals in a LIVE-ACTION movie. So far, Marvel has revealed that they plan to release a six part series of animated shorts featuring these characters, after that there will be a full length animated movie titled "Marvel Rising: Secret Warriors"! Heck, we already have a description for the movie too: "When a threat no one could have expected bears down on the Marvel Universe, this ragtag, untrained band of teens have no choice but to rise together and prove to the world that sometimes the difference between a "hero" and "misfit" is just in the name."
I think it's great that Marvel is striving to bring more strong female leads and diversity out into the superhero mainstream. We have a daughter of Pakistani immigrants, an African American, a LGBT Latina, and so much more!
Animation geekette out!
~Big Eyes