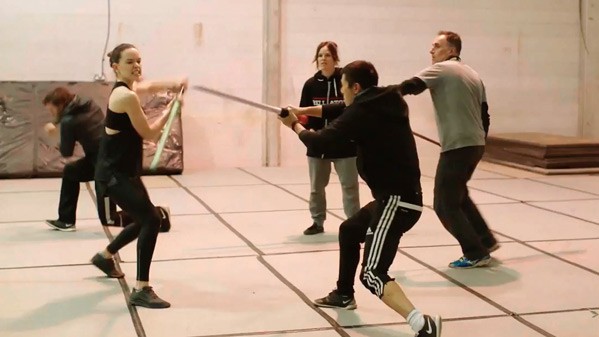 Hola Dannie aqui!
Well, the folks at Disney have their promotional team in overdrive for "Star Wars: The Last Jedi"! Yesterday they released a stunt choreography video giving us a glimpse into the physical trials the actors go through in preparing for the complex combative moments their characters face in the upcoming film. We see the actors training with the great Liang Yang the assistant fight coordinator who has worked on 26 different films including "Star Wars: The Force Awakens", "Rogue One", and the upcoming "Pacific Rim Uprising." We see Daisy Ridley (Rey) mastering a stunt that should have taken three days of training yet the Force was with her and she completed training to Yangs satisfaction in only an hour and a half! Geeks will be delighted to see John Boyega (Finn) and Gwendoline Christie (Captain Phasma) preparing for their epic battle that we all have seen bits of in the trailers and teasers. What Excited me about this video was the illuminating introduction of actress Kelly Marie Tran who will be playing the role of Rose Tico, who from what little we see in this newly released behind the scenes gem is going to kick some major booty!
Hope yall geek on this little promo stunt tease!
I will be seeing Last Jedi on Saturday, the wait is far too long! I am dying to get more Captain Phasma! I wanna know more about this Rose Tico character! I need to know if Luke goes dark!?! Or if Rey does?!? I am losing my mind! I need my Star Wars Fix NOW!
I will be updating this post with promos, Tv spots and more leading up to Saturday when my addiction will be quelled!
Stay Strong, Live Good, Love Movies!
Dannie aka Pekosa Peligrosa