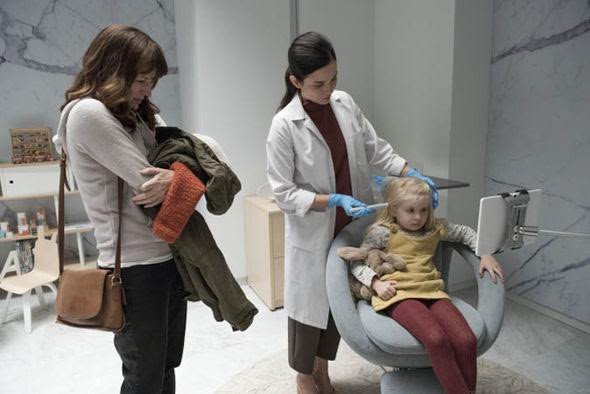 Heya geeks!! Big Eyes here, and I'm pumped!
It feels like far too long of a wait has gone by, but we are getting closer to a release for "Black Mirror" season 4!!! The first trailer for Season 4 has been dropped today, for an episode called "Arkangel", directed by well-known actress Jodie Foster. I know a lot of people who hate her acting, to them I say you must be missing something, as she did when two Oscars for acting in 1991's masterpiece "Silence of the Lambs" and 1989's intense and all to real film "The Accused" one worthy of rewatching as unfortunately, it will always be relevant in subject matter. Foster also is no newb when it comes to directing, for film or television. Some of her films are "The Beaver," "Little Man Tate" and "Money Monster" she also began directing with Stephen King's 1988 show "Tales from the Darkside" the episode entitled "Do Not Open This Box" and recently Foster has directed episodes of "Orange is the New Black" and one episode of "House of Cards."
The very short trailer gives us a peek into only this one episode, "Arkangel". It seems that this one tackles what happens when you combine futuristic technology with helicopter parenting. A mother takes her eye off of her kid for just one second, and her daughter disappears. She manages to find her pretty quickly, but the mother is shaken enough to resort to… what looks like microchipping her daughter's brain. It's probably something much more sinister than that, knowing "Black Mirror".
If you haven't gotten around to check it out yet, "Black Mirror" is a fantastic show. To give you an idea of exactly what it is about: it is similar to video anthologies like "Twilight Zone", or "The Outer Limits", so you can pick any random episode and won't need a recap to know what is going on because there is none! Though I do recommend going ahead and starting with the first episode... BWUHAHAHAHA. Don't mind that laugh. Each episode is like a short movie all by itself. All of the episodes are focused on the world we live in today, with somewhat or far more advanced technology than what we have now, and how people are using it.
"Black Mirror" season 4 is aiming to hit streaming in 2018, sadly nothing more specific than the year just yet.
Signing off,
~Big Eyes