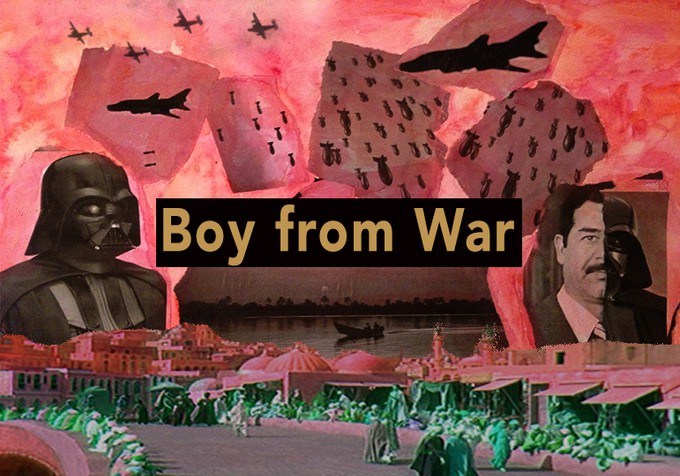 AstroHeathen here.

Iraqi-born indie director and artist Usama Alshaibi has an idiosyncratic point of view and portfolio of film to accompany it. NICE BOMBS is a documentation of his travels back to Bagdad in the year of 2006 after 24 years in the states, to reunite with his family whose various voices carry many perspectives on power, war and love as they continue life under a sky that rains bombs every so often. ARAB IN AMERICA is a darkly witty "documentary" starring Usama rolling with daily discrimination as a Muslim American trying to navigate through airports and company barbecues. PROFANE has earned him some harsh criticism, but if nothing else, the shock value of a Muslim dominatrix holds up. Today, he is tackling a new feat: An animated memoir.
BOY FROM WAR will be Usama's 6th feature film and first animation, described as a "psychedelic trip into the mind of a young Arab boy as he navigates war and coming of age in the 1980s Iowa City punk scene," Usama offers personal accounts exploring the grey area between identities of two cultures, and the trauma that comes with them, while truly belonging to neither.

The studio behind BOY FROM WAR is Artvamp, created by Kristie Alshaibi, Usama's wife, with the goal of using personal experiences to share the voices of those displaced by war. From their fund page, linked below, I'd like to share the challenges they wish to stand up to:
"In this time when travel bans are being imposed on Muslims, while the refugee crisis is at its peak, it is urgent that we listen to the voices of those displaced by war. We need to hear first hand stories from those told to "go back home" when that home no longer exists. These perspectives are so crucial in understanding what is going on in the world.
However, showing a time and place for which there are no existing images (when, for example a family like Usama's is too focused on surviving the devastation of war to document their experience) requires a special set of creative tools. Unlike classic documentary, with interviewers, subjects and historical archives, we are depend entirely on the recreation of events and stories, and, in the case of destroyed homes and cities, even the locations themselves. Animation is uniquely challenging in terms delivering a narrative, but it also has a unique elasticity to play with physical reality and let an emotional reality take the lead. It requires a large team of artists focused on the same vision to make this happen. This is our most ambitious project yet, and we hope, with your help, we can make it our most powerful and important."
Please read more at https://www.seedandspark.com/fund/boy-from-war#story and consider donating to support this world-shaking work of art.
Here is also an insightful interview with Usama from 2011, discussing the film community and political climate surrounding his split between countries.
I hope to bring you more updates on this film soon! In the meantime, support the art that speaks to your soul and keep loving film!

Astro Heathen, outta here.