Hola Dannie aqui!
Today I received a press release and production photo from Roger Avary's new thrilling neo-noir film "Lucky Day" that he is writing and directing! Mr. Avary is probably best known for his writing on "Pulp Fiction" (Oscar winner) and dual talent of writing and directing the films "Killing Zoe" and "The Rules of Attraction". "Lucky Day" has Avary re-teaming up with producer Samuel Hadida, who collaborated on "Killing Zoe", "The Rules of Attraction", and "Silent Hill" also joining the production team is Don Carmody ("Resident Evil", "Silent Hill").
The casting of the action thriller "Lucky Day" has up front in the lead role of "Luc" one of my all-time absolute favorite cinematic weirdos Crispin Glover! Who I first fell for back in 1985's "Back to the Future", then saw the weird side of McFly in David Lynch's "Wild at Heart", one year after working with Lynch, Crispin got to work with Oliver Stone playing the role of Andy Warhol fucking perfectly in 1991's film "The Doors" (only person who compares to Crispin's Andy was David Bowie's portrayal in Julian Schnabel's masterpiece "Basquiat"), in 1993 he had the pleasure of working with Lasse Hallström on the Oscar-nominated film "Whats Eating Gilbert Grape", in 1995 Crispin worked with another bad ass director Jim Jarmusch and superstar actor Johnny Depp on the cult classic "Dead Man"! The following year he got to work with director Milos Forman and Woody Harrelson in "The People vs. Larry Flynt" ( the film was nominated for 2 Oscars). Then there is his performance in 2003's "Willard" and wow, he absolutely rocked the socks off me! I fell in love with the film and his character, I really really really loved Willard! So anywhooo, Crispin is a bad ass weirdo crush of mine, who has worked with other extremely talented badasses (forgot to mention his 2010 work with Tim Burton too) and I can not wait to see "Lucky Day"! Here is the first production still and it is of my Crispin looking like an emotional man driven to obscene violence!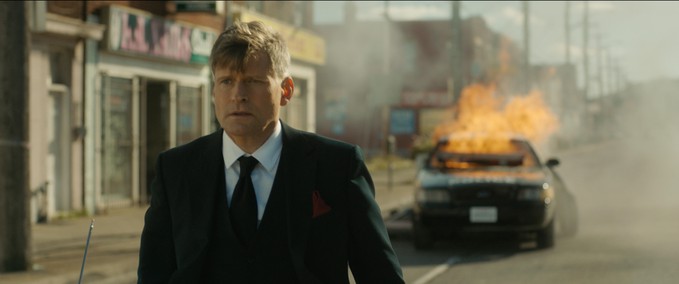 The films female lead role of character 'Chloe' goes to actress Nina Dobrev ("The Perks of being a Wallflower", "Flatliners", and "The Vampire Diaries"). Actor tackling the other main role of 'Red' is Luke Bracey ("Hacksaw Ridge", "Point Break" and the extremely popular Australian T.V. series "Home and Away"). Clifton Collins is cast for the role of 'DPO Ernesto Sanchez' (HBO's "Westworld", the Vegan Police in "Scott Pilgrim vs. the World" and "Pacific Rim" ), Clé Bennett is going to play the character of 'Leroy' ("Jigsaw"), Nadia Fares is to be challenged with the role of 'Lolita' ("Marseille"), David Hewlett is cast as 'Derreck Blarney' (from "Cube" "The Rise of the Planet of the Apes" and the upcoming del Toro film "The Shape of Water") Tomer Sisley will be the character 'Jean-Jacques' ("The Heir Apparent: Largo Winch") and Josie Ho is to be challenged with the role entitled 'Mrs. Koks' ("Dream Home", "Contangion")

"Lucky Day" follows an ex-con 'Red' recently paroled who sets off to reunite with his wife and daughter and gets hunted down by 'Luc' a psychopathic hitman looking to avenge his dead brother.
Being by Avary, the story weaves together many of the characters he has cultivated in his films into a single neo-noir, aggressive, violent, funny, irreverent, and politically incorrect movie in the spirit of True Romance and Pulp Fiction, which he co-wrote.
The movie is currently shooting in Toronto. I personally can not wait for this film and will be keeping a very close eye on the project as it has peaked my interest on many levels! Until next time!
Stay Strong, Live Good, Love Movies!
Dannie aka Pekosa Peligrosa aka Sister Satan