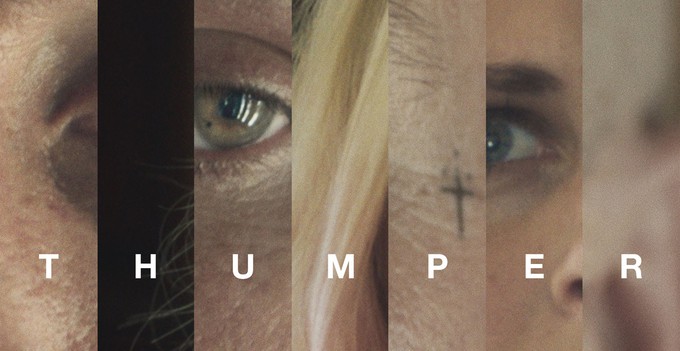 Hello all, Mad dashiell here!

Today on the scales we weigh in "THUMPER" dealt to us by Jordan Ross in his directer feature film debut. Here was have a gritty atmosphere cut with tension we find synonymous with works involving executive producer Cary FuKunaga(TRUE DETECTIVE and BEASTS OF NO NATION). The film puts up front some strong talents such as Lena Headey, known primarily in her role as Cersei Lannister in GAME OF THRONES. Also Pablo Schreiber, the cursed leprechaun who stands as big as a house as Mad Sweeney in AMERICAN GODS, plays the terrifying drug lord, Wyatt Rivers.

The storyline follows Kat(Eliza Taylor), a jaded Highschool student new to the seedy town. One of her classmates, Beaver(Daniel Webber), hounds the new arrival until she agrees to go on a date. They both are being manipulated by secrets that are about to flare up out of control in a chemical explosion of drugs, lies, and a trail of dead bodies. The two must now stand together against Wyatt, the local drug dealer. Who will now show them he will stop at nothing to defend his growing criminal empire, as a plague of deadly drugs sweeps the area. THUMPER premiered at the Tribeca Film Festival.

Thanks for joining me, See you at the movies or in the chat feeds, Mad Dashiell Signing off.


Mad Dashiell Space for Rant: Well, the film hosts a favorite actress of mine. Lena Headey, team Cersei FTW! I loved her in DREDD but I thought she did a fabulous job in Terminator: The Sarah Connor Chronicles. Honestly that was my last favorite show on FOX network and was crushed when they canceled it. For that reason alone I will look forward to seeing THUMPER. That said, I hope it isn't just another run of the mill dark crime drama with a telegraphable plot the entire way. One we might have seen countless times at that. We shall see, and some of you already have I'm sure. Without any spoilers please, tell me what you think?