Hola Dannie aqui!
Mad Dashiell brought us some news from the Rocky universe with information on Creed 2, read on for the scoop and theories of our mad man!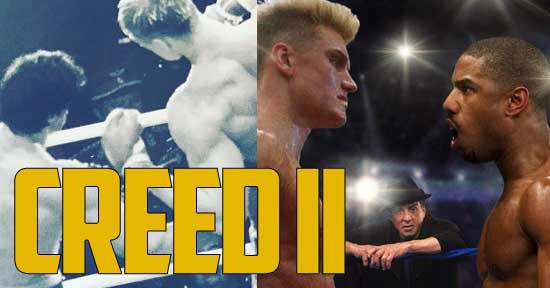 Mad Dashiell here, and "I'm gonna give you a story you won't believe."
Sylvester Stallone rang the starting bell late last June by slow playing his Instagram fans in a true boxer's spirit, with classic Rocky images combined with heavy hints of what could be in store for us in CREED 2. Reaching out again through one of his preferred platforms last July, Stallone posted a photoshopped image of a young Ivan Drago facing off with Michael B. Jordan. Rocky leans on the ropes behind them, looking on nostalgically.
"Here's a chance to stretch your imagination ... HISTORY WILL ALWAYS REPEAT ITSELF IN ONE FORM OR ANOTHER, JUST GOT TO BE READY! ... Sins of the Father...." Sly Stated on social media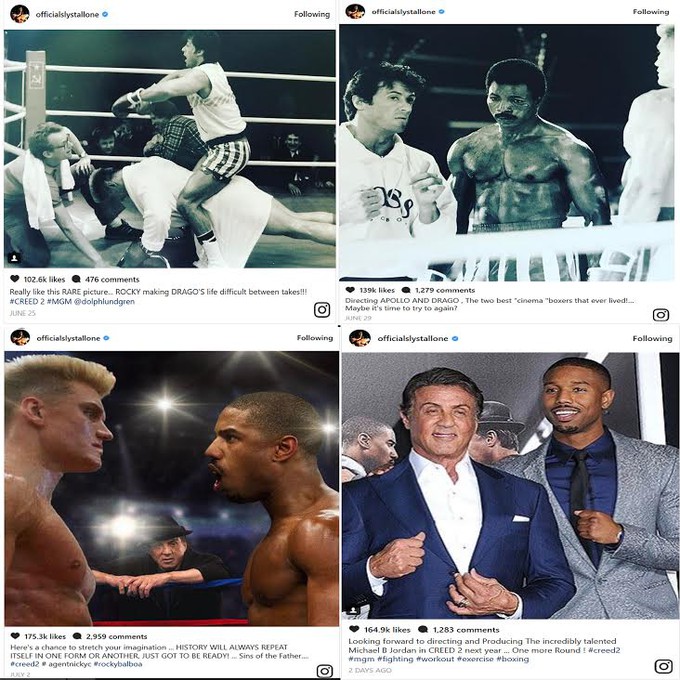 Some suspect this is a Sly hint towards a member of the Drago line appearing in CREED 2. Flashbacks are another possibility fans are weighing in on. Back in January 2016 Stallone mentioned some of what Ryan Coogler (currently bringing us BLACK PANTHER) had already envisioned for the sequel to CREED.
"Ryan has some ideas of going forward and backward and actually seeing Rocky and Apollo together. Think of 'The Godfather 2.' That's what he was thinking of, which was kind of ambitious." Sly said
This brings Adonis "Donnie" Johnson in contrast looking on as Rocky and Apollo Creed battle and befriend each other during their heights of fame. This could mean we would see Dolph Lundgren bring back Ivan Drago with modern visual effects used for de-aging actors. That or is Stallone just testing the waters of his fans? Whatever it is, followers are waiting with baited breath as he prepares to inspire once again the old and new generations of Rocky fans.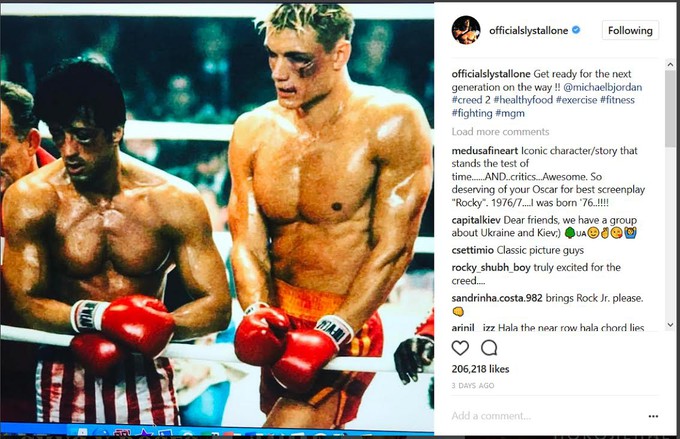 "Looking forward to directing and producing the incredibly talented Michael B Jordan in CREED 2 next year ... One more Round!" Stallone
Long time true-blue Rocky fans will be happy to hear Stallone is stepping back into the Directors ring. He will be pulling multiple roles and no punches as writer, director, producer, and of course he will be stepping back into the venerable role of Rocky Balboah. Not many other rumors about the film have been released yet. It's been an honor sharing this report as it develops, stay tuned for more updates, See you at the movies or in the chat feeds,
Mad Dashiell over and out.
Mad Dashiell's Space For Rant (ROCKY IV SPOILER):
Sylvester Stallone is known for keeping with the times through the course of the Rocky series. In ROCKY IV, Ivan Draco's defeat represented the crumbling of the Soviet Union. Some would say recent times are a bit tumultuous on the topic of Russian interference. I am interested to see if the son of Drago represents or gives a nod to the current climate of our relationship with Russia. Whatever it is we know for sure that Stallone has always found a way to keep ahead of the curve, warm our hearts, and inspire us with his Italian Stallion.
Thanks Mad Dashiell for keeping the eye of the tiger!
Stay Strong, Live Good, Love Movies!
Dannie aka Pekosa Peligrosa aka Sister Satan