Hola Dannie aqui!
With some news from Rose Geiszler for "Pacific Rim" fans! Extremely interested in where this news will take us, and AICN is going to be rooting for the upcoming film!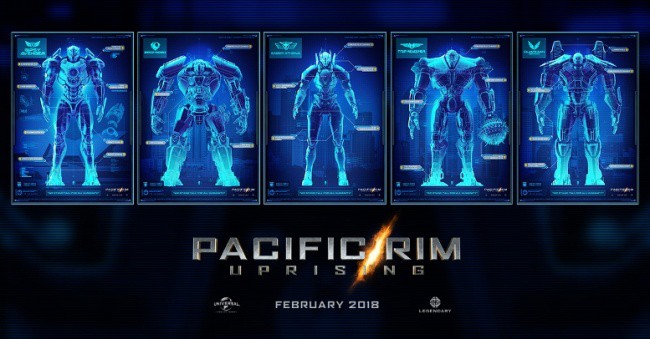 Hey everyone! Rose here, and oh my god it's been a really good month to be a Pacific Rim fan (which you all know I am). Between the release of the Synopsis, the trailer, the confirmation of the return of fan-favorite Mako Mori, and all the other juicy details we've gotten about Pacific Rim: Uprising are just the start of it. Director Steven S. DeKnight has confirmed that if all goes well and according to plan, this film will not be last that we see of the Pacific Rim universe! He doesn't just mean we'll get more movies either (although it is a definite possibility). If Uprising does well, then there is a chance that we will get more Pacific Rim comics, a Pacific Rim cartoon (which has been in talks for several years now but is not yet officially in the works), and maybe even other forms of media, such as novels.
Obviously, I would love for there to be a greater extended universe for Pacific Rim (because of course I would), but the continuation of this franchise totally depends on the success of Pacific Rim: Uprising. Let's hope that this film is as completely awesome as I'm hoping (and anticipating) that it will be. Honestly, even if we don't get to see the universe extend beyond this film, I'm more excited than I can even describe to see how Uprising will expand this universe that I am very familiar with. I'm eagerly awaiting the chance to see both familiar characters that I already love, such as Dr. Newton Geiszler (Charlie Day), Hermann Gottlieb ( Burn Gorman), and Mako Mori (Rinko Kikuchi) on the big screen again, as well as new characters who I hope to love just as much, such as Jake Pentecost (John Boyega) and Amara Namani (Cailee Spaeny).
I'll be back to you guys with more updates about Pacific Rim: Uprising as more information about the film is released!
Until Next time,
Rose Geiszler
Dannie back! Thanks Rose for keeping us in the loop! Hopefully your "Pacific Rim" dreams will be realized!
Stay Strong, Live Good, Love Movies!
Dannie aka Pekosa Peligrosa aka Sister Satan