BATMAN NINJA COMING 2018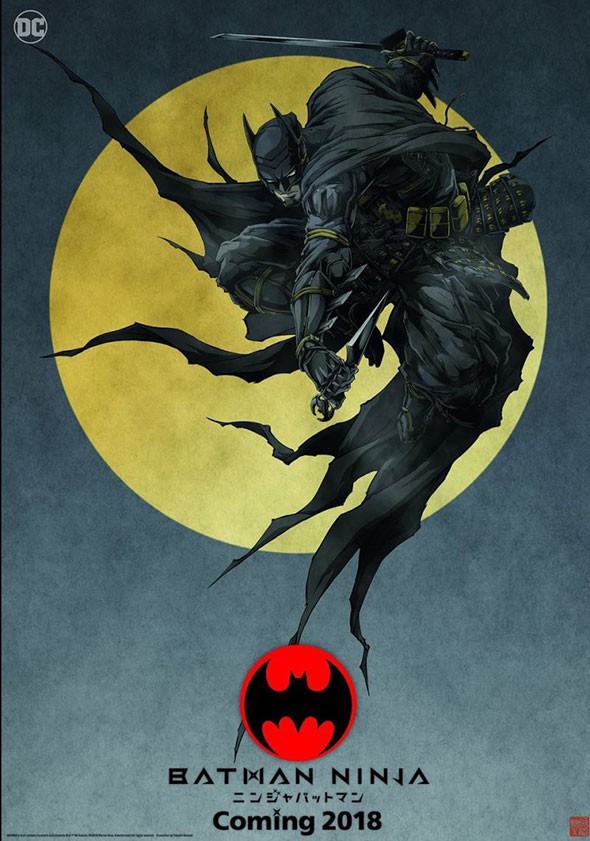 BigEyes here, with an eye on Batman… Ninja Batman. BATMAN NINJA!
Hot from New York City Comic Con, Warner Bros. revealed the poster for BATMAN NINJA coming to Blu-ray, DVD, and VOD in 2018! Unrelated to GOTHAM KNIGHT, this will be another beautifully animated Japanese style original video animation added to the Batman franchise.
Well known director in the Japanese video game and animation industry, Jumpei Mizusaki (JOJO'S BIZARRE ADVENTURE, MEGAMAN X7), is heading the project. Character design is done in the beautiful stylings of Takashi Okazaki (AFRO SAMURAI).
The title BATMAN NINJA seems a bit awkward, perhaps something that just didn't translate well over into English, even Ninja Batman makes more sense but still sounds just plain silly. There is a possibility the title will change to appeal to American audiences as many other titles of anime have done before. Then again, the US has become very hospitable to everything Japan these days, including their wonky titles.
According to my readings, Joker, Nightwing, Harley Quinn, a Robin, Penguin, and even the rarely seen outside of the comics Gorilla Grodd were spotted in the brief footage of BATMAN NINJA that was shown at the NYC Comic Con. That footage has not yet been posted online, but you can enjoy that sweet poster image in the meantime. Also, this fantastic video from DC Nation on Cartoon Network that gives us a peek at what Batman Ninja could be like.
Did the world need another anime Batman? Absolutely.
Animation geekette signing off,
I'm BigEyes, and I am the Goddamn Batman!