Hola Dannie here again,
With the hook up on the first full-length trailer for Pacific Rim: Uprising brought to us by our little Pacific Rim fanatic Rose Geiszler! I love her unbound love of this it is adorable, hope you all enjoy the trailer and her geekgasmic reactions!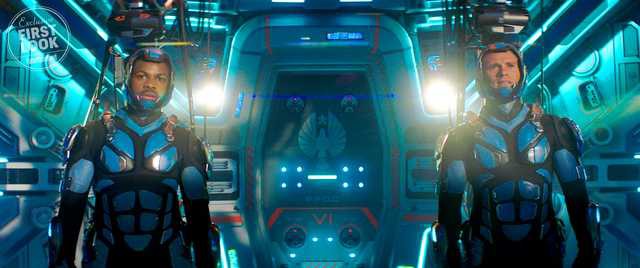 Hey there everyone! Rose Geiszler here to talk to you about the COMPLETELY AWESOME trailer for Pacific Rim: Uprising that was dropped at NYCC today. I am... so excited for this movie. Even as I'm writing this, I'm practically buzzing with excitement and anticipation, and I hope that you're all excited too because holy shit guys, I really think this movie is going to be awesome.
First of all, everything looks fucking GORGEOUS. We have 3 all new Jaeger designs including individualized weapons for each and Gipsy Avenger looks even sleeker and more amazing than her namesake. The Kaiju that we've seen in the trailer look intoxicating and seems to have some kick-ass surprise talents in store for us. The kaiju in the first movie were inspirational and I am so ready to see more of these beautiful badass beasts battle.
We also get some really solid shots of jaeger-on-jaeger action which look incredible. Has humanity started using this tech against each other once the Kaiju seemed to be defeated? Or did the K-science/Kaiju drift from the first film give the aliens more ideas? I guess we'll have to wait and see but I'm really pumped to see where they could be going with this.
Of course, we also got some great shots of old cast members returning. Rinko Kikuchi, whose attachment to the film was only rumored for a time, looks totally ready to lead an uprising next to another fan-favorite from the first film, Newt Geiszler (Charlie Day). There are also a few glimpses of Burn Gorman returning in his role as Hermann Gottlieb. It's exciting to think about not only how these characters will react to this new situation, but what other old cast members might cameo.
Steven S. DeKnight really seems to be delivering on his first feature film. The intricate fight scenes from Daredevil and Spartacus both seem to have been good practice for the big-budget melee we've gotten a glimpse of here. The combat systems both in and out of the Jaegers seem to have been reworked to give a visceral, human feel and I am STOKED.
And of course, it goes without saying that it really seems like the incredible diversity and globality of the first film has gotten a heavy double-down here. From Jing Tian, a notable star in her own right in China, to Australian pop star Cailee Spaeny as well as the return of Kikuchi the appeal of this movie anywhere on the Pacific rim is obvious and makes sense considering the success of the original at the international box office.
I am so beyond hyped for this sequel, and I can't wait until it hits theatres March 2018.
Until next time,
Rose Geiszler
I too am excited for this one, good geeking Rose!
Stay Strong, Live Good, Love Movies!
Dannie aka Pekosa Peligrosa