Hola Dannie here with a new addition to our vast network of spies! Introducing Wheels! I hope you all enjoy his insights!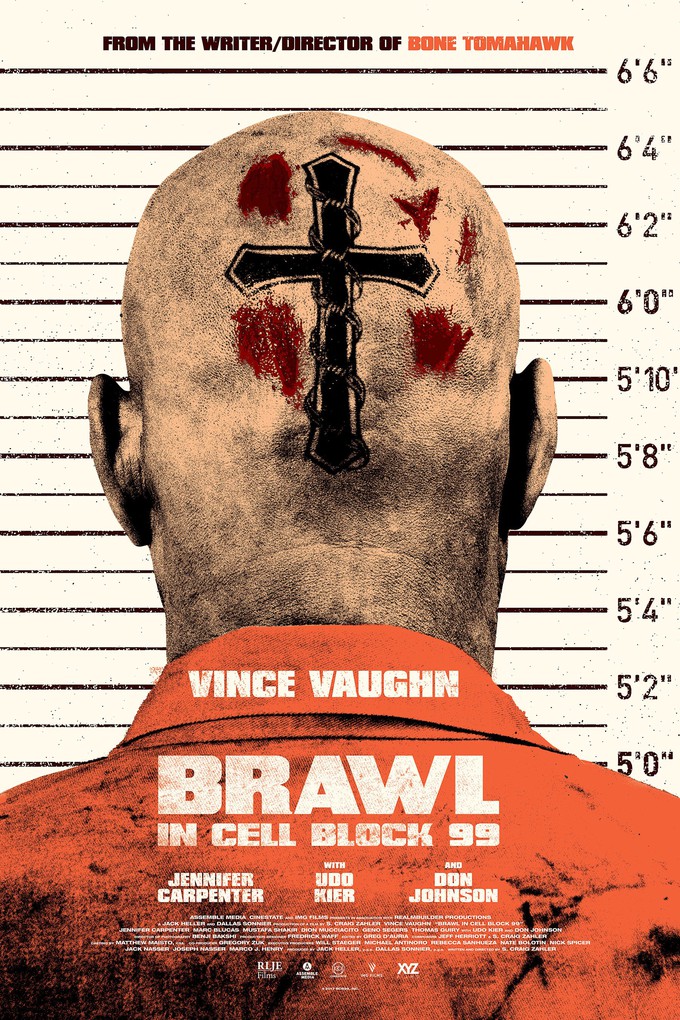 Wheels Reporting!
Vince Vaughn has had an up-and-down career. Never quite finding that role or partner that suited his unique sensibilities. Barring early success with Jon Favreau, Vaughn has rarely ever had a truly signature performance.
That's all changed with his partnership to writer/director/cinematic madman S. Craig Zahler. Zahler is best known for his instant cult classic BONE TOMAHAWK (2016). That tale of cowboys and cannibals signaled an exciting new voice in genre cinema. The eagerly awaited follow-up to that film is BRAWL IN CELL BLOCK 99. In this film I believe Zahler has found the De Niro to his gore-loving Scorsese in Vince Vaughn. The film that these two have crafted together (along with a collection of fine genre mainstay actors) is nothing short of a revelation--a rejuvenation of the kind of tough guy cinema that men like Charles Bronson use to star in regularly before audience tastes moved to younger, prettier actors and more CGI spectacle.
Make no mistake this film is a loving throwback to the kind of films where the hero is quiet and decent before being pushed to the edge and striking back with a righteous fury that will leave the audience stunned, reeling, and a little in awe of the masculine violence on screen. I would say that they don't make them like this anymore, but S. Craig Zahler has really brought back that style of film with a vengeance, and we are all better for it.
The plot concerns Bradley "Not Brad" Thomas, a down-on-his-luck former boxer who makes the bad decision to start working as a runner and as protection for a local drug kingpin after his attempts at normal, law-abiding life fail to support him and his wife, Lauren (played by the capable Jennifer Carpenter).
Vaughn plays Bradley as quietly good natured but with the threat of physicality always just bubbling below the surface, like a cross between Forrest Gump, John Wayne, and a monster truck in human form. This is unlike any role Vaughn has played so far. Gone is the motor-mouthed, manic energy that marks his comedic performances. Vaughn is truly doing something different here. He is magnetic, and you can't help but ache for his misfortune when things turn dark in the film… and they definitely take a pitch black turn.
After Bradley has established himself in the world of criminals and built a comfortable life with the now very pregnant Lauren, things quickly crumble when his innate sense of honor doesn't allow him to do the sensible thing and walk away when a deal goes bad. Next thing we know, Bradley is in prison and just looking to complete his debt to society peacefully. Unfortunately, peace is not in his future.
As Bradley is settling into his incarceration, criminals from his past appear with a chilling proposition, presented by the genuinely unsettling Udo Kier: Get placed in the maximum security Cell Block 99 (run by a truly bad ass Don Johnson, who has a small but memorable role) and execute a man there on behalf of the cartel that Kier's character represents. If this is not done, the cartel will perpetrate an act of violence so heinous on Lauren that I shudder even thinking about it.
What follows is a nightmarish decent from the medium security prison where Bradley starts to the almost gothic maximum security prison that holds the titular Cell Block 99. The film builds slowly for its first half, letting you get to know and care for Bradley, but once he's reached the destination for his grim mission, the film explodes into a brutal display of expert fight choreography, thunderous foley effects, and deliciously gooey practical effects that would make even the most hardcore gore hound sit up and take notice.
Special note should be made of how the fight scenes are filmed here. Shot from wide and medium angles with minimal editing, you can truly follow all of the brutal moments with ease and marvel at the fact that Vaughn appears to be doing all of his own fight work. If you are a lover of clear, well shot fight scenes, this film will have you salivating for whatever Zahler and Vaugh release next, and the word is that film has just wrapped production. I for one can't wait. Until then though, we have this brutal, bleak, blood-pumping gem of a movie to enjoy over and over again.
BRAWL IN CELL BLOCK 99 releases on to various VOD platforms October 6, 2017.
-Wheels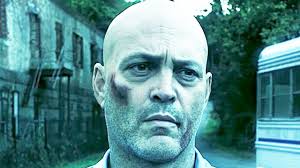 Stay Strong, Live Good, Love Movies!
Dannie aka Pekosa Peligrosa