Hola Dannie here with OSCAR PISTORIUS: BLADE RUNNER KILLER news and trailer from our newest spy, the indestructable Madame Revenant! Enjoy!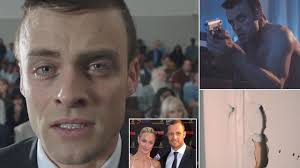 Greetings fellow film fanatics! Madame Revenant here to discuss the second trailer of OSCAR PISTORIUS: BLADE RUNNER KILLER.
This upcoming Lifetime film has stirred up controversy recently. According to a statement released on October 3, the family of Oscar Pistorius, the film's namesake, is suing the makers of the film, citing its "gross misrepresentation of the truth." Regardless of how the film veers from the actual account of the events in question, the trailer certainly showcases a tale of success, greed, and a glimpse into the mind of a sociopath.
Honestly, the trailer reminds me of so many other true crime, made-for-TV movies: full of male chauvinism, implied sex in a foggy room with too many pillows and lace, and a man incapable of owning up to his actions. Andreas Damm portrays Paralympic sprinter Oscar Pistorius, who, through self-centered determination and an inflated ego, wins medals in the Paralympics, weds a model (played by actress Toni Garrn), kills her, and stands trial for murder. The film is directed by Norman Stone, responsible for TV movies such as SHADOWLANDS (1985) and THE BLACK VELVET GOWN (1991). Anyway you slice it, OSCAR PISTORIUS: BLADE RUNNER KILLER will have its fair share of predictable secrets, lies, intrigue, and lingerie. No matter how much i wish this film was a sci-fi gem with androids fighting for their right to live, it simply isn't. It is a Lifetime procedural drama. The film is set to release November 8, 2017.
Until next time,
Madame Revenant
Dannie here again to say I cannot wait for more from Madame Revenant, our newest kick ass lady writer!
Stay Strong, Live Good, Love Movies!
Dannie aka Pekosa Peligrosa
OSCAR PISTORIUS: BLADE RUNNER KILLER New Trailer! New Spy Madame Revenant Reports