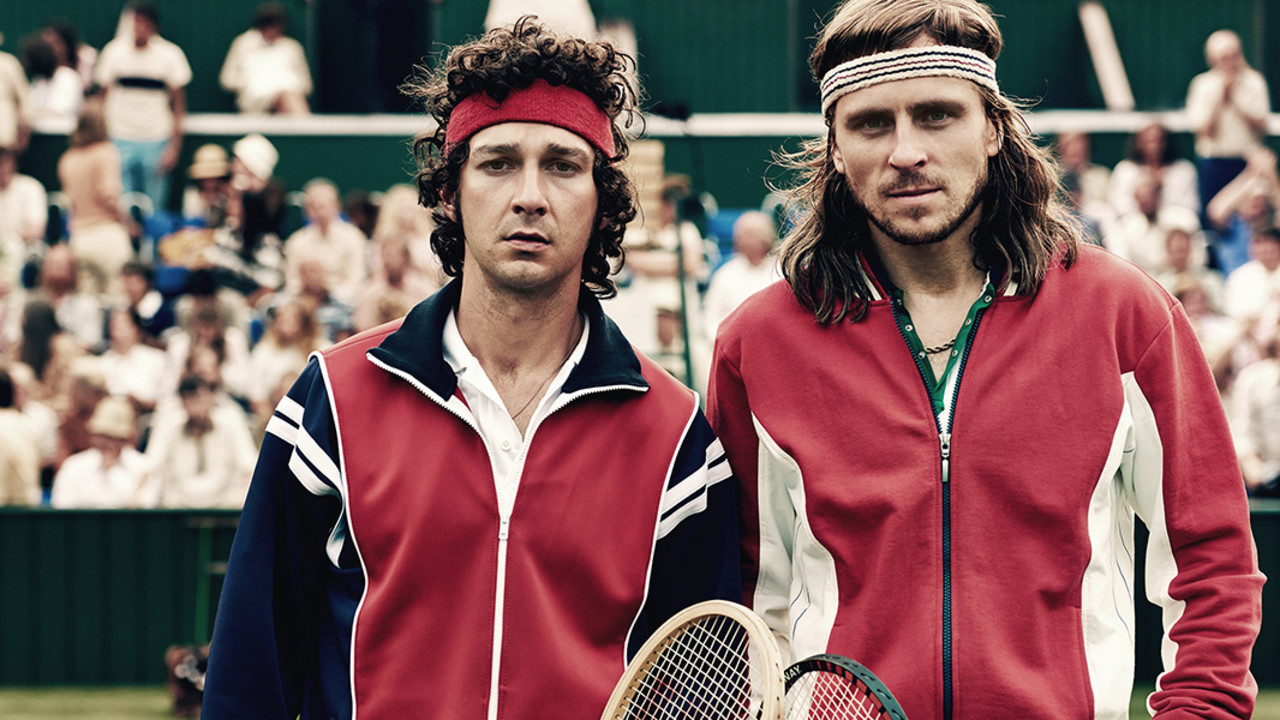 The following sentence is true, but I'm leading with it to cause a riot in the Talkbacks. Shia LaBoeuf is brilliant in BORG/MCENROE. John McEnroe, great athlete but giant crybaby, is the role he was born to play.
BORG/MCENROE, the opening film of the 2017 Toronto International Film Festival, tells the story of the 1980 Wimbledon match between Bjorn Borg, ranked #1, and John McEnroe, ranked #2 in the world. Borg was trying for a fifth straight Wimbledon title, while McEnroe was aiming for his first. The two had an epic rivalry over their careers, made all the more dramatic by their difference in demeanor. Borg was the cool, unshakable Swede, while McEnroe was the hot-headed argumentative American.
I'm serious that Shia LaBoeuf is absolutely perfect as John McEnroe. He both looks like him and has the temper tantrums down perfectly. His nemesis, Bjorn Borg is played with equal perfection by Swedish actor Sverrir Gudnason. Relatively speaking, Borg is a man of few words, but Gudnason is so magnetic here that he can carry whole scenes with steely brooding. Finally, everyone's favorite Swede, Stellan Skarsgard founds out the cast as Lennart Bergelin, Borg's coach. Sure he's great as Thor's comic relief, but thank god for movies like this where he can get down to serious business.
Speaking of Thor, BORN/MCENROE is not entirely unlike RUSH, which also told the story of a late 70s epic rivalry between two very different sports personalities. In neither case did I care for the sport, but I found the films compelling. The best films of the "true sports" genre are more about the characters than the sports and BORG/MCENROE is no exception. We really get into the childhoods, the training regimen, and the minds of these two rivals. All of that backstory then pays off in a masterfully recreated true-life showdown between the main characters. Kudos to writer Ronnie Sandahl and director Janus Metz for finding the balance between personal lives and sports action, and in selecting just the right sections of the match to show to amp up the tension.
This is a film that somehow seems bigger than a sport, or bigger than the personalities involved. It is the kind of movie where, during the climax you just want to stand up and cheer. That's no mean feat given the complete lack of enthusiasm I have for tennis. Maybe the best way to describe it is that it recreates that rush you get when you see an amazing, hard-fought rivalry during the Olympics — two players, each at the pinnacle of their games, giving it everything they've got.
And hey, go see it to see Shia LaBoeuf being good at acting. I know you don't believe me, but it is quite a spectacle.