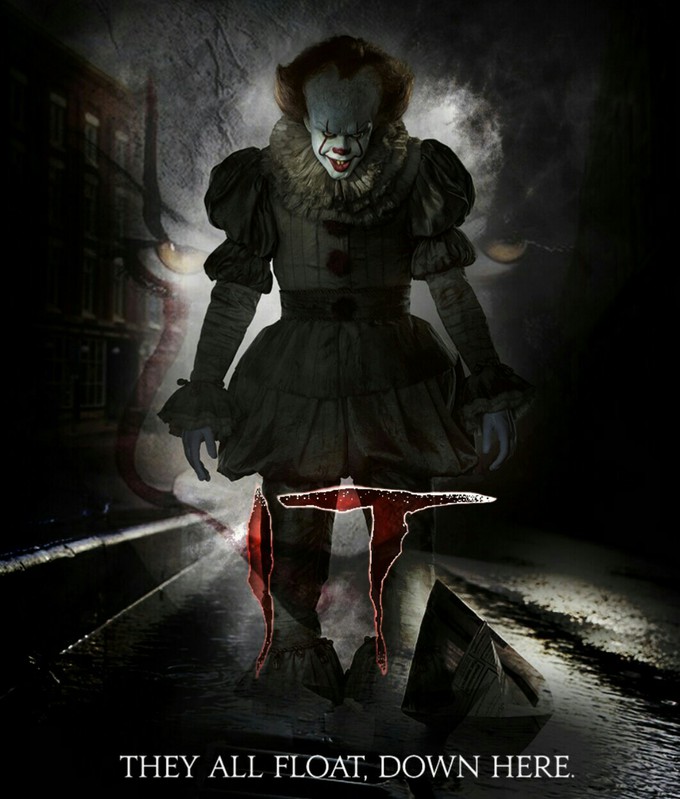 Since the first announcement that a feature film was in the works for Stephen King's IT a frenzied excitement has hit the hearts of every child of the 80s and 90s. Tim Curry's Pennywise was the definitive stuff of nightmares thanks to the wildly popular television mini-series that aired in 1990. I've never seen so many people over the age of 35 so excited for a new horror film. In this sense, the pressure was on, as nobody wants a favorite standard of childhood wonder ruined in the name of collecting profit from a younger generation. Thanks to the talented work of director Andy Muschietti, IT comes to blazing life on the big screen and it delivers on all counts.
And while this film hits those delectable nostalgic notes for fans of the television series, it stands firmly on its own two feet as a solid horror film. If you come for scares, there's plenty, but you might be surprised to find yourself experiencing a soundly crafted study on childhood terror. You see, IT explores the horrors that only children can know. Each character experiences his or her own unique kind of fear, offering the audience something to relate to. Some characters struggle with imaginary fears that come to vivid life through evil magic. Others, deal with real-life situations such as parental abuse and bullying. There's something to make you shudder in this film, no matter what gives you the heebie-jeebies. IT hits nerves on many levels making it the most well-rounded horror film I've seen in years.
It's no surprise that the story also drives the quality of the film above the realm of cheap scares. King's original story is one of his most brilliant and the screenwriters update it to our contemporary standards without losing impact. It's an ensemble story about a group of children living in Derry, a fictional small town in America. Children in this town have started disappearing in mysterious ways, while the remaining youngsters are plagued with living nightmares. And while not all the kids struggle with supernatural forces as the source of their strife, all of them live in a state of terror. Regardless of the source of each kid's angst, they are in real peril from an evil entity that takes the form of a creepy-as-hell clown, Pennywise, played by Bill Skarsgård. Skarsgård, also known for his intense performance in Hemlock Grove, makes a delightfully spine-tingling Pennywise. Talent doesn't fall far from the tree in the Skarsgård family, as his father Stellan is one of the greatest international actors of his generation and his brother Alex is a favorite amongst True Blood fans. Bill brings a fresh and childlike malevolence to Pennywise and his fantastic use of pitch and tone for the clown's voice gave me goosebumps.
Despite the monstrous evil that stalks them, a group of friends dubbed the "Losers," answer the call to help each other through the danger. The Losers share lessons in friendship, love, and courage as they find themselves wrapped up in a terrible adventure. You truly fall in love with each character and I developed a soft spot for the Ben, played by Jeremy Ray Taylor. Taylor's natural charisma and talent shine so brightly, that an instant emotional connection is forged with the audience. And he's not alone in talent, the entire cast is spectacular. The actors work beautifully off each other with delightful charm and commitment. I applaud Muschietti for encouraging raw and honest work from his cast. It says a lot when a director can bring out this level of performance from a group of youngsters. Not once did I have to take a line with a grain of salt. Every moment felt incredibly candid.
Breaking up the scenes of intense terror, is a surprising amount of humor and moments of triumph. The audience is reminded of the wondrous energy of this stage of childhood. The Losers are all about to take the first steps towards adulthood, and yet they are still grounded in kid zone. Their minds are fresh and open to all the possibilities of life, which sadly is what makes them vulnerable to Pennywise's influence. It also however, makes you root hard for them because they are all so innocent and achingly beautiful. Life hasn't hardened their sweet souls and it raises the stakes as you watch them navigate awful circumstances on their own.
With character development firmly established, the technical aspects of the film are also fantastic. The visual effects are stellar and executed with a graceful hand. When it comes to horror films, we've just about seen it all and to be served up a refreshing twist on an old story is a pleasant surprise. I absolutely lost my mind over the projector scene. Upon reflection, Muschietti took a lot of risks with his visuals with moments that are larger than life. It pays off amazingly and we can see a tight honing of his style from his previous feature, Mama. Sound design is good and the cinematography is gorgeous. The make-up work on Pennywise is perfection. All and all, the esthetics are precise and perfect. I could watch this film repeatedly just to marvel at its macabre beauty.
From the first scene to its grand finale, IT is a magnificent film and the type of film that we should come to expect from big budget cinema. It's gory without being gratuitous, and a study on childhood vulnerability and strength. For these kids, terror comes from many places, but through the bonds of friendship springs the courage to face all fears. I loved IT and I hope you do too. Thank you, Muschietti, for this masterpiece and I can't wait to see Chapter Two!
Thanks for reading!
The Diva Del Mar
Follow me on Twitter
@thedivadelmar