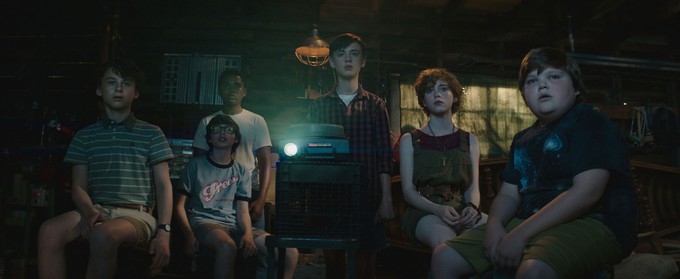 Andy Muschietti's new adaptation of Stephen King's seminal classic, IT, has been one of 2017's most highly anticipated films. Many of us grew up on King's original novel or the 1990 tv mini-series (or both), and were eager to see how this new film would tell the story that has enthralled and frightened us for decades.
And I'm very happy to say that it does not disappoint. At all. IT is properly frightening, giving us all manner of horrifying nightmares to keep us awake at night, while never skimping on the moments that make this story so resonant. Updating the setting to the late 1980s, the story follows seven kids in the small town of Derry, Maine. Though on the surface, Derry might seem like a quaint New England town, it harbors a dark secret that plagues its inhabitants. Children disappear at an alarming rate, and over the course of a summer, our core group of kids (lovingly calling themselves the Losers' Club) begin to realize that something sinister and nightmarish resides below the streets of their once safe community.
Muschietti's understanding of the source material and what makes this story shine is evident, as he wisely develops the relationships between the characters and allows them to be the heart of the film. Pennywise is terrifying - don't get me wrong - but the key to telling this story and telling it right is to make us fall in love with the Losers' Club.
The kids are fully realized and dynamic. Hilarious, vulnerable and tough. We follow them as they navigate the nightmare plaguing Derry and threatening their friends, and we follow them navigating the more mundane (yet equally terrifying) realities of the real world, like bullies, abuses and puberty. Through it all, we care for them. Every second of this film will want to make you jump into the story and defend these kids, cheer for their victories alongside them and let them know that everything is going to be okay (even if you only halfway believe it yourself).
This cast is pure perfection. They play each character well individually, and interact perfectly as a part of the group. Finn Wolfhard, in particular, does a great turn as Richie Tozier. He gives him more energy than should be humanly possible, and the result is amazing. Sophia Lillis really embraces the new strength given to Beverly Marsh in this version and Jeremy Ray Taylor's Ben Hanscom will have your heart in about two seconds.
And Pennywise, you ask? Bill Skarsgard's take on Pennywise is nothing short of brilliant. And hellishly terrifying. He plays the character as maniacally gleeful, yet otherworldly and monstrous. It is a nuanced performance where every slight eye movement , every smile, every heat tilt and vocal intonation works overtime to deliver something immediately gets under your skin and has you wanting to put as much space between your chair and the movie screen as possible.
Taking on this adaptation was certainly a challenging notion. So many of us have grown up with the story of It, in one form or another. Hell - I am part of a generation that grew up terrified of clowns thanks to the 1990 adaptation and Tim Curry's iconic performance. We all walked into this with expectations of how this story could and should be told. And this film faced that pressure head on, remaining true to King's story, but allowing itself the room to tell it in its own way. Both respectful and confident, IT will enthrall and terrify you. Check it out, and be sure to leave a light on when you go to bed tonight.