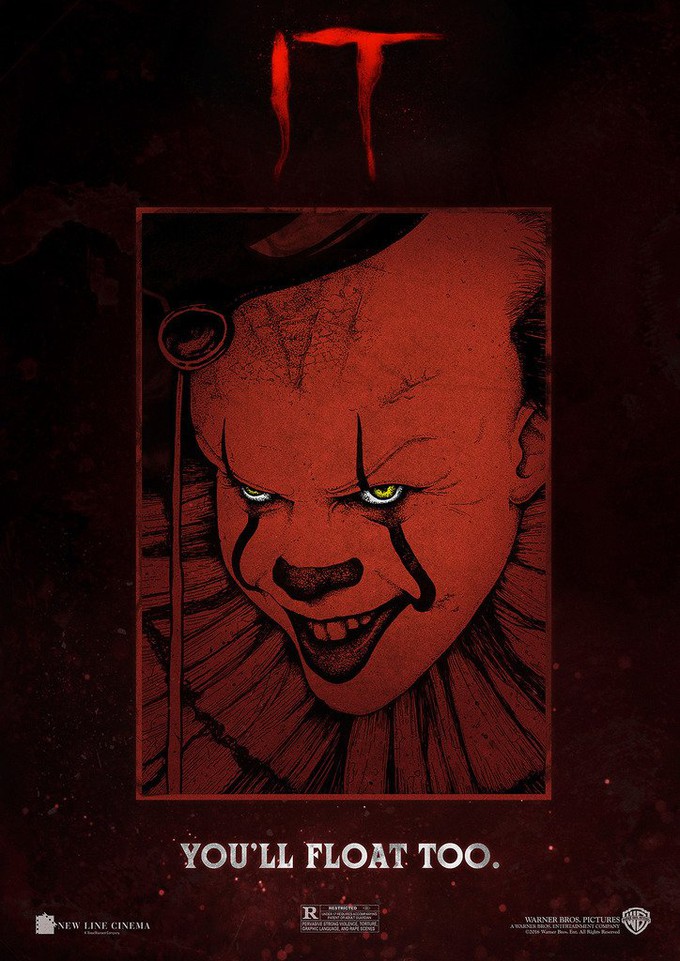 Most of you remember that I pretty much hated DARK TOWER – that's because it was a shit adaptation of a series of novels that created a vision clear in the heads of most all that worship the tomes. But DARK TOWER isn't my holy work of Stephen King's typewriter. Instead, I'd give that to IT and NEEDFUL THINGS.
I quite enjoy NEEDFUL THINGS, but still wish a more robust adaptation would come about. Since 1990, I've quite enjoyed the IT mini-series. If you grew up watching it as a small kid – like Quint did – I completely get the love affair with IT's mini-series. Tim Curry is hard to shake – and the cast is pretty damn fun – especially if you know 70's, 80's & 90's TV talent. But my brain wanted something… more.
I can't explain why my brain does that. I have a very clear vision of the potential material has. IT was IT!
Andy Muschietti just made me smile, bite my hand to not scream, twitch and giggle softly and clap repeatedly throughout the film. When I sat on my bed in North Texas and read Stephen King's IT – I was already in King's spell. I'd seen all the movies as they hit, my parents let me read his novels at the moment I requested them. I knew that King grew up reading Famous Monsters of Filmland and fully embraced the Holy Trinity of Bradbury, Harryhausen & Ackerman. He is good people. Still, I have had no contact with Mr. King.
Not that I'd want to get any of that meteor shit he's got.
This movie doubles down on the nostalgia I had with IT, by setting it throughout 1989 – the year I graduated High School and 3 years after I'd read the book. 89 was a pivotal year. I left small town life forever, moved to Austin for College. Left living with mom, to living with Dad.
The Derry we see The Losers living in is one I certainly recognize. Watch the marquees, listen to the pop-culture references and if you do – you'll certainly be delighted with nostalgic nuggets, but better than all of that is chemistry of these kids, they're not quite in a reality I faced. Sure adults at this age are part of the background of life, rather than the upfront reality – and when they do… They're intimidating, condescending, gross and increasingly unnecessary feeling. Yup, hitting the teen years. Crazily, they're basically the same age I was when I read this book.
We begin with the SS GEORGIE – as Jaeden Lieberher (MIDNIGHT SPECIAL) is playing the under the weather Bill Denbrough for his precocious lil brother Georgie Denbrough, and played to PET SEMETARY gleeful dread by lil Jackson Robert Scott. Right off the bat, had these two not worked, the film would be on dodgy legs already – but… they rule. Georgie's fear of the basement, was my fear of the 2nd floor of my house. The basement is an excellent place for a child eating monster, like closets and underneath the bed… and storm drains… let's not forget fucking gutters.
It was funny, Moriarty posted an image to the ol John Sayles ALLIGATOR movie. Alligator in the sewers vs Robert Forster – and I was terrified of taking the trash out at night, because right by where we left our trash at my house was a gutter – and after that movie, I knew a giant Alligator was going to get me.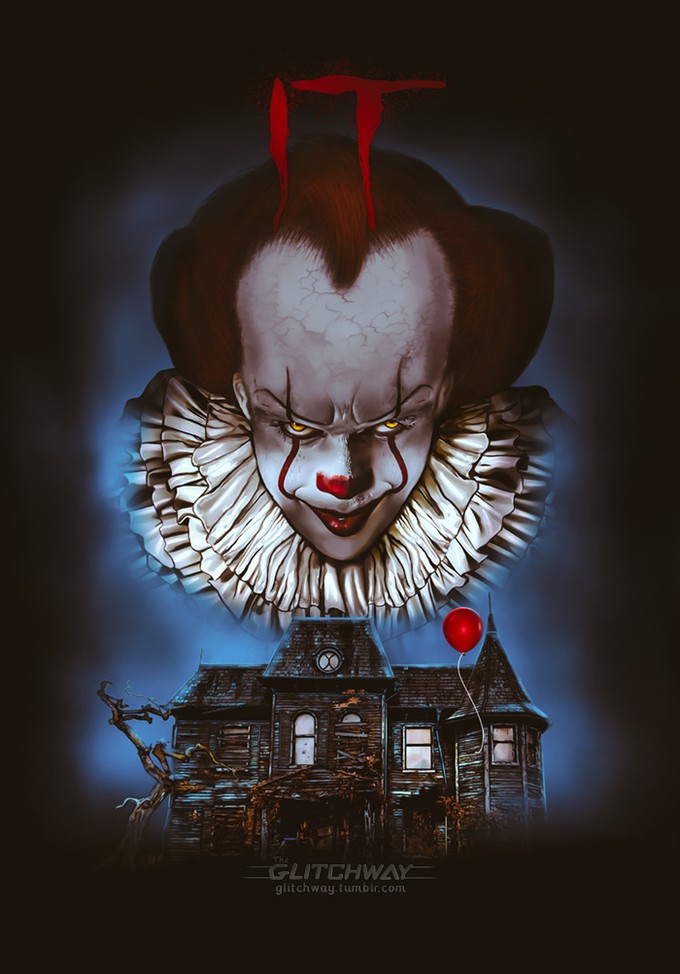 IT (2017) is a sublimely perfect film because it taps into the insanity or total awareness of youth. We adults grow up, find a grind and grind until our grave. But kids believe in everything, every potential, every nightmare… and that was always KEY to Stephen King's IT. This movie is reminding audiences, like the adult characters were trying to remind themselves about life as a kid. Lots of adults forget. Or disregard those memories as being unimportant… impratical… a waste of thought. Yet as King reminds us through IT… the most real friends, memories and thoughts are those we have as kids. The most powerful dreams and wishes we'll ever make, the most sacred prayers. The most nervous we'll ever get – and the magic inherent to epic rock battles and an old abandoned house that you feel staring at you.
Muschietti's IT has put together a complete kid half of IT – reminds me of when Francis put together his linear version of the GODFATHER TRILOGY – I actually love that version quite a bit. Yes, GODFATHER II is the best film. Here, you never get the safety net of jumping back to confused adults clinging to memory, hoping to be saved by the precious magic of nostalgia for even the worst days of yesteryear. The result – you're right there with them kids. You feel their plight. It feels insurmountable.
My favorite edit of the film is when Chosen Jacobs' Mike Hanlon refuses to put a bolt in a Lamb's head – and his Uncle sternly chastises him while making a hole in that lamb's head. His Uncle tells him he has to be willing to kill or be killed. CUT TO Kids coming out of classes for the Summer.
LOVE! LOVE LOVE LOVE!!!
Just about everything I love about this movie is wrapped up with how much I love these kids that make up THE LOSERS. Finn Wolfhard's Richie is one part Corey Feldman in STAND BY ME and my imagination about what Ernie Cline was like as a kid. I'm serious. Sophia Lillis' Beverly Marsh is heartbreaking in this film. She's one of the guys, but the guys all know she's so much more. It's the enemy in their camp, but they're cool so she's cool with them. Her home life actually caused a woman on the row behind us to lose her mind and just audibly saying something repeatedly out of emphatic trauma I'd wager. For me, Beverly and her Dad is just nightmare juice all on it's own. HOWEVER – you can't really trust anything you see in the film because… Pennywise is at play. Jeremy Ray Taylor's Ben Hanscom… LOVE. When I was his age, I was the New Kid in Seymour, Texas… a town far smaller than Derry. Seymour felt more like the town in FOOTLOOSE, honestly. At the time it was a dry county, no condoms for sale… and oddly our school had the highest teen pregnancy rate in the state. Fun. But being the stocky, full-figured kid that he is, he instantly attracts bullies – and his interactions with Beverly represent a lot of my Junior High years, but High School I was far past the fear stage. I was always a library hound. When I finished class work, I'd ask for a pass to the library, because there's nothing worse than being idle and bored in class. Libraries are magic – and the source for the zillion stories that could earn you friends and the respect of others. KNOWLEDGE IS POWER – Electric Company ruled.
Now, before I get into Pennywise – let's talk – Henry Bowers. This kid thrives on sadism and being an Alpha Prick Loser of the highest level. He has his own gang of fuckarrific asshats. But – this kid had nothing on the kid I knew. Josh Burnham. The first day he transferred into my second grade class, Mrs. Moseley asked what we wanted to be when we grew up. Almost everyone was wanting to be astronauts in the wake of STAR WARS. Josh stood up and declared, "I want to be Darth Vader so I could have a light saber to cut your fat tits off with!" The next year, he threw a desk at the 174 year old Mrs Sparkman, my third grade teacher. I lost track with him after 7th grade when I moved away, but he had two stints in Juvenile Hall – and each time he came back, I swear his fists tripled in size. Of course – he never did anything to my friends, we were the squad at school meant to catch him and drag him to the principal's office. I've always been the good kid. This Henry Bowers would skin the Mini-series Henry Bowers alive. Both Josh and him had really smart looking mullets (sarcasm).
Now… for Pennywise.
Watching the News with your parents growing up – you remember things… John Wayne Gacy was one of those. The 33 teenage boys & youths he killed. And he was a CLOWN! That's one of them news stories you're not going to forget, but by the time he was caught I was around 7-8. Between him and the ATLANTA CHILD MURDERS… I was quite aware that people hunted children and did terrible things to them. EVEN A CLOWN. That said, I loved Ringling Brothers, Barnum & Bailey Circus – and loved clowns. By the time Pennywise came around in the 1990 Miniseries with Tim Curry doing the honors… the book had him do far more than what a TV Miniseries budget would handle in that lack of technology era. NOW… I want no part of Pennywise. Played by Bill Skarsgård – who I quite enjoyed upon HEMLOCK GROVE, Bill knocks this out of the park as far as I'm concerned, but there's more too the character than his performance. The presence of Pennywise is ever present for these kids. Would be adult rescuers car pass your beating and yet… even there is a red balloon. Your father seems affected. Your mother. The Bullies. You begin assigning the dread to all around you. Only with friends do you seem unaffected, unless you conjure him in conversation – then he's got you right round your neck baby like a noose around your neck.
The nightmarish ways he unfolds, transforms… it's all about unnatural motion that freaks you as it should. He's coming in different scales, different levels of nightmares. He knows what scares you and makes that your reality. Are these things realistic? Well let me ask you… If you were a kid and what is happening is happening, you'd most likely slip on your own shit trying to get away.
I'm enraptured with this film. IT was everything I was hoping for from a KIDS ONLY telling of what happened in Derry all that time ago. Also, can we acknowledge and applaud that it's been 27 years since PENNYWISE haunted our Television sets and has graduated to the Silver Screen?!?!?! That's so perfect. So much so, I want to start blaming Stephen King for TRUMP – because I've blamed just about everything else.
The makeup and VFX were excellent throughout. The film was DP'd by the cinematograher behind Park Chan Wook's OLDBOY, STOKER, THE HANDMAIDEN. A man named Chung-Hoon Chung – and his work here is exemplary. I also loved Benjamin Wallfisch's score. The fourth he's made this year I've enjoyed after A CURE FOR WELLNESS, HIDDEN FIGURES, ANNABELLE: CREATION – and he's got BLADE RUNNER 2049 next. This is truly his break out year.
This is a great Audience Big Budget Horror film. The script by Chase Palmer, Cary Fukunaga and Gary Dauberman gets Stephen King in all the ways that fucking Akiva Goldsman couldn't begin to. More than that though – Andy Muschietti's direction keeps both the audience and the characters in a constant state of unease and sharing the WHAT THE FUCK IS GOING ON nightmare that we see before us. The audience was played to perfection.
Now – because all I can think of is the next one… I want Bill Hader to be Bill Denbrough, Chris Pratt as Ben Hanscom, Jessica Chastain as Beverly Marsh, Ernie Cline as Richie Tozier, Michael Ealy as Mike Hanlon, Chris Pine as Eddie Kaspbrak and James Franco as Stanley Uris. Then cast Matt Damon as Henry Bowers.
At least that's how it feels at 2am after watching Chapter 1 of this Cinema Novel.
It's time to get tuned up for Halloween! Time to tingle your spine and race your mind with adrenaline! IT is everything I didn't get from THE DARK TOWER. This time, believe in Stephen King, like when you watch MR. MERCEDES!
Keep it cool,
Harry