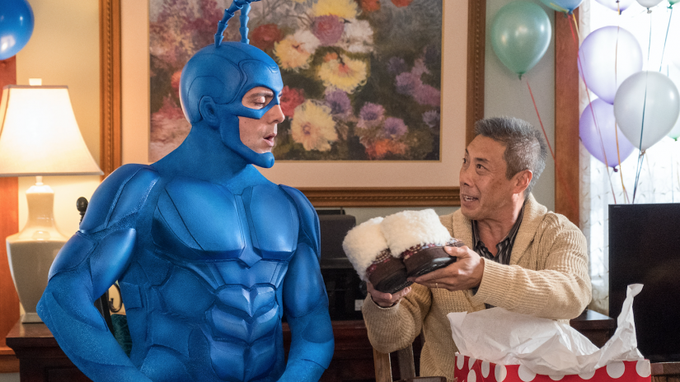 Will Amazon's Tick prove better than the first two TV Ticks? I'm thinking yes, and I loved the first two.
The new "Tick" arriving today is a half-hour comedy, just like the last two "Tick" TV series. Some of the same jokes are in both the first Fox cartoon episode and the Amazon pilot (particularly evident in The Tick's first visit to Arthur's apartment) but there are unfamiliar elements as well.
Der Fledermaus, American Maid, Batmanuel and Captain Liberty are wholly absent.
We spend a lot more time with Arthur (now played by Griffin Newman) away from The Tick (now played by Peter Serafinowicz, perhaps still best known as the voice of Darth Maul). The Tick is also now involved with the acquisition of Arthur's superpowered costume.
There's a new backstory for Arthur involving supervillain The Terror and weaponized syphilis.
There's a lot more episode-to-episode continuity than we've received in prior "Tick" incarnations.
Arthur's sister Dot is much more prominent than I remember, and her presence makes this new Tick lean a bit more heavily into pathos than we've seen before.
Patrick Warburton didn't wear a mask, but new Tick Peter Serafinowicz comes with one. Or two. He switches between two costumes in the first episode before settling in episode two on the more Warburton-y duds that happily expose Serafinowicz' eyebrows.
The Tick's lack of an origin story may now be a plot point. Big Blue Justice isn't good at remembering his name, his address or how he got this way. Will something of his secret origin finally be revealed before his Amazon adventures cease?
In this version Arthur gets both a Tick and a tick.
Jackie Earle Haley (who was also great as troubled superhero Rorschach in the big-screen "Watchmen" and in a very different supervillain role in AMC's adaptation of "The Preacher" comic books) and Yara Martinez are funny, adorable and oddly relatable as supervillains and former teammates The Terror and Ms. Lint. Lint's electrical superpowers are formidable but they also make her vulnerable to the contents of ordinary vacuum cleaners. We see more of them as the series soldiers on, and this is much to the enterprise's benefit.
... *** out of four … both a smart parody of our current superhero obsession and a worthy entry into the genre. Its action sequences are better directed than some of its more serious peers, and its CGI effects are polished and judiciously deployed. It's a genuinely funny series, with sharp dialogue, especially coming from the blue bug himself. …
... Amazon is bringing some welcome wit and warmth to the genre. The Tick, a niche comics character who was previously the hero of a 2001 Fox sitcom, springs into life with unencumbered vim. …
... despite Mr. Serafinowicz's quite capable performance, you may miss Patrick Warburton's Tick — less perceptive, more like a giant, earnest puppy, and funnier. To find out, of course, you'll need to watch both shows, so you'd better get started. …
... With key episodes written by Edlund and directed by Wally Pfister (who photographed "The Dark Knight," ironically), the show is clever and crazy in the right proportions; it is always, in its outsized way, human and believable. It's everything I like in a thing like this. …
The San Francisco Chronicle says:
... the kind of laughs Edlund goes for may be challenging for some viewers. It's silly, of course, but mostly, the show is droll. There are few, if any, sidesplitting moments and you have to listen carefully to catch some of the deadpan moments. …
... Grade: B … "The Tick" burrows right under the funny bone. …
... If The Tick lightened up any more, it might float away, and we'd gladly go along for the ride. …
... It's grounded in a somewhat dour version of reality, which blunts some of the comedy's goofier edges. And structurally speaking, like other streaming shows, it tends to treat its first season as one long piece of set-up for whatever comes next. The end result is a six-episode half-season of "The Tick" that often feels thin and awkwardly stretched out. …
... The Amazon version remains as wonderfully quirky as all the others, but cleverly adds new layers of depth and character development that will (one would hope) allow it to play out over multiple seasons. …
12:01 a.m. Friday. Amazon.