Ahoy, squirts! Quint here. Hope you're ready for a big visual info dump on Rian Johnson's Star Wars: The Last Jedi because next week brings us Force Friday, which means the first wave of Episode 8 toys are hitting shelves around the world. Hell, some of them are already leaking out... I've seen at least two found prematurely on Target shelves on my Twitter feed today... a cute little Porg doll that squeaks and a Snoke Funko Pop.
With all the merchandising coming full bore it's no surprise that Lucasfilm and Disney are officially starting to release names and images. Today on The Star Wars Show we got our first look at two new bad guy vehicles: the AT-M6 (All Terrain Megacalibre 6) and a First Order Dreadnought.
The AT-M6 is a different kind of Walker than we're used to. Look at those forearms. Star Wars Show hosts Andi Gutierrez and Anthony Carboni say this vehicle will less like an elephant and more like a simian. I assume it won't move super fast or anything, but the new design is supposed to brace it for the giant cannon on its back.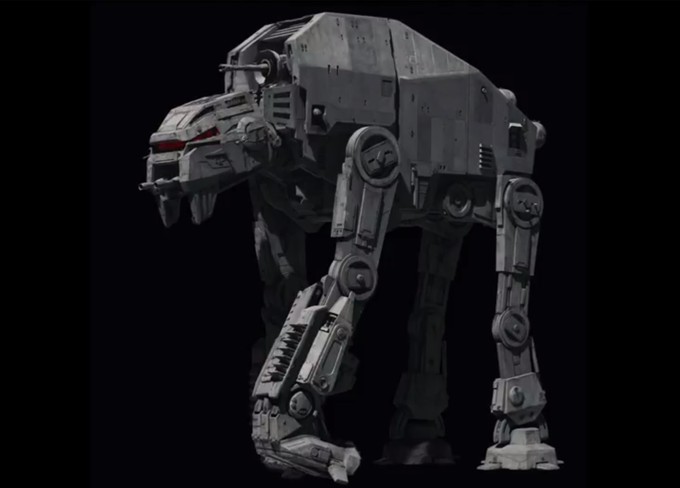 Now for the Dreadnought, which has been improved upon by the First Order from the last time we saw one of these things in the Battle for Endor. A little leaner, a little sleaker... and, to my perpetually stuck in the gutter mind, it looks like it has a dong. So bonus.

We gotta get the Dreadnought together with the big boobed ship from Battle Beyond the Stars!
Here's another angle:

Be sure to watch the full episode for more insight and extra nerdery.
The time is drawing near. We're less than 4 months from the release of the new Star Wars Saga Film and only a week away from finding out how strong our will is when we see some new cool shit to buy at our local shopping center.
-Eric Vespe
"Quint"
quint@aintitcool.com
Follow Me On Twitter