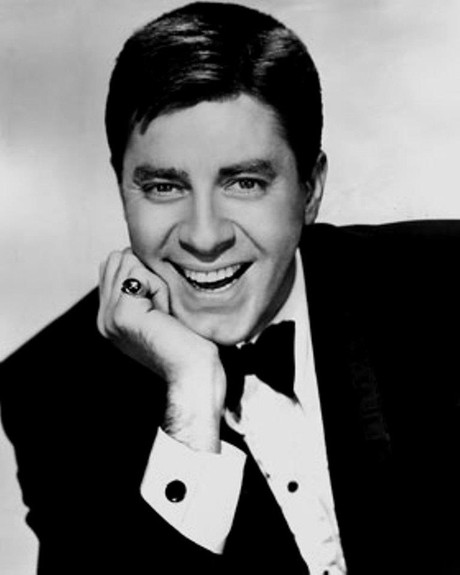 Hey, guys. Quint here with some words on the passing of Jerry Lewis. As a child of the '80s I missed the heyday of Jerry Lewis. As I delved into movie history I learned a little about the man, but didn't have that much interest in exploring his work until a very random heavy hitter filmmaker quasi-forced me interest to be piqued by his work.
Quentin Tarantino began coming to Austin the mid-'90s armed with his rapidly growing 16 and 35mm collection of cinema obscurity. These films ran the gamut from kung-fu to blaxploitation to sexploitation, Man-In-Suit Monster Movies, farces, Italian Crime movie, hicksploitation and all shades of horror. I was 15 when I went to the first QT Fest, which also happened to be where I met the weird red-headed goofball who had started a little nerdy website on that crazy new thing called the Internet.
I can't begin to explain how much of a turning point these marathons were in my life. I attended because I liked movie and Pulp Fiction was a seminal movie in my cinema appreciation and I just wanted to be in the same room with the guy who made it, but I came out of these with perhaps one of the best film educations you could possibly ever get, thanks in large part to Tarantino's own eclectic tastes and his encyclopedic knowledge on display while he introduced each one.
Mixed in amongst the Burt Reynolds sweaty "Southerners" and goofy Chop Socky martial arts movies were a few Jerry Lewis comedies and not his very well known ones, which is important because that allowed me to get hooked and still have some of his very best movies to uncover on my own.
The two movies I remember from the QT Fest time were in and of themselves very different. One was a complete solo vehicle for Lewis called VISIT TO A SMALL PLANET in which he played an alien visiting Earth to study its inhabitants and the other was one of his better duo pictures, BOEING, BOEING which was built like a Lewis & Martin film (pairing a childlike goofball and a smooth ladies man/con artist) but co-starred Tony Curtis instead of Dean Martin.
There was an innocence to Jerry Lewis's first couple of decades of films that was incredible. Sure, he could (and was made famous for) be super annoying, but that was always in service of the story
It's hard to explain just how big of a deal Jerry Lewis in the '40s, '50s and '60s. He had a foot in stage, screen and TV. He was one of the top earners between 1950 and 1964. There was no escaping him and the audience didn't want to.
His cinema adventures really began with the 17 Lewis and Martin buddy pictures they did together between 1949 and 1956. That's right, 17 films in 7 years. No wonder they got sick of each others' shit!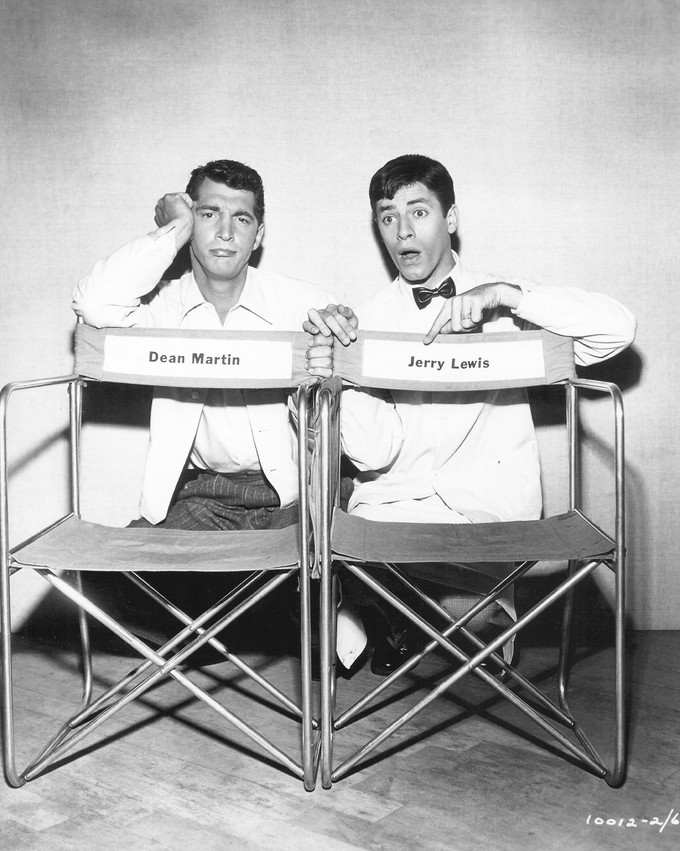 I haven't seen all of their films together, but of the ones I have my favorites are Scared Stiff and The Stooge. When they separated both men continued their careers in big ways, but Lewis found a success in films that Dean Martin wasn't able to. Martin had a few good ones (I quite like his Matt Helm films) and remained a huge force in entertainment, but Lewis absolutely commanded the silver screen. Post break-up was when Lewis had huge success with The Bellboy, Cinderfella, The Ladies Man, The Nutty Professor and The Disorderly Orderly to name a few.
Sadly there came a point where the audience moved on. As the '70s approached, the audiences got a little more grown up, a little more cynical and Lewis' innocence wasn't what they wanted. His attempt at course correcting for this resulted in one of the most fascinating and wide known Hollywood stories: The Day the Clown Cried.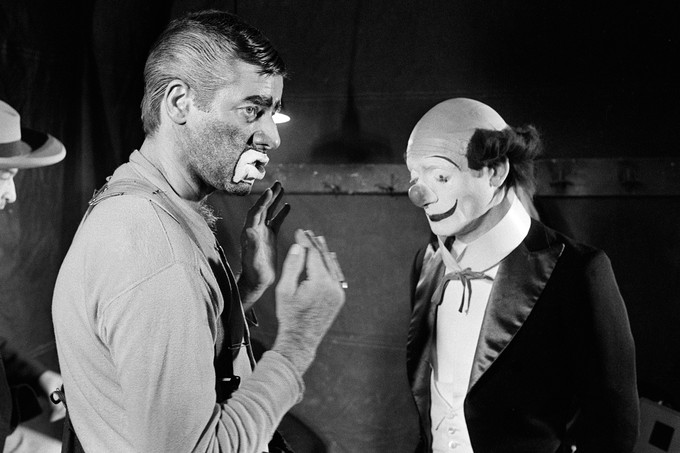 Ill-conceived from the beginning, this drama about a clown who has to lead Jewish children into the gas chambers of Auschwitz was so off the mark that Lewis took all footage, threw it in a vault and locked it away, seemingly forever.
Like most things that you're told you can't have, I'm absolutely dying to see this movie. Before Lewis passed away he donated it his materials to the AFI with the promise that they wouldn't present it publicly for 10 years. That was in 2015, so theoretically, if they keep their word, we'll get to see this thing in 2025.
The Day the Clown Cried did more than just prove that Lewis was out of audience favor, it damn near broke him. He didn't appear in another movie until 1980's Hardly Working, which kicked off a string of duds for him that just happened to be interrupted by possibly the best film he's ever been a part of and the best role of his entire career.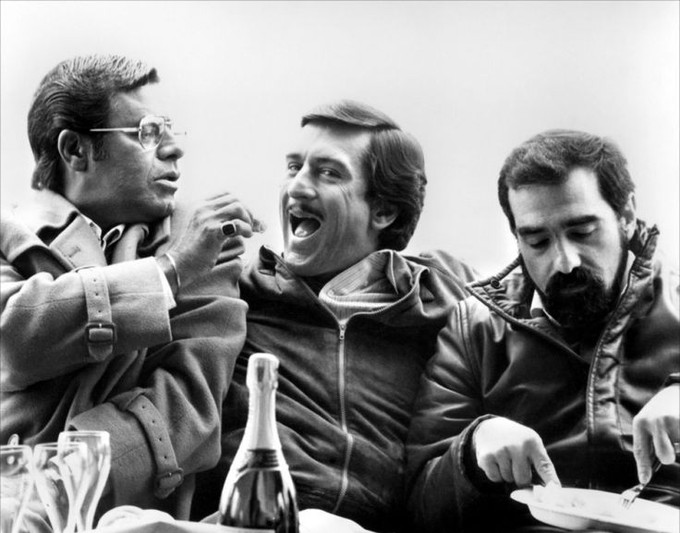 Martin Scorsese's The King of Comedy is a flat out incredible movie and his Jerry Langford is a career best turn for the actor. Only Jerry Lewis, with all his baggage, could have played this part. If you haven't seen it, correct that mistake and do it tonight. It's about an off-his-rocker wannabe comedian who so desperately wants to be seen that he stalks (and ultimately kidnaps) his idol, a huge talkshow host.
This film is the career highpoint for Lewis, in my book. He's the perfect person at the perfect time to play this role and his work with De Niro in it is next level.
Lewis led an interesting life with lots of ups and downs. He was an incredibly smart businessman, a surprisingly good actor, could often be a huge son of a bitch (look up his attitude on female comedians if you don't believe me), but also had a giant heart, dedicating so much time to charity fundraising that when I was growing up that's what I knew him for instead of any of his movies.
The man was friends with JFK, survived multiple heart attacks, pioneered the use of video assist (aka playback) which changed how films were made forever, was father to a genuine '60s rock star and even served as cinema professor to a couple of young punks named George Lucas and Steven Spielberg. Oh, and got this picture.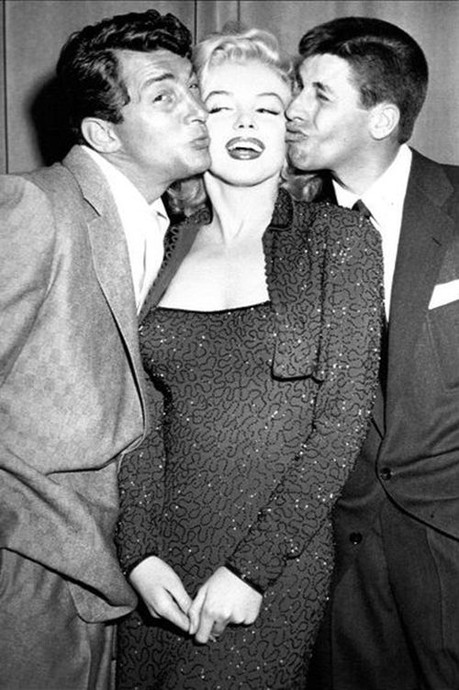 Jerry Lewis did a lot of good for a lot of people, not the least of which are cinephiles who still can't help but chuckle when they throw on one of his classics. A legend has gone and there will never be another quite like him.
My thoughts are with Mr. Lewis' friends, family and fans. Bon voyage, Picchiatello.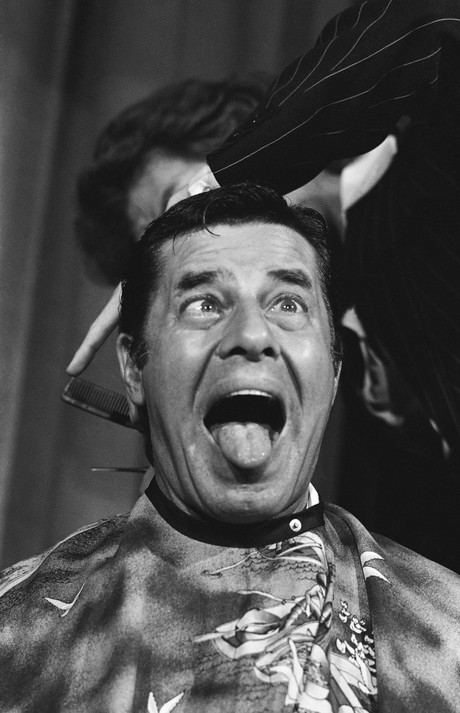 -Eric Vespe
"Quint"
quint@aintitcool.com
Follow Me On Twitter