Ahoy, squirts! Quint here. One of the coolest things I saw at CinemaCon earlier this year was a solid 10 minutes from Alexander Payne's Downsizing.
It's the kind of high concept bit of weirdness that you usually attribute to people like Charlie Kaufman. The idea is that technology has given us an option to shrink ourselves down. It's completely optional, of course, but a typical middle class family can sell their house and car and stuff and turn their modest nest egg into a multi-millionaire lifestyle. Of course, they live in a doll house, but it's a really NICE doll house.
So, some folks can stretch their dollars and the rest of us prosper as their biological footprint is reduced in this interesting solution to population control.
The movie focuses on a middle class husband and wife, played by Matt Damon and Kristen Wiig, who decide to undergo the process. It's got a very Being John Malkovich vibe and of all the stuff left for release this year this one's pretty near the top for me.
EW debuted an image, which you can see below, showing Damon and Wiig being sold on the idea of "downsizing."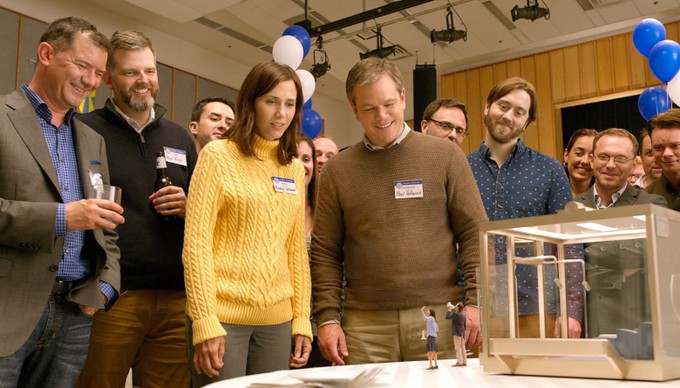 I'm really pumped for this one. Can't wait for you guys to see a trailer so you get an idea of just how out there and fun this one looks.
-Eric Vespe
"Quint"
quint@aintitcool.com
Follow Me On Twitter