Ahoy, squirts! Quint here with a little roundup of some of the non-Marvel/Star Wars films that took part in the studio's big Live Action presentation at D23. Let's start by taking a look at what Jon Favreau brought from his upcoming photoreal adaptation of The Lion King, shall we?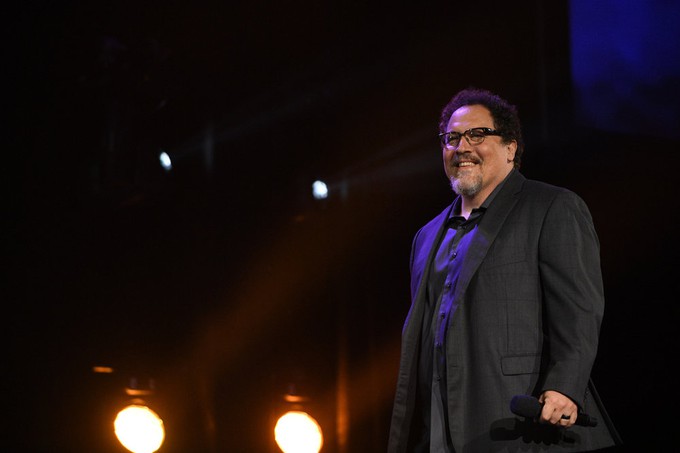 What Favreau brought could easily be described as a proof of concept piece that essentially recreates the Circle of Life opening from the animated film using top notch (I assume Weta Digital) CGI to bring the animals of Pride Rock to life.
The second I saw little kitty Simba done as a photoreal, animal accurate creation sneeze when Rifiki put that weird red dust shit on his head the thought ran through my mind "This movie is going to make a billion dollars." The "awwwws" that ran through the crowd mixed with the strong nostalgia goosebumps from the iconic opening song tells me this is going to be a rather easy sell for Disney. Even moreso than the Bill Condon Beauty and the Beast, which I felt from the first trailer was going to play like gangbusters.
Now, this footage was obviously a little rough. Some animals looked more impressive (and finished) than others. Rafiki, for instance, looked like they just trained a real Mandrill to grab a little kitty and hold him above his head. Simba, while adorable, was a bit CGI-y.
I noticed they also carefully cut away from Mufasa and Sarabi. We only ever saw their paws or, for the final lifting the baby up shot, saw them in silhouette, which leads me to believe they're still figuring out their final face designs.
The African plains looked unbelievable, with the opening sunrise shot almost Terrence Malick in it's gorgeousness.
This film more than any of the other "live action" adaptations is the most concerning because there isn't a live action element to actually capture. It's going to be another animated movie, but one done in a decidedly non-cartoony way. Whether I think it's a good use of resources and talent or not I feel like the audience is going to lap it up and it'll make aaaaalllll the money.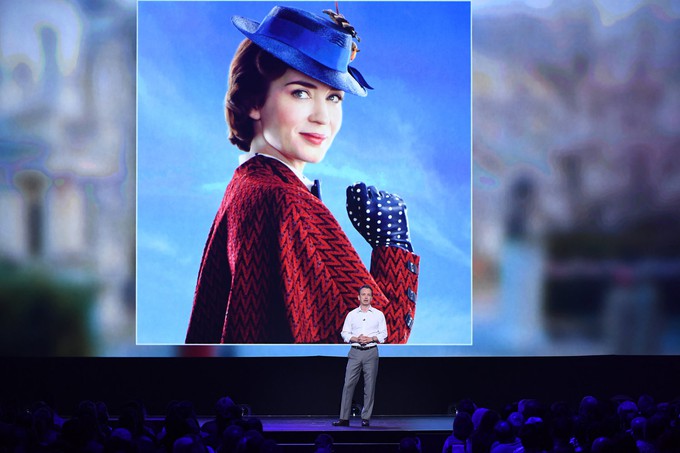 Mary Poppins Returns – The setting of this movie is Depression-era London. Michael Banks (Ben Whishaw) is a widower and is struggling while raising his three motherless children. He's inherited 17 Cherry Tree Lane, but a heartless banker Mr. Wilkins (Colin Firth) is trying to take it from him. His sister, Jane (Emily Mortimer), is trying to help, but it'll take Mary Poppins coming back into his life to get things back in order.
Emily Blunt and Rob Marshall took the stage to fill us in on the adaptation, talk up how awesome Lin-Manuel Miranda is and introduce some pretty sweet footage that just happened to be scored live by co-songwriter Marc Shaiman and the Disney Orchestra.
The bit of score didn't repeat any themes I was familiar with, at least up front. I admit I might have been pretty focused on the footage once it really got rolling and could have missed a more subtle hint at the previous music. But I can say that the score was perfectly '60s-era Disney. Low strings and slow building trumpets gave that familiar combination of somber and whimsical that make me think of that era.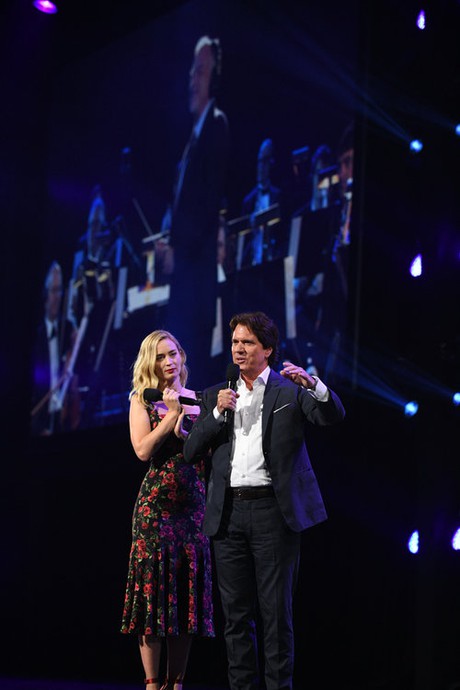 Dark, beaten down London was the first thing we saw in the footage. Visually you can tell the city's having a rough time and our first look at Whishaw's Michael Banks showed a good soul barely holding things together for the sake of his sad children.
In a trash bin outside the house sits the kite from the end of the first movie. The years have been pretty kind to it. The suffragette sash tail is a bit dirty, but Daddy Banks' mending seems to have held strong over the years.
One of Michael's children finds the kite and sails it. A storm gathers and pulls the kite up into the clouds, the young boy struggling to hold onto it. We see Lamplighter Jack (Miranda) helping the lad reel the kite back in. They're having a tough time, but suddenly the clouds part and there's the flag... in the hand of a woman in silhouette gracefully floating down to Earth.
There were a lot of rapid cuts showing off sequences from the rest of the movie, including a look at Meryl Streep's Topsy, the colorful and eccentric cousin of Mary Poppins, screen legend Angela Lansbury playing a character called "The Kindly Balloon Lady" and Blunt doing her best fun, but strict take on the character made famous by Julie Andrews, but there were three things that stood out to me as being particularly promising.
1) Admiral Boom returns. That crazy old bastard is still shooting off the canon on top of the house next to 17 Cherry Tree Lane and when I looked it up afterwards it seems that none other than David Frickin' Warner is playing him.
2) There was a quick shot of Blunt interacting with animated birds. The colorful creatures flew around her outstretched hand and while I don't think the cartoons were actually cel animation they were made to mimic that style. It felt like I saw a quick second of the Jolly Holiday scene from this movie.
3) Dick Van Dyke dancing on a table. Dick Van Dyke returns, playing Mr. Dawes the elderly bank manager. Not the one he played under old age makeup in the first movie (he died... Remember when they thought it'd be cool to have George Banks murder him with laughter and then give him his job?Yeah, that was pretty messed up...), but his son... Although he looks almost exactly like he did as the elder Dawes in the original now. It's great he's back as a nod to the original, but it's even better that he's getting a dance number. The dude was doing an animated dance on the top of his very classy table and it made me smile instantly.
The footage ended with Jane and Michael having a very serious conversation in hushed tones. "Those things... when we were young... They didn't really happen, right?" Jane asks. "No, no. Of course not," Michael responds as we see Mary Poppins sliding up the bannister through the doorway directly behind them.
I think Rob Marshall is really hit or miss, but I gotta say this one might work. I might be saying that as someone who obsessively watched Mary Poppins when I was younger and as such am an easy mark for a return to this universe, but the tone felt right, Blunt fit the bill as the character and it just felt like Mary Poppins. I guess we'll see Christmas 2018.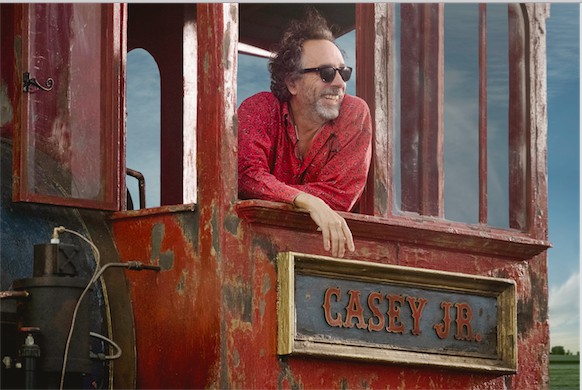 As you can see, the next film I'll talk about is Dumbo. No footage was shown for a very good reason: they haven't started shooting yet. But Tim Burton recorded a video from the set (from the engine of Casey Jr no less) telling us he's a fan and loves us and all that stuff. The video had a few pieces of concept art, which showed a pretty Tim Burton-y looking dirty circus.
The star of Dumbo was then brought out on stage... Or at least the 1:1 scale maquette of the baby elephant with the big-ass ears: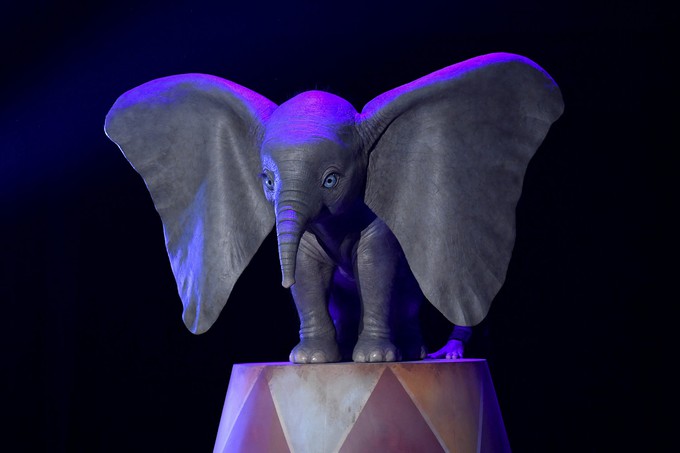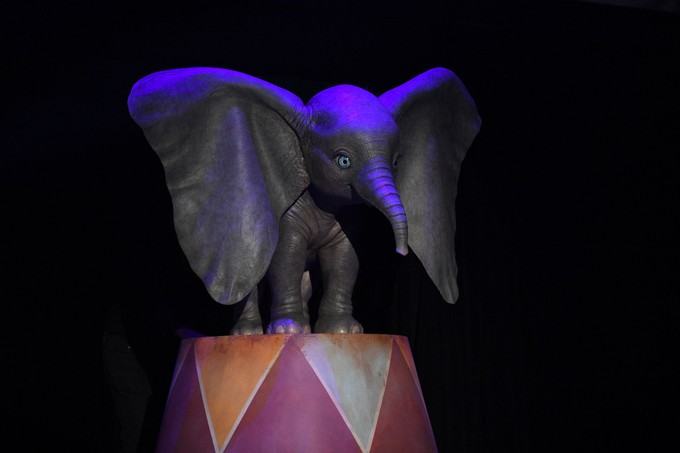 Dumbo looks right. I still pull for Tim Burton, but I'm worried that one of my least favorite screenwriters, Ehren Kruger, is behind this adaptation.
They also showed some stuff from A Wrinkle In Time that looked great (but you've seen all that already, so I don't need to describe it for ya') and this weird Lasse Halstrom Nutcracker movie called The Nutcracker and the Four Realms, which has a big cast including Keira Knightley, Morgan Freeman, Helen Mirren, Richard E. Grant and Mackenzie Foy. The footage there looked pretty decent, I have to say, but it did have a severe live action Alice and Wonderland feel.
If I were a betting man I would put some money on Disney staying at the top of the box office mountain for the next few years. It's ridiculous they filled 2 hours with this stuff and they didn't even touch on their next two Marvel films! I suppose they're saving Thor: Ragnarok and Black Panther for San Diego Comic-Con...
Anyway, that's Disney's live action stuff. Lots of exciting things in the works at the moment, no?
-Eric Vespe
"Quint"
quint@aintitcool.com
Follow Me On Twitter