Ahoy, squirts! Quint here. Remember when there was all that negative buzz floating around the internet that Disney just couldn't seem to cast their Aladdin? Well, that seemed to be complete horseshit because at D23 this weekend Disney announced that they have indeed cast their three leads.
Their live action flick has locked in their Aladdin, Jasmine and Genie
Mena Massoud (most famous for the TV show Open Heart) will be Aladdin, Naomi Scott (the new Pink Ranger) will be Princess Jasmine and none other than Will Smith will play the Genie. I have proof! Here's Disney big wig (and former big time producer) Sean Bailey standing in front of their faces up on the Hall D23 stage: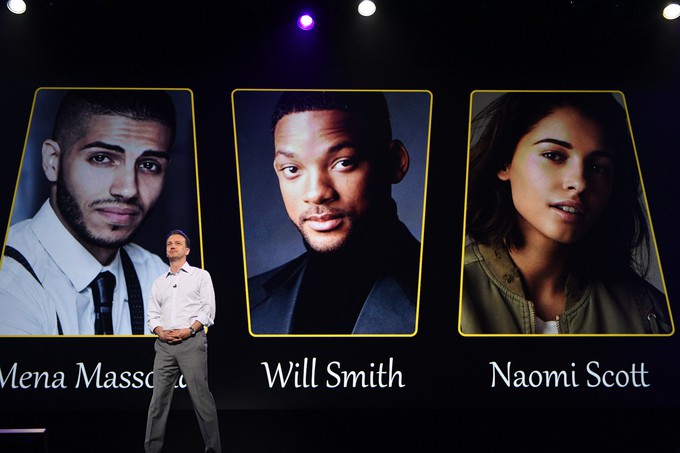 You may remember that Will Smith was involved in some capacity with Tim Burton's live action Dumbo movie, but backed out. I wonder if this role was more attractive than whatever the hell he was going to play in Dumbo.
I like the dynamic at play between the leads so far. Smith as Genie might bring a bit too much swagger to the role, but I'd rather they err on the side of doing something a little different than going the other way and just trying to copy the very distinct personality of the late, great Robin Williams. Guy Ritchie will direct the film for Disney.
-Eric Vespe
"Quint"
quint@aintitcool.com
Follow Me On Twitter