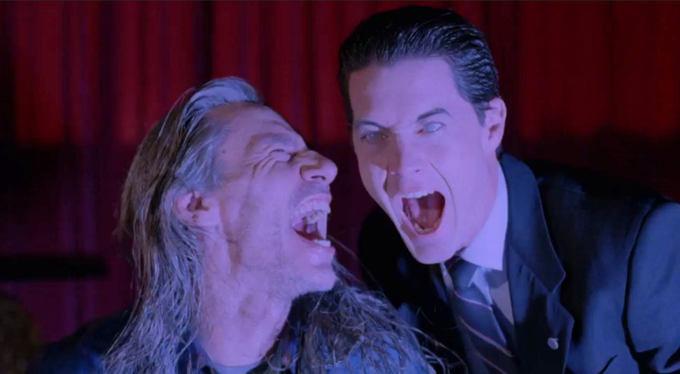 Previously. On "Twin Peaks."
* ARGENT 2. "We just drove by; his car's still there," says Gene (Greg Vrotsos), one of the two bearded men in the red parked car. "Fuck, Gene! This job was supposed to be done yesterday! Are you trying to get me killed?" says Lorraine (veteran stuntwoman Tammy Baird), the woman on the phone. "She's a worrier," says the other man with a beard. "Argent 2," she types on her Blackberry. In Buenos Aires, an electronic device in a pan atop dirt or concrete flashes and beeps.
* BACK IN SOUTH DAKOTA. Buckhorn CSI Constance Talbot (Jane Adams) shows off a ring found inside a decapitated body. It has an inscription: "To Dougie, With Love, Janey-E." (Dougie, a Las Vegas resident, lost a different ring in the Black Lodge when his arm shriveled.)
* "COOPER" REMEMBERS BOB. "And now food is coming," announces "Cooper" from his cell. "You're still with me," he tells the mirror. "That's good."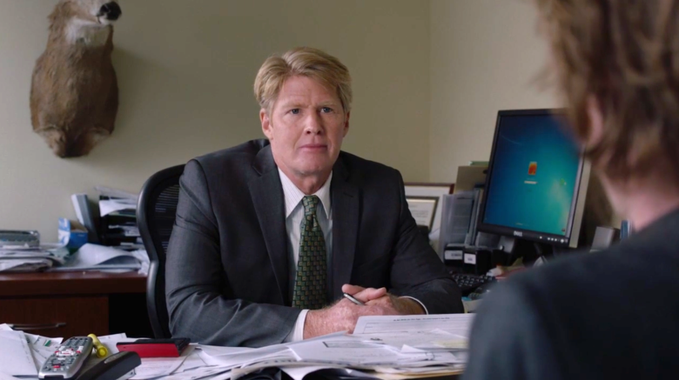 * BOBBY BRIGGS' PAL. Mike Nelson (Gary Hershberger) tells Steven Burnett (Caleb Landry Jones, who was Banshee in "X-Men: First Class") his resume is "one of the worst-written I've ever seen." "What an asshole," Mike concludes after Steven exits.
* TRUMAN'S WIFE. Frank Truman, in Hawk's office, advises ailing brother Harry to "hang tough" when wife Doris Truman (Candy Clark) arrives to complain about a leaky pipe and her husband's unwillingness to let her buy a new rug. "You're impossible!" she concludes.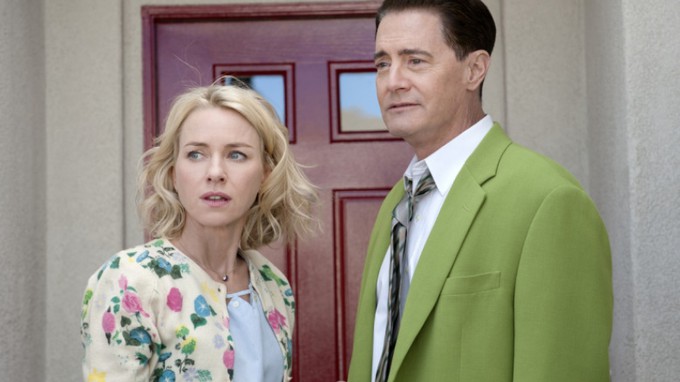 * MONEY TO BE DELIVERED. Janey-E Jones advises husband "Dougie" that his winnings total $425,000. She asks "Dougie" to call and make arrangements to deliver $50,000. "Dougie" cries as he stares at Dougie's son in the back seat of his wife's car.
* SIX GUYS IN TWO CARS. The two bearded guys in the red car drive by Dougie's car again. Four beardless men in a black car almost immediately do the same.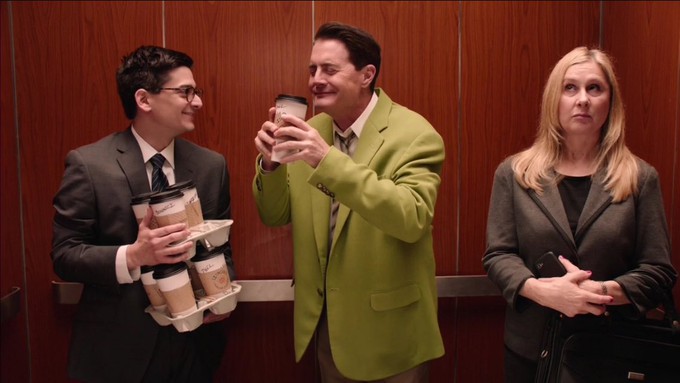 * "HE'S LYING." Janey pushes "Dougie" out of his car and toward his Lucky 7 Insurance office. "Dougie" is lured to a meeting by Phis Bisby (stand-up comic Josh Fadem, who also plays Jimmy McGill's camera guy on "Better Call Saul") with multiple cups of coffee. Dougie's boss, former boxer Bushnell "Battling Bud" Mullins (Don Murray of "Conquest of the Planet of the Apes") advises "Dougie" to "cut the shit," even before "Dougie" accuses co-worker Anthony Sinclair (an unrecognizable Tom Sizemore) of lying. "Maybe I'll let you kiss me now, handsome," says Dougie's pretty co-worker Rhonda (Elena Satine, who played Asgardian sorceress Lorelei on "Agents of SHIELD") as she lets him into the ladies' room.
* CASINO BEATING. "Thirty jackpots in a row," Rodney Mitchum (Robert Knepper) informs Bradley Mitchum (Jim Belushi) as showgirls (Giselle Damier, Andrea Leal and Amie Shiels) file into the Silver Mustang's security office. "We haven't paid out that many in a year." Supervisor Burns is told to leave town and never come back.
* DOUGIE's CAR DESTROYED. The son of the drugged-out mother investigates the bomb planted by Gene beneath Dougie's car. Three of five beardless men are destroyed when they attempt to start the vehicle.
* THE MOTEL KEY. After getting her car washed, Dougie's girlfriend Jade mails his Great Northern key back to Twin Peaks.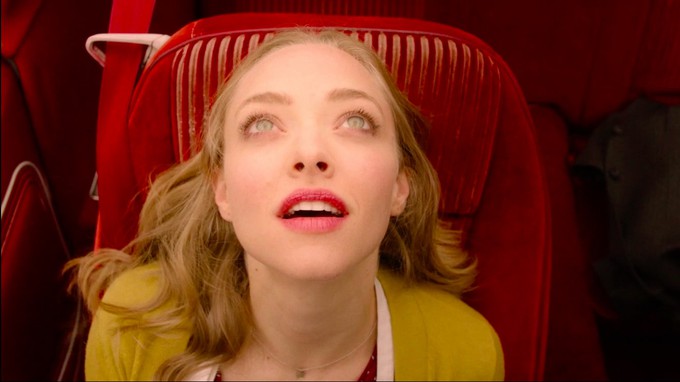 * SHELLY's DAUGHTER. Norma Jennings (Peggy Lipton) consoles fellow RR Diner waitress Shelly Johnson (Madchen Amick) after Shelly gives Shelly's daughter, Becky Burnett (Amanda Seyfried) $72. Becky's husband Steven gives her white powder to sniff and nearly a minute is devoted to Becky's face grinning in drug-fueled ecstacy.
* HAWK & ANDY. Hawk admits to Andy that he hasn't found any Indians.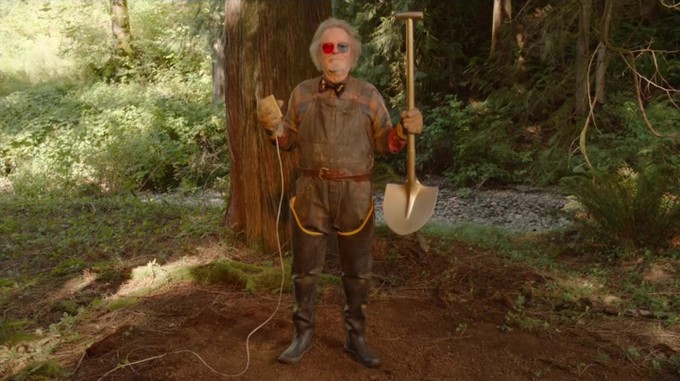 * NADINE HURLEY WATCHES DR. AMP. At 7 p.m. Dr. Lawrence Jacoby (David Cross' father-in-law Russ), asks his audience if it knows where its freedom is. Jerry Horne and Big Ed's wife watch as Dr. Amp speaks of a corporate conspiracy and hawks his golden shovels for $29.99.
* BRIGGS' FINGERPRINTS. At the Pentagon an Air Force colonel named Davis (Ernie Hudson) learns from Lt. Cynthia Knox (Adele Rene) that Major Garland Briggs' fingerprints have been found for the 16th time in 25 years, this time in Buckhorn, S.D. Davis sends Knox to Buckhorn on what he assumes will be "another wild goose chase." (Briggs was played by a man named Davis who died nine years ago this month.)
* CHARLOTTE'S TORMENTOR. As Elizabeth ("Suburgatory" star Jane Levy) looks on, smoker Richard Horne (Eamon Farren) gives money to Twin Peaks deputy sheriff Chad Broxford, then begins choking Charlotte (Grace Victoria Cox, who played Melanie Cross in "Under The Dome") and asking if she wants to fuck.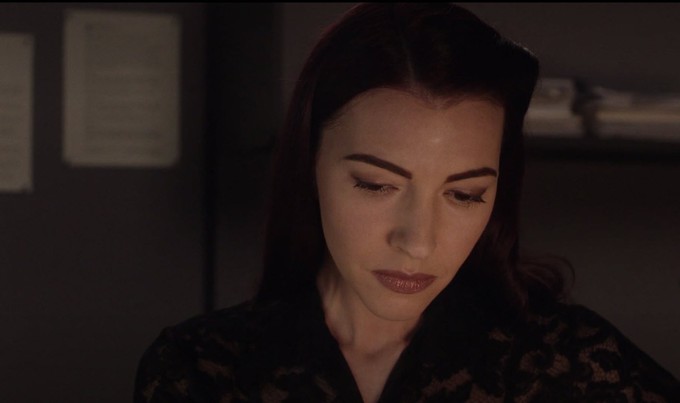 * MORE FINGERPRINTS. Special agent Tammy Preston compares photos and fingerprints of Cooper and "Cooper."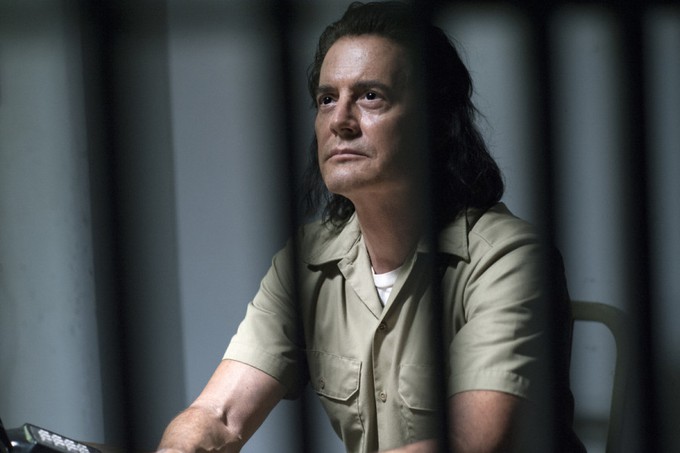 * "COOPER'S" PHONE CALL. "Now that everyone's here, I will make my phone call. Now who should I call? Should I call Mr. Strawberry. No, I don't think I'll call Mr. Strawberry. I don't think he's taking calls. I know. I know who to call." "Cooper" dials a very long phone number and the prison's alarms go off. "The cow jumped over the moon," he says into the receiver, then hangs up. "What did this guy just do?" asks Warden Dwight Murphy.
* THE DEVICE. In Buenos Aires, the device-in-the-pan blinks, beeps and shrinks to the size of a pebble.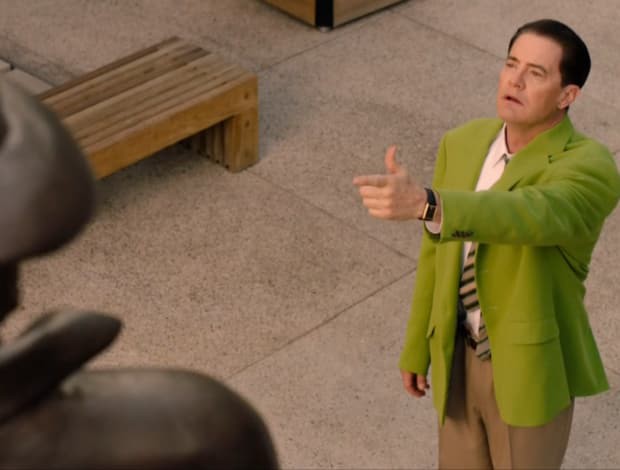 * THE IRON GUNMAN. As dusk falls "Dougie" strokes the statue outside his office building. A security guard advises against loitering, but Cooper doesn't leave.
Albert Rosenfeld and Gordon Cole did not appear, nor did Diane or Audrey Horne.
Yet to put in appearances are Monica Bellucci ("SPECTRE"), John Billingsly ("Star Trek: Enterprise"), Jonny Coyne ("Alcatraz," "11.22.63"), Jeremy Davies ("Lost"), Laura Dern ("Jurassic Park"), Francesca Eastwood ("Heroes Reborn"), Jay R. Ferguson (Stan Rizzo on "Mad Men"), Grant Goodeve ("Eight Is Enough," "Northern Exposure"), David Koechner ("Anchorman"), Clark Middleton ("Fringe," "Kill Bill"), Trent Reznor ("Light of Day"), Tim Roth ("Pulp Fiction"), John Savage ("The Deer Hunter"), Lauren Tewes ("The Love Boat"), Eddie Vedder ("Singles"), Charlyne Yi ("This Is 40," "Love"), Julee Cruise, Jan D'Arcy (Sylvia Horne), Sherilyn Fenn, Warren Frost, Everett McGill, Harry Dean Stanton, Charlotte Stewart (Betty Briggs) and Alicia Witt.
Josh McDermitt (mullet-boy Eugene on Walking Dead) was credited as "Wise Guy" in 3.3, but I'll be danged if I can prove he's in that episode.
I wonder if Grant Goodeve will play the ailing Sheriff Harry Truman.