Hey folks, Harry here... Quint was on deck when the news broke on Facebook, via Mike Mignola's page that HELLBOY would be on the big screen again - only not with Guillermo Del Toro and Ron Perlman, but instead it would be an R-rated version of HELLBOY starring STRANGER THINGS' David Harbour as the BPRD's greatest problem child. Now - Harbour is great in STRANGER THINGS, but after his SAG Acceptance Speech... I just want to see him in a whole lot more!

Look - Obviously, I'll always have a desire to see what Guillermo had cooked up to complete a trilogy of films. I remember when Universal was trying to get him to make HELLBOY with Vin Diesel or The Rock - before the film wound up at REVOLUTION STUDIOS. HELLBOY had a very rough and uncertain journey with Guillermo to even get to the screen. He fought for the big red guy like nothing you could imagine. His love of Ron Perlman in the part was visionary and utterly justified. However, as someone that comes from the Comic and Film worlds - when Guillermo said his third film was DEAD DEAD. I mourned. Feeling sad that not only would I not see the conclusion of his oft-talked about trilogy... but even more so... I wouldn't get to see HELLBOY onscreen, possibly ever again.
Then, when Mignola said that Neil Marshall was doing an R rated film with Harbour... I was kind of ecstatic. HELLBOY would be back. Sure, it isn't going to be Ron and Guillermo, but this means we have a chance of HELLBOY becoming an eternal cinematic character. Like James Bond or Sherlock Holmes or Tarzan. I mentioned on Twitter that I saw Guillermo as the James Whale of HELLBOY - directing the first two, then stepping away. And while many people love FRANKENSTEIN and BRIDE OF FRANKENSTEIN... Well, SON OF FRANKENSTEIN is mighty awesome all on its own.
Making HELLBOY an R-rated show - that means something more intense than what we got before. Will it still have the soul? We'll have to wait and see. Mignola did up a poster for CANNES that gives us the full title:
HELLBOY: RISE OF THE BLOOD QUEEN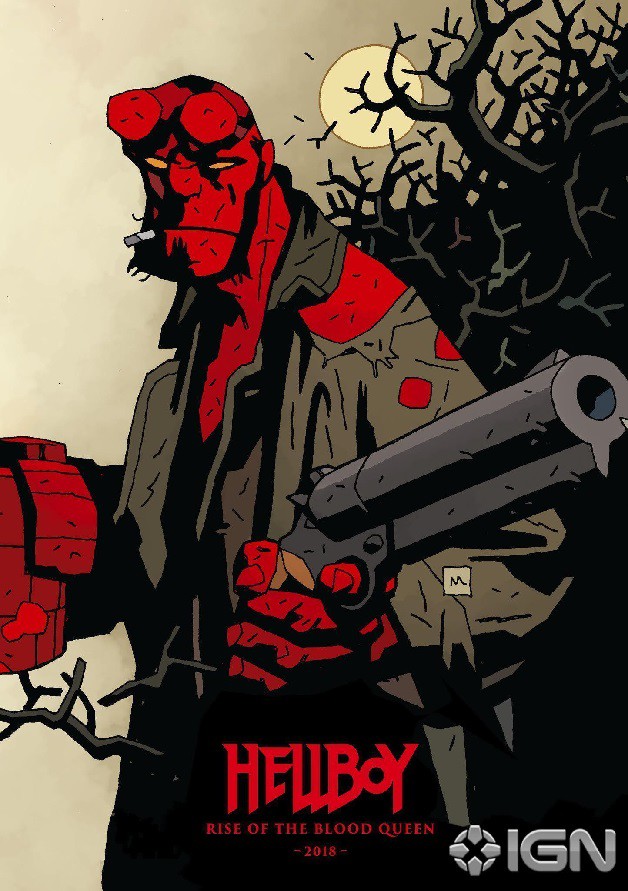 Now - we'll see if this has anything to do with the DARKNESS CALLS or THE WILD HUNT series of comics, which mentioned & had the most powerful of all witches, who was once known as The Lady Of The Lake (like Arthur, she even had a romance with Merlin that didn't turn out well.) Here's what she looked like: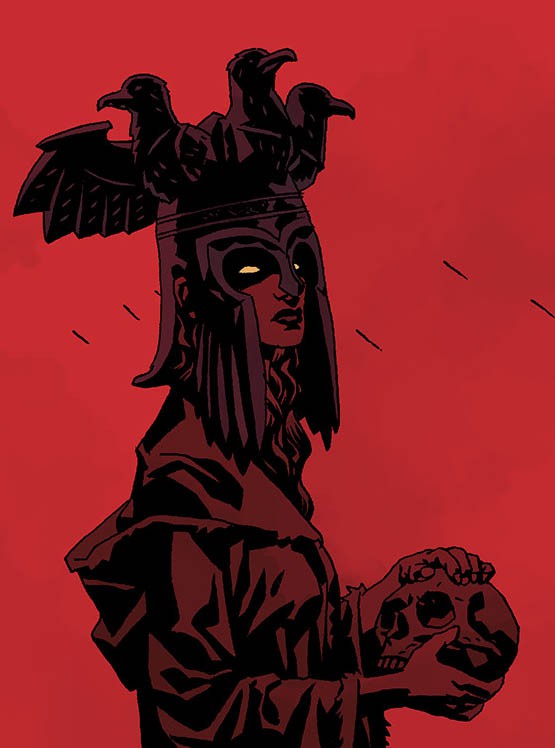 Or - have they gone in their own direction using her in a way we've yet to see?
I just hope we get to see her cut into pieces and distributed around the world and then see the pieces come back together. She could be a HELLuva villain for Hellboy to face off against.
Keep it Cool,
Harry