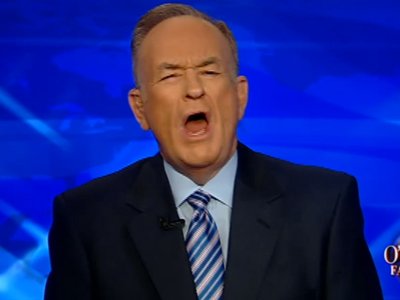 He'll do it live.
Fox News is close to cancelling "The O'Reilly Factor" and insisting O'Reilly pursue other opportunities, suggests a Tuesday report from The Wall Street Journal – which like Fox News is owned by Rupert Murdoch's News Corp.
"A final decision on Mr. O'Reilly's fate could come as early as the next several days," people "close to the situation" told the newspaper. "O'Reilly, host of 'The O'Reilly Factor,' has been ensnared in a sexual-harassment scandal related to previously undisclosed settlements he and Fox News paid to women who worked on or appeared on his program."
In recent days more than 80 companies have pulled their commercials from "Factor," which has been filling its commercial breaks with a lot of promos for Fox programming hosted by arguably less controversial figures.
Fox News allegedly paid $13 million in settlements to five women accusing O'Reilly of harassment, but more women have recently stepped forward relating similar allegations. (One newer allegation suggests O'Reilly referred to one of Fox News' African-American staffers as "Hot Chocolate.")
Fox News founder Roger Ailes departed Fox News last summer as sexual harassment allegations against Ailes began to pile up.
Find all of the Journal's exclusive on the matter here.