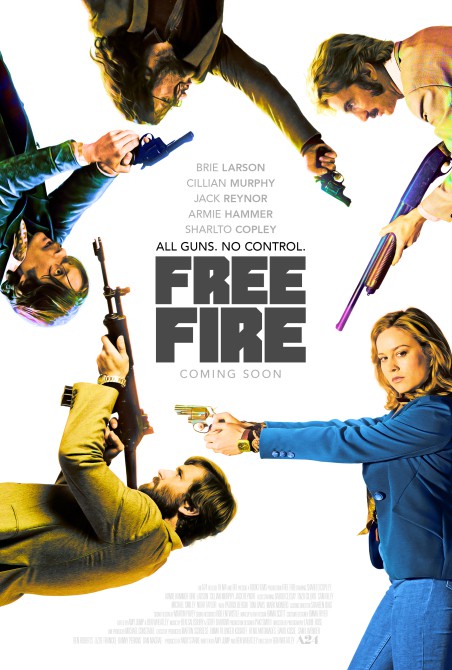 Ben Wheatley has built up quite an interesting repertoire in his productive career, including High Rise a favorite from Fantastic Fest 2015 and Kill List. With Free Fire, he directs a wonderful new offering in the crime/comedy genre.
Touting a delightful ensemble cast, this movie is a playful romp in criminal business gone wrong. Chris (Cillian Murphy), leads a small team of thugs who have come to buy guns from a rag-tag team of arms dealers. The sleazy Vernon (Sharlto Copley), leads the arms dealers with Martin (Babou Ceesay). This is dangerous work and both parties are ever suspicious of a trap. Smartly, Ord (Armie Hammer) was hired by Vernon as a third-party security man and Chris' team uses Justine (Brie Larson) as their go-between to make the deal. Both characters do their best to keep things from going wrong, but of course, unexpected events catch them by surprise. Things get quickly out of hand as the deal falls apart and the bullets begin to fly.
The movie is resourceful, using a neglected warehouse building, two vehicles, and a few external shots as the entire set. Most of the film takes place inside the main warehouse space, where debris and chunks of materials create a playground for the cameras. Once the shooting begins, folks dive for cover in the various structures within the warehouse. This allows the characters to continue a snappy banter between whizzing bullets and to allow the audience to bounce from one person to the other as the action takes place. It's vastly entertaining and hilarious. Characters are developed quickly, thanks to the brilliant writing and performances. Observing how each one of them responds to the ever exhalating stakes of their situation is fascinating. The entire cast delivers solidly, in addition to the previously mentioned artists. Sam Riley and Jack Reynor shine as Stevo, a junkie loser, and Harry, a quick-tempered buffoon, respectively. If you ask for my favorite character, it would be a hard tie between Vernon and the deliciously Zen, Ord. The tension ebbs and flows wonderfully. Even though the story takes place in one main room, there is always a sense of movement and good pacing. You won't get bored watching Free Fire, unless the sound of guns firing puts you to sleep.
Being set in the late 70s, the characters are allowed to express the ignorance of the times. The irony of it will make you chuckle. And mirth is a-plenty in Free Fire. I giggled throughout most of the film, loving the clever writing and pleasant chemistry between the actors. Everybody plays off each other beautifully and the comedic timing is splendid. It's slick and layered humor, with sharp one-liners delivered off screen, as the characters sling insults at each other. It carries the mark of a good comedy, one where you must watch it twice to catch all the jokes. And with this film, a second viewing is not a bad thing.
Free Fire was written by Wheatley and Amy Jump, who also worked as an editor and writer for his other projects. I hope they have more gems up their sleeves for us in the future. I love their approach to cinema and with so many films about heavy social issues crowding the stage, a quirky comedy like this is a refreshing change. It cleanses the palate and reminds us that good cinema doesn't have to bear the weight of the world's wrongs. It can just be good fun crafted by talented people. Check out Free Fire when it comes to your theater, and bring your bullet proof vest!
Thanks for reading,
The Diva Del Mar