Ahoy, squirts! Quint here. If you've been reading this site for any length of time you know that I'm the resident Dark Tower junkie so naturally I couldn't pass up the opportunity to talk about the first poster to drop from the movie adaptation I never thought we'd ever get.
We're only four months away from release, which is a bit later than normal to release teaser material for a big summer movie that could (and should) be a franchise starter, but I'm old enough to remember the days when advertising a year out was unheard of.
My thoughts on this first poster? I think it's pretty neat, but I will say it's a whole lot smarter than it is iconic. Plus I'm not sure how adequately it represents the bizarre mashup of western, sci-fi, horror and fantasy that The Dark Tower series is. Maybe that's a good thing and the poster hides that stuff so it can lure more people into the theater or maybe it's a bad thing and a lot of the uniqueness of the series has been filtered out for this particular turn of the wheel.
Let's take a look, shall we?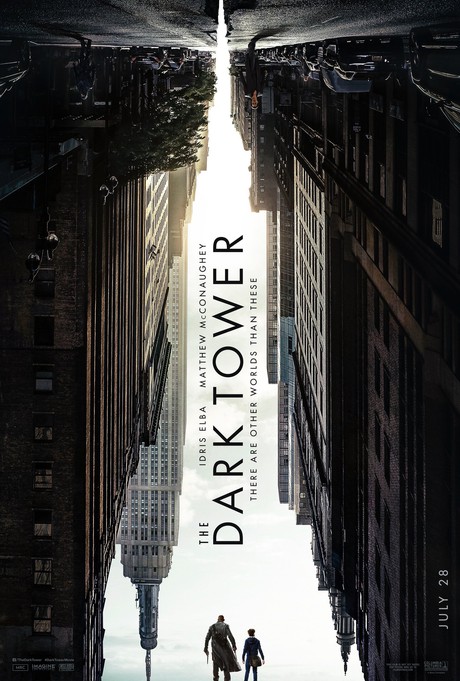 First off, the upside down nature (with The Man In Black at the top) is a bit Inception-y and tells us we're in for something a little mind-bending, which is good. I also like that the Dark Tower itself is outlined right in the center, both perfectly in view and hidden amongst the busy setting. I also like the inclusion of one of the key lines from the book as the tagline: "There are other worlds than these."
The earlier Akiva Goldsman and Jeff Pinkner draft I read had quite a bit of screen time dedicated to our world's New York, so the poster is probably pretty apt if they've kept that structure, which borrows pretty heavily from the second and third Dark Tower books to incorporate more NY stuff.
Am I nervous? You bet your ass I am. I've been obsessed with Stephen King's Dark Tower since I was in Middle School and have been dreaming of a movie version for most of my life. I know there's no way any version could be better than the one in my mind, but I'm hoping against hope that this team pulls it off. The last thing I want is a shitty Dark Tower movie out in the world. I'm assuming this is our one shot at getting this story put on a screen and if they fuck it up I'll be super depressed.
I was hoping to get a look at the Dark Tower trailer at Sony's presentation at CinemaCon next week, but with Life coming out and the timing of this poster drop I have a feeling we might see it online this week or attached to Life this weekend.
That'll be the real make it or break it moment for this film. It's a tricky sell and most of the audience out there is going to render their "will I see it or not?" verdict based on the trailer. For us die hard fans it'll also the thing that clues us in on whether or not they got it right.
What do you folks think?
-Eric Vespe
"Quint"
quint@aintitcool.com
Follow Me On Twitter