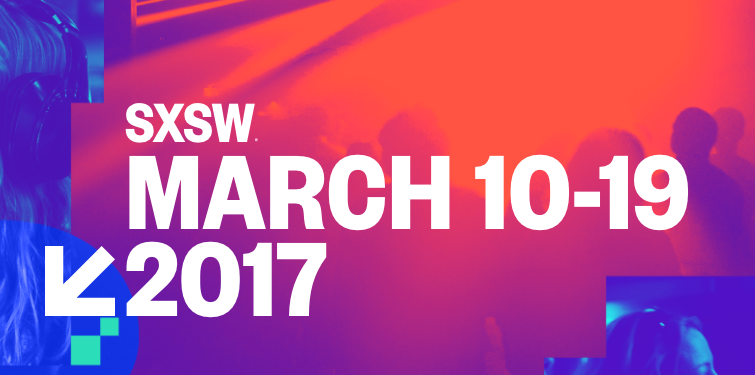 Day 4 started out like an other run of the mill kind of festival day as I made my way out into the drizzly morning to Austin's Stunt Ranch to meet up with FREE FIRE's Armie Hammer, Sharlto Copley, and director Ben Wheatley. Like ya do. Okay, okay, this actually is not at all typical of my average SXSW experience, and I was extremely excited to participate in such a cool event.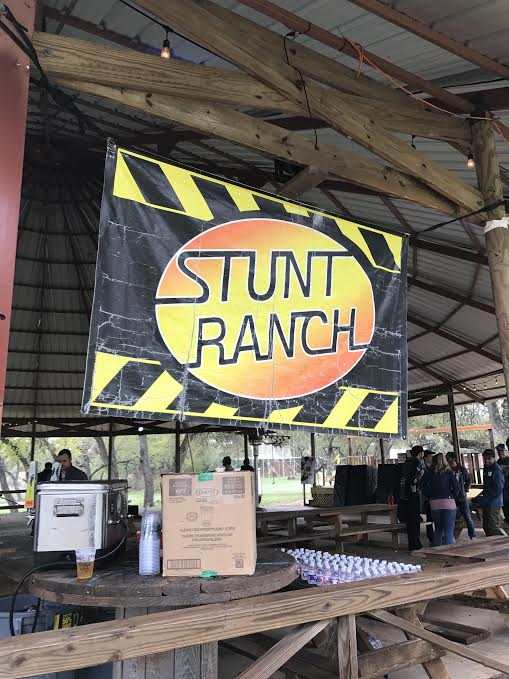 Though it's true that this was a press event, it most definitely had the homegrown, totally unique Austin vibe that I think really amazes the out of towners. I have been hearing about the Stunt Ranch for awhile now- they host camps, corporate events, team building retreats, etc all revolving around the raucous world of the actual stunt, pyro, and special effect work they also provide. The grounds feature a paint ball range, a 20 foot free fall, trapeze, and even an "exploding" van for photo ops.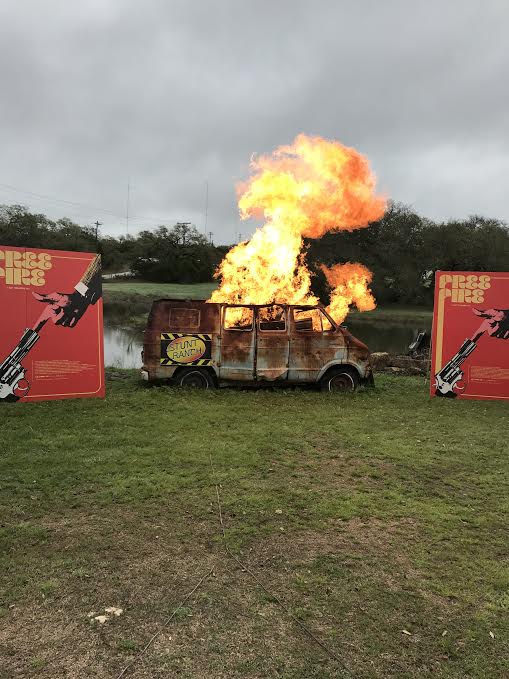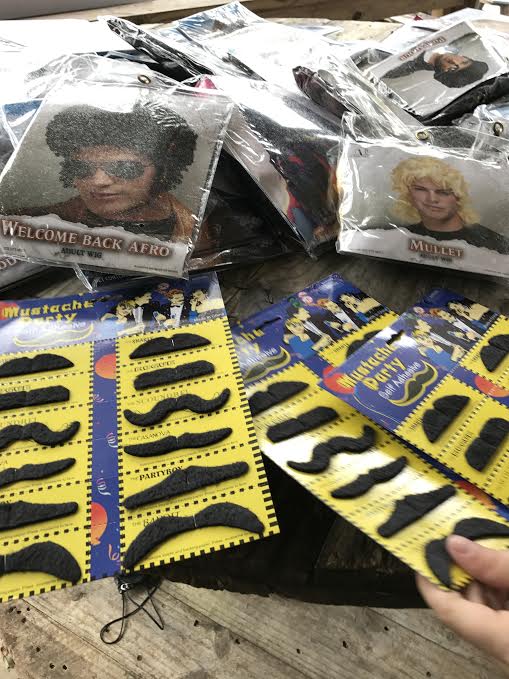 When I arrived, I headed to the big pavillion that beckons as the obvious meeting point. The amazing folks at Fons PR had an array of 70's clothing, wigs, and stick on mustaches for guests to don for paint ball excursions, a la the period garb of the film we were celebrating. In true Texas form, there was also beer, BBQ (Freedman's again, yum!), and coffee to help shake off the cold of the chilly, damp early afternoon.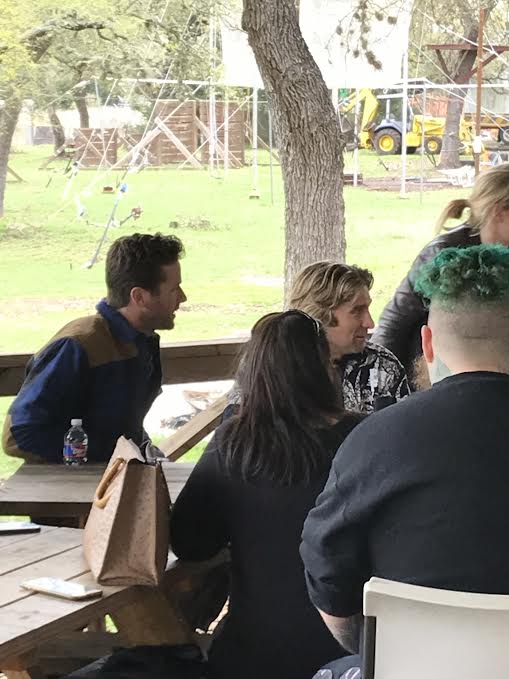 Not long after I got settled in with a plate of food and a beverage, the fellows behind the film arrived and began to take in the sights. Though Quint had the interviews covered for this particular outing, I was actually able to grab Armie Hammer's ear for a moment, and we connected the dots between a friend of a friend. It really is a small world y'all!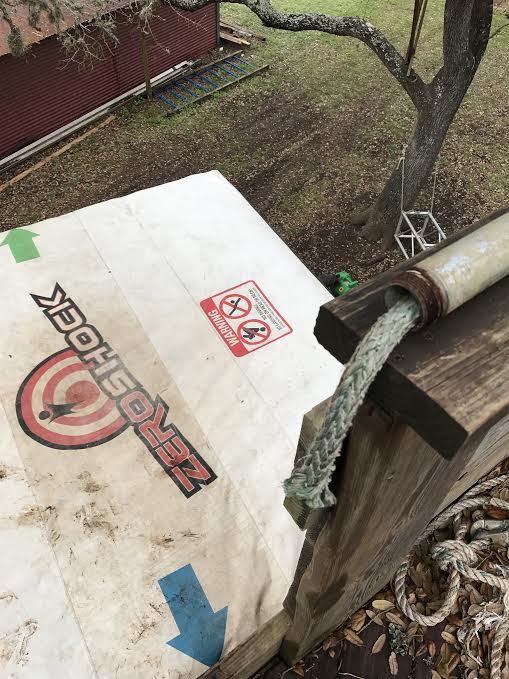 Although I admit that I completely chickened out when it came to participating in the FREE FIRE paintball challenge, I was coaxed into climbing up a wooden scaffold and doing a free fall into one of those inflatable stunt balloon thingies. I know it doesn't look that intimidating in photos, but please believe me when I say that it is a lot higher than it looks!

After my fun out at the Stunt Ranch, I headed back to downtown Austin base camp to check out the screening of PATTI CAKE$. I had heard major buzz out of Sundance so I was pretty excited to see the rap/narrative hybrid for myself. Little did I know that in 108 minutes I would be walking out of my fest fave!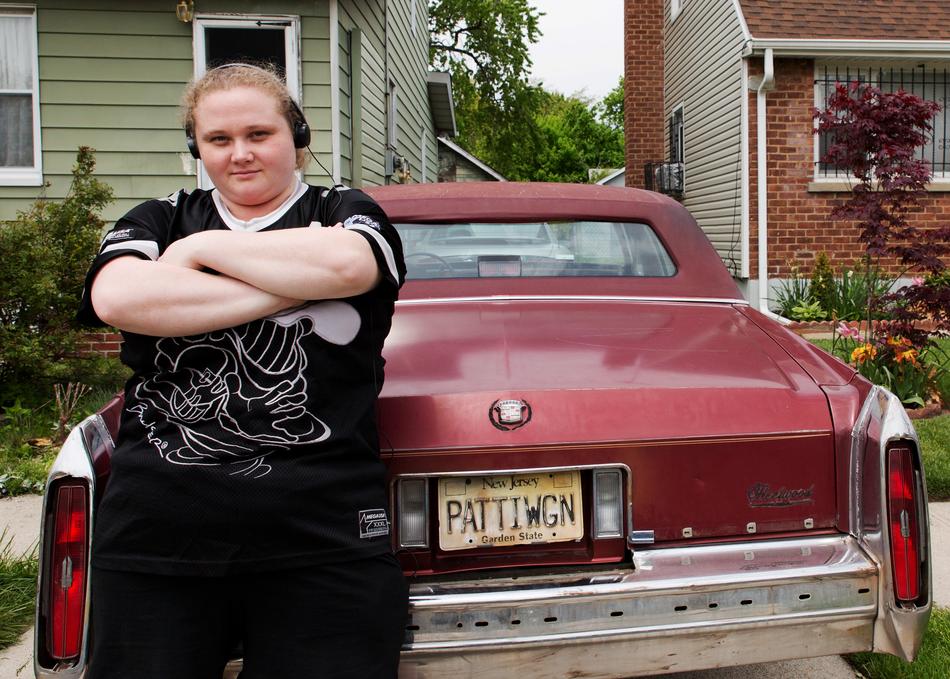 PATTI CAKE$

PATTI CAKE$ is the story of Patricia, a 20-something in Jersey struggling to get by while supporting her hot mess of a mom and her ailing Nana. Patricia also happens to be a wannabe rapper, which considering her portly physique and decidedly un-glamorous fashion sense makes her aspirations seem a touch lofty. What Patricia does have is serious flow and an active imagination in which she is envisions a future far from her current state where she is ultimately anointed by her rap hero, the Don of the current scene OZ.

Patricia, or Killa P, spends her free time "spitting" and dreaming big with her best friend and partner in rhymes, Jerry. Jerry knows that his friend has talent and is determined to come up with a plan to get the duo noticed, though life seems to continually get in their way. When an unlikely musical partnership with a death metal anarchist finally gets Killa P behind the mic, it seems like their luck may have finally changed as long as life circumstances don't interfere again.

PATTI CAKE$ is a extremely well-rounded film. The family dynamics between Patricia, her has-been mom, and her no nonsense Nana provide the heart of the film while the actual music throughout keeps the energy bumping. Fun music video sequences of Killa P's dream world are also a ton of fun and provide vivid contrast with her rather bleak reality. When P finally comes out of her shell and begins to realize her own potential, the eventual outcome had me literally cheering.

Danielle Macdonald's performance as the titular character is stunning. She displays realness and complexity all while mastering a mouthful of lyrics. I can't wait to see what's next for the Aussie newcomer. Bridgett Everett's portrayal of the classic former Jersey hair band front woman far past her prime is all at once harsh yet relatable as the kind of mom who sadly still wants to be the life of the party and clearly hasn't let go of her heyday. As Nana, the incomparable Cathy Moriarty eschews her usual glam looks for those of an aging grandmother, while still maintaining the bawdiness for which she is best known.

Congratulations to writer/director Geremy Jasper on such a fun, entertaining, and endearing story. I can't wait for PATTI CAKE$ to be unleashed on the world by Fox Searchlight later this year.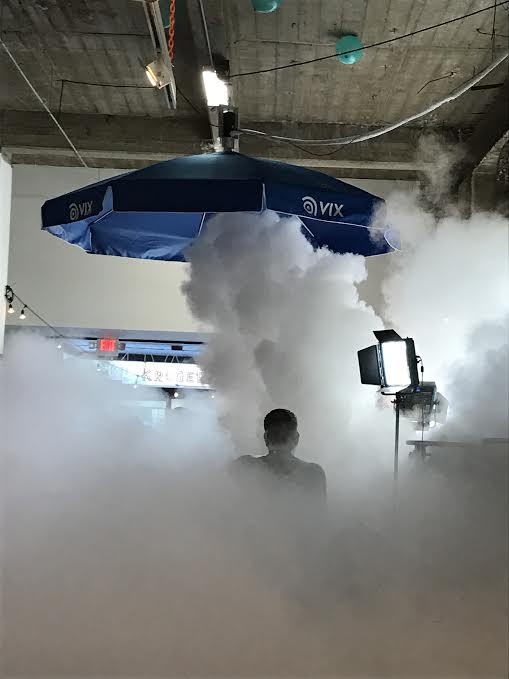 After the awesome PATTI CAKE$, I decided to kill some time and write at the Vix party next door. Again, these parties never cease to amaze me and this one didn't disappoint with free drinks and clouds of nitrogen filling the air. It was a seriously strange sight to see- especially at the end when they decided to empty all the tanks and visibility became nil.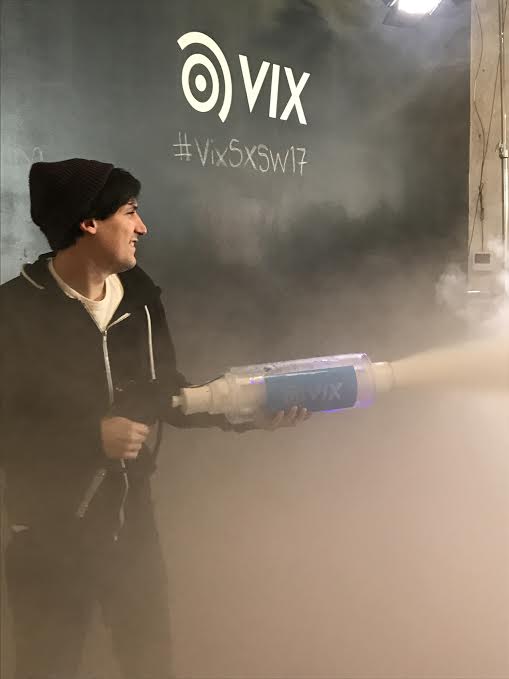 Soon, it was time to queue up for the big screening of the night FREE FIRE. Armie Hammer and Sharlto Copley as well as director Ben Wheatley were on hand to introduce the film and conduct the Q and A afterward.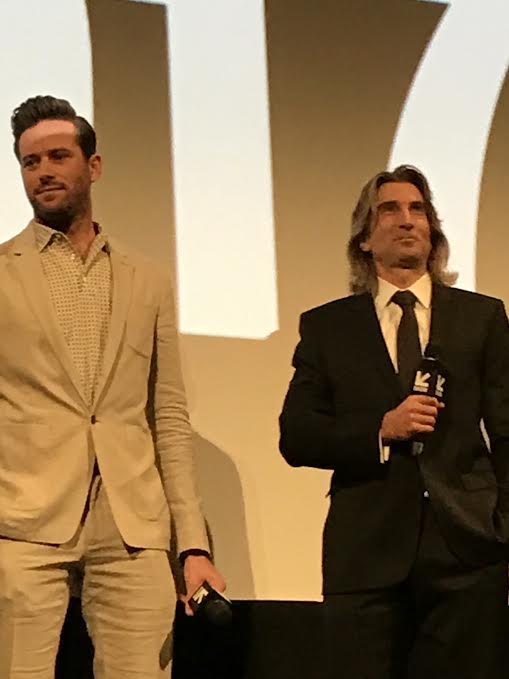 I hope to sit down and write out my thoughts on the film after the SXSW madness subsided a bit, but I will say that after my meh feelings about HIGH RISE and A FIELD IN ENGLAND, Wheatley finally hit one out of the park for me.

I ended the day with the dark drama THE STRANGE ONES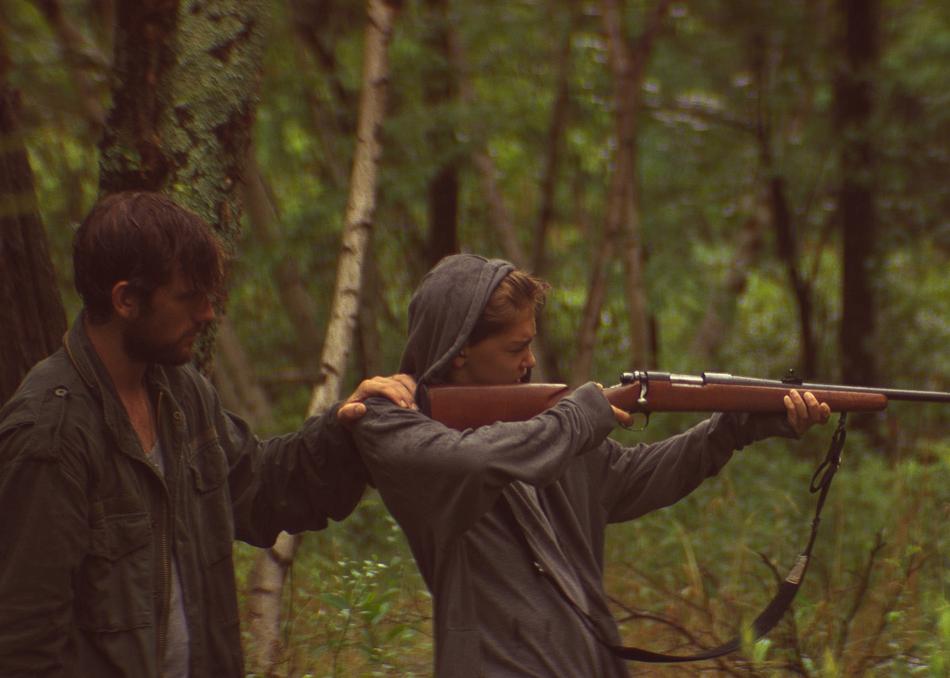 THE STRANGE ONES

I love a good "festival movie." And by festival movie I am referring to a great film that you otherwise might have never seen without the festival format . Some of them can be quite tedious, yet many others can be the hidden gem for which you've been searching. Furthermore, a subtle storytelling style can serve as more than plenty in the right context, and directing team Christopher Radcliffe and Lauren Wolkstein take full advantage of the less is more mantra with their intriguing drama THE STRANGE ONES.

The story centers on a pair of brothers that embark on a camping trip in the remote woods of the region near their home. Soon though it becomes clear that neither of the brothers' intentions are as straightforward as they would like you to think. As the story comes to its conclusion, it becomes apparent which version is closest to the truth.

THE STRANGE ONES is one of those dark tales of manipulation that has you asking questions until the bitter end. Directing duo Wolkstein and Radcliffe do an exemplary job telling a simple yet compelling story. With minimal score and spartan sound design, the directing team aptly conveys an appropriate sense of isolation and underlying drama throughout the story that really keeps you invested in the characters.

As the elder brother, Alex Pettyfer maintains a sense of menace and mystery. As the audience slowly gets to know his character through flashback sequences, Pettyfer's hard as nails seriousness begins to take on an entirely new meaning. Newcomer James Freedson-Jackson is the real scene stealer, though. With a subtle and heartbreakingly realistic portrayal of a younger brother who may or may not be on board with his older brother's plans, Freedson-Jackson gives a chilling performance that not surprisingly garnered him the "Special Jury Recognition for Breakthrough Performance" at the SXSW Film Awards earlier this week.

Though definitely one of the darker entries into this year's festival, I adore the subtly and intensity of THE STRANGE ONES. It's not everyday that a film can be captivating while also being a slow burner, and this film manages to accomplish both feats with a natural ease.



And that ended my Day 4 of my SXSW Experience! I hope to do a wrap up of the last few days, so be on the look out!

Rebecca Elliott
Aka Annette Kellerman