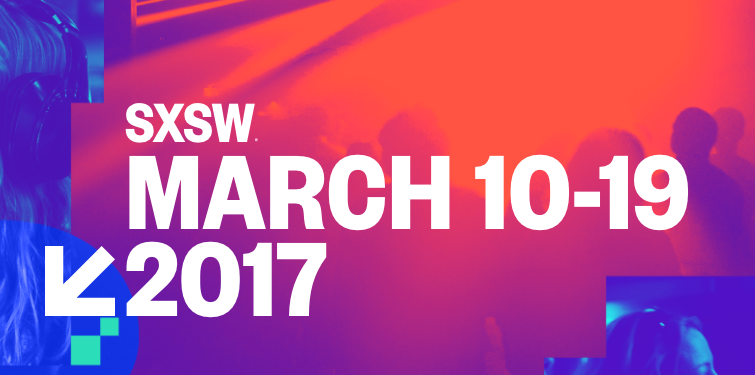 After beginning day 3 with a bunch of interviews I finally met up with my festie bestie Diva Del Mar, and we headed to a special "pop up" event for Better Call Saul. In case you're not aware, these types of pop events happen all over the place downtown in Austin during SXSW. What was once an empty parking or vacant lot is transformed within a day into any manner of festival side show attractions. From musical stages that look like gigantic Dorito's vending machines, to a full-on ferris wheel on Congress Avenue last year for Mr. Robot, all the way to this year's Animal Kingdom beach and surfing set up in the heart of the downtown district, the elaborate temporary locations are always pretty incredible.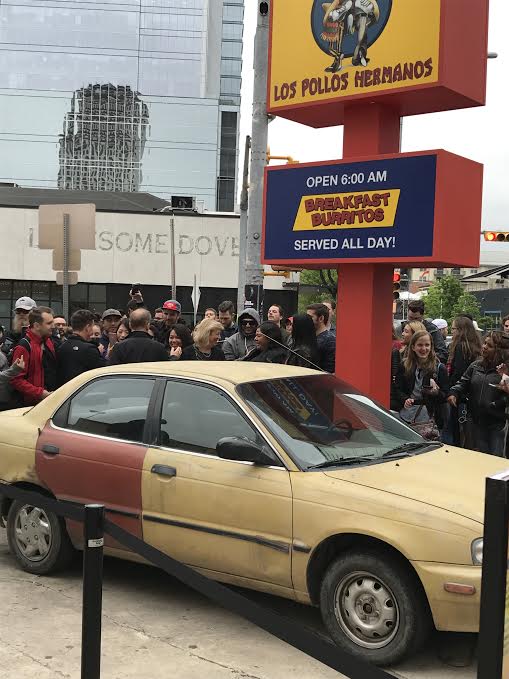 So, of course the Better Call Saul pop up event featured a replica of the infamous Los Pollos Hermanos- complete with curly fries and sodas served by waiters dressed in the restaurant's uniforms. Bob Odenkirk and Giancarlo Esposito where also on hand to talk Saul and take endless photos with the fans who lined up early for the spectacle.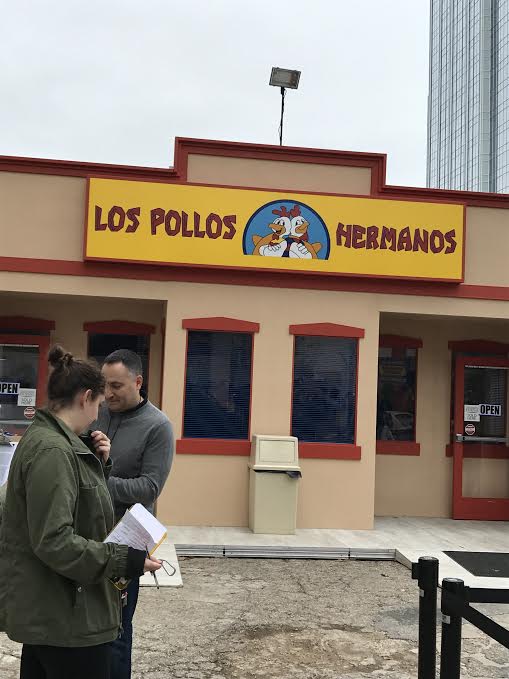 Though the fries where quite tasty, we unfortunately weren't able to get any face times with the show's stars, though I did get a shot of Esposito getting mobbed up at the restaurant's counter. To see an entire fast food restaurant recreated in a parking lot is pretty crazy, much less having one of the stars from the show actually slinging hash. Just another reason why I wanted to do a column like this- I love this stuff.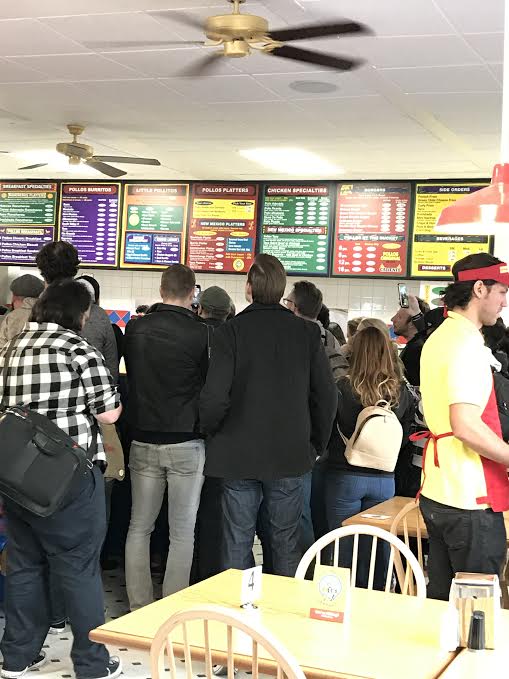 After Los Pollos Hermanos, Diva and I headed to another event- this time for online juggernaut Rooster Teeth. The happy hour event was held at the newish Austin location of the Portland-based Voodoo Donuts right on dirty 6th street, so not only did we get to enjoy some delicious free beverages, we also got to savor the outlet's specialty donuts!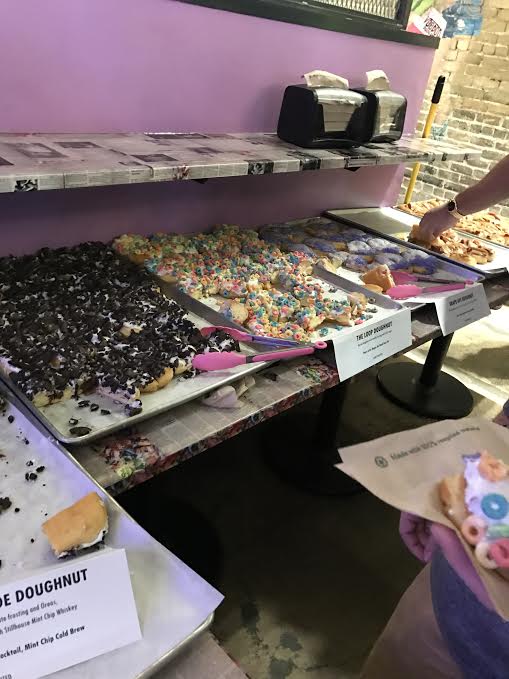 Well played, Rooster Teeth evil geniuses! Though I was hoping I'd run into old-school AICNer Monkee who is now "kind of a big deal" over at RT, I had to settle on Brian Behm (friend of AICN and Sr. Art Director at RT) and AICN'S own Muldoon. Just kidding, I love these guys, and we had a nice chat while downing our alcohol and sweets and partaking in a fun photo/gif booth they had set up for the shindig.

Soon enough it was time to line up for ATOMIC BLONDE! Please enjoy this photo of James McAvoy and Charlize Theron as they took the stage at the Paramount Theater to introduce their incredible film.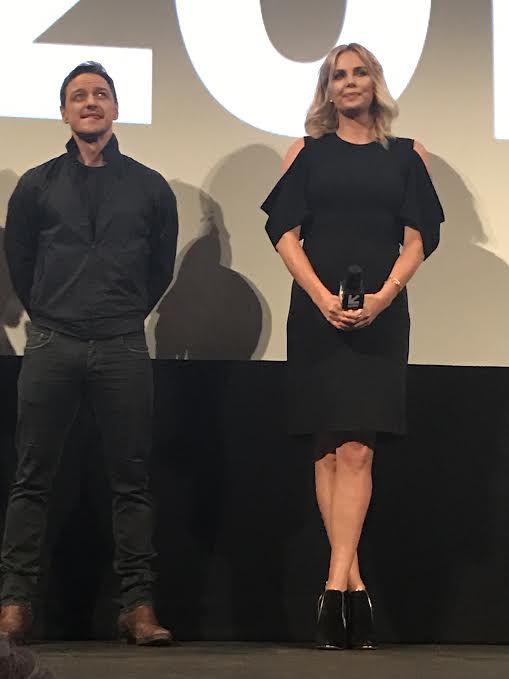 Though I was not familiar with the graphic novel (The Coldest City) on which the film is based, I have been a huge fan of David Leitch since he and Chad Stahelski unleashed John Wick on an unsuspecting world back in 2014, and I have to say that "Lady Wick" did not disappoint. Here are my thoughts...

ATOMIC BLONDE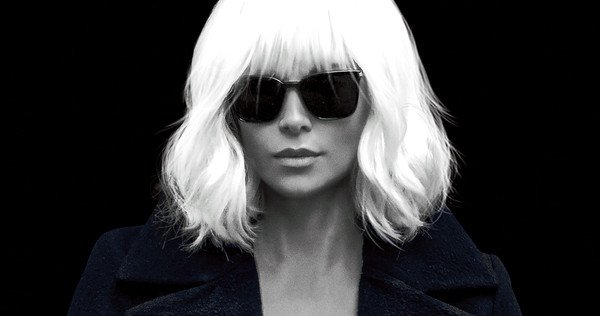 I have and always will love a good shoot 'em up. For me, it's a total bonus when the one doing most of the shooting is a total badass femme fatale. It's even better when the femme fatale is someone as gorgeous and intimidating as the incredible Charlize Theron.

The film opens in the aftermath of what must have been one epic battle as Theron's undercover M16 agent, Lorraine Broughton, tries to shake off the brutal physical and emotional scars left by her latest mission in an ice bath. Her bruised and battered body shows the type of trauma that comes only with the type of stamina and skill of a trained professional secret operative, but also drives home the intensity of what must have gone down. Soon, she reports to headquarters to regale her superiors with her account of the clusterfuck mission on which she was sent, and a complex story of missing sensitive information, double agents, and conspiracy begins to unfold.

A backdrop of late 80's cold war Berlin looms large as Reagan is calling for the wall to be torn down, Gorbachev relents, and celebrations begin around the city as the dividing wall between east and west literally starts to chip away. Amidst the political drama, Lorraine has to negotiate a loose cannon contact, David Percival (McAvoy) as well as another roguish female agent who, like Percival, may or may not have Lorraine's best intentions in mind.

So, political, resistance, and espionage plots aside ATOMIC BLONDE is at its core a tits-to-the-wall epic action film. I'll admit that when my brain started to ache trying to keep up with the somewhat convoluted story line, I was brought right back on pointe by the amazing sequences on screen. Known originally for his epic career as a stunt coordinator on classics like FIGHT CLUB, V FOR VENDETTA, BOURNE films, MATRIX films...the list goes on and on and on.... director David Leitch seems to have saved his best for his latest directorial effort. To say that his lead character kicks mega ass is the understatement of the decade. She doesn't just kick ass- she kicks all the ass. Just when you think you've seen every type of fight scenario possible, Leitch and company creates some of the most unique and fresh fight sequences to hit the screen, well, since ever.

Though again, I will admit that the story kind of goes for it in ways that I didn't really feel necessary, it sure does provide some intriguing set ups for some of the most awesome fight scenes I have yet witnessed. So strangely, I can easily forgive those narrative devices as a means to provide a staggering amount of jaw dropping action. If you are a fan of the genre, I really can't endorse ATOMIC BLONDE enough. If you are a fan of the original source material, you might just shit yourself.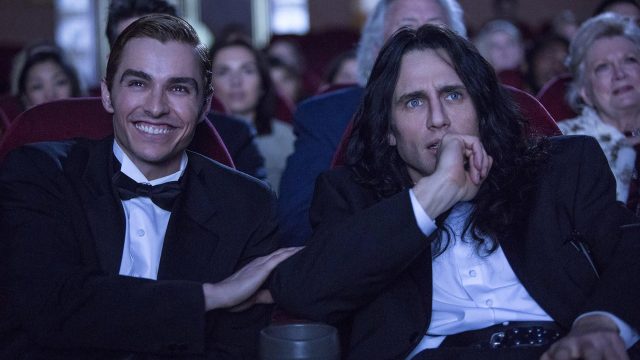 So, back to my SXSW experience...As soon as the film let out, I had to jump right back into line for the special "work-in-progress" screening of James Franco's THE DISASTER ARTIST. In my interview with Dave Franco last summer for NERVE, we talked briefly about the film- then titled THE MASTERPIECE- so needless to say, I was super pumped to finally check out the Franco brothers take on the notorious production of Tommy Wiseau's THE ROOM. If you don't know about THE ROOM and the cult status it has reached over the last decade and a half, please close this window and do a google search now.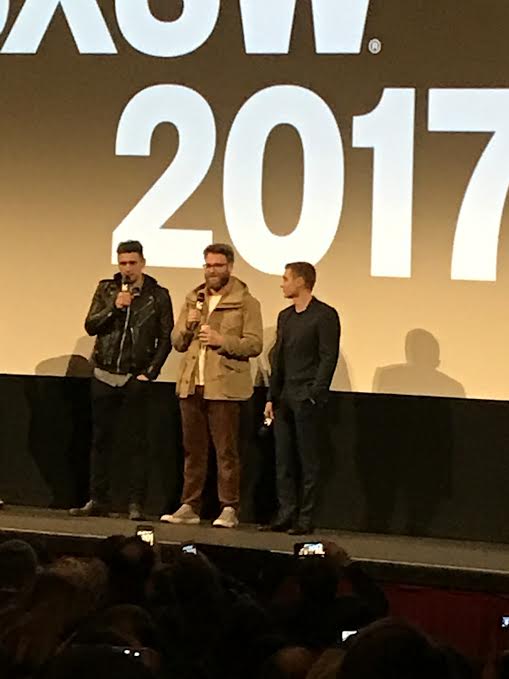 The screening ended up being a smashing success with the Francos and costar/coproducer Seth Rogan in attendance, and word on the street has a ton of buzz surrounding distribution of the film following the bananas SXSW outing complete with Wiseau and partner Greg Sestero in the house as well. It was such a fun screening that I really wish I could have stuck around for the post screening presentation of THE ROOM, but alas, I was scheduled to check out local indie thriller/horror film THE HONOR FARM.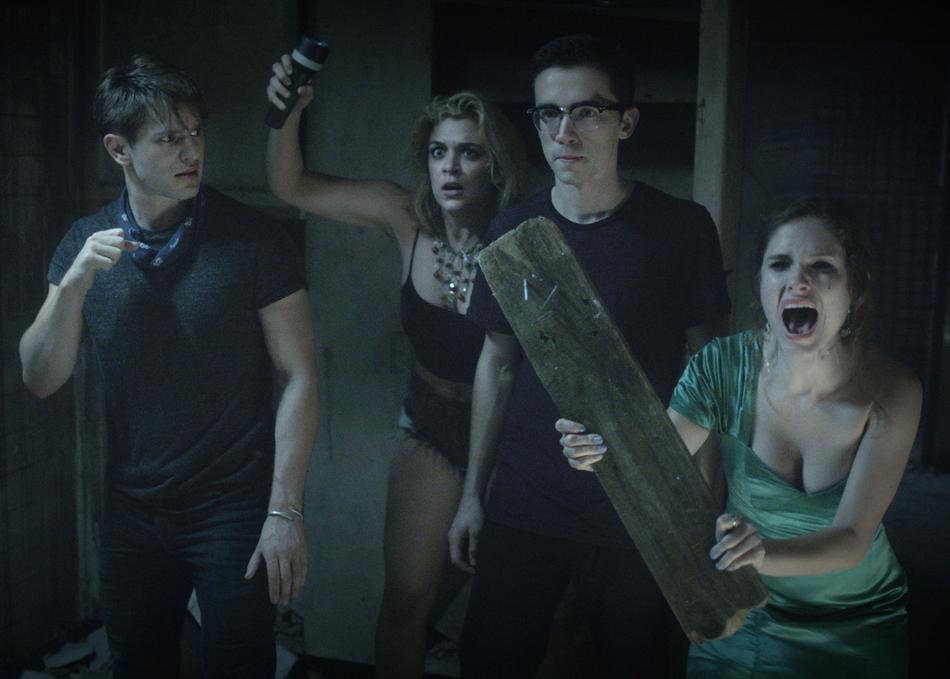 HONOR FARM
Some cinematic tropes seem to never wear out when well executed. The ominous cabin in the woods, an odd couple road trip, opposites attract rom coms...the list goes on and on, however one such theme near and dear to my heart is that of teenagers dabbling in psychedelics and the occult. In Karen Skloss' first narrative feature HONOR FARM, a group of teens take their turn in the sub genre, with a cleverly wicked yet somewhat baffling result.

The story follows best friends Lucy and Annie as they embark on the mother of all rites of passage- prom night. After a dismal and abrupt end to their time at the event, the pair are invited by a mysterious group of girls to join them on a trip out to Honor Farm- an abandoned prison that is now a destination for bored teenagers looking for a place to hang out, do drugs, and freak each other out with paranormal rituals. Legend has it that the ghosts of tortured prisoners haunt the decrepit building, and the site is a major vortex for the supernatural. When the group arrives and meets up with a few fellows including the school's "biggest drug dealer", Lucy and Annie decide to join the fun and eat shrooms for the first time since their earlier festivities were such a bust. Soon, the line between reality and fantasy becomes blurred as the girls go on a literal and figurative trip into the unknown, and the spirits the teens attempt to summon pale in comparison to other sinister plans.

The film is beautiful. Skloss, an editor herself, imbues every frame with a dreamy ethereal look that nicely conveys trippiness without hitting you over the head with psychedelic cliches. While there are definitely plenty of abstract, symbol-filled fantasy sequences, they fit well into the overall narrative without being too over indulgent.

The casting is completely on point with the beautifully charismatic Olivia Applegate as Lucy and the dazzling Katie Folger as her plucky sidekick. A stand-out supporting role by Dora Madison as the troubled youngster interested in the dark arts rounds out a kickass trio of female leads.

All that being said, I was very surprised by a sharp left turn in the third act. After an intriguing build up, the story went in a completely different direction than I imagined. Is this a good thing, or is this a bad thing? Or can it all be chocked up to the fungus affecting the characters perception of reality? No doubt, HONOR FARM is exactly the kind of film that will leave many questions unanswered for some, yet totally resonate with others. Though for me there wasn't a big payoff or an outcome that I expected, there is a definite WTF element that kept me pondering the film long after the final credits rolled.

HONOR FARM has two more SXSW screenings at the Alamo Drafthouse Lamar location on 3/14 at 9:45, and 3/16 at 12:15.
So that wraps up my day 3 SXSW experience. I hope you enjoyed tagging along with me! Stay tuned for Day 4 coverage as I hang with the FREE FIRE crew at Stunt Ranch here in Austin, check out more events, and of course see more kick ass films!
Rebecca Elliott
aka Annette Kellerman