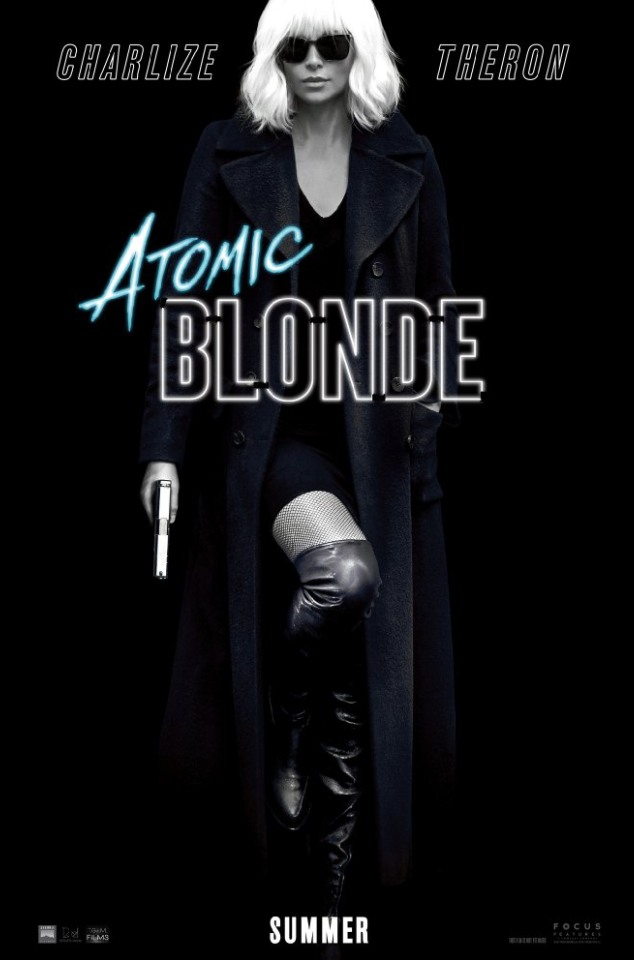 After standing in line for well over an hour, Annette Kellerman, Muldoon, and I happily filed into The Paramount for the Atomic Blonde screening. Harry had saved us a few seats together up front and upon entering the theater, we were greeted with jubilant 1980s jams, picking up our spirits after standing in line for so long. I was super excited to see Charlize Theron in person as she is one of my girl crushes and the fact that David Leitch directed it added more appeal. I danced down the aisle, happy to be surrounded by friends and ready to see a fabulous film.
I was not disappointed. Leitch helms an action-packed movie that offers us a new iconic heroine, Lorraine. The movie is framed as a story within a story for the majority of the film. Lorraine, played with infinite beauty by Theron, debriefs her superiors on a mission that went sideways, and the audience gets to relive her adventure as she reports the events of her mission. As a top spy for the MI6, she was sent in to recover The List, a missing record of the identity of all the double agents currently in circulation, after one of her colleagues was found dead. One of her contacts is David Percival, played by James McAvoy, and he comes into play as a major character, lending to the rich talent in the film. Also, worthy of mention is Sofia Boutella, Eddie Marsan, and John Goodman who deliver great performances. I have a soft spot for Eddie Marsan. He's a wonderful character actor and I loved him in River and Jonathon Strange & Mr. Norrell.
The film is sexy as all get out and fun as hell. Theron absolutely nails the femme fatale role and adds a hard edge that was appropriately pleasing and exciting. She fights dirty, dresses only in ultra-fashionable black and white, and looks exceptional, even when sporting bruises from her many violent tangles with enemies. While the actress is already firmly established as an action star (Aeon Flux & Mad Max: Fury Road), we get to see her kick ass in this film with a different quality than ever before. Her character drips with noncommittal eroticism and elegant beauty, that she uses as a source of power in her work. For a love interest, they pair Theron up with Sofia Boutella, playing a newbie French spy and the two share a sexy fling together. The sex scene is a bit over-the-top and a little gratuitous, but it works and I'm sure plenty of folks will be pleased. I won't deny that they aren't a pretty pair when naked in bed together.
The fight sequences are delightfully violent and raw, including an extended one-take sequence that is breath-taking. If you don't like bone-cracking, bloody scenes, this is not the film for you, but if you crave fantastic choreography, executed by well-trained actors, you are in for a treat. It's obvious that Theron trained hard for this role and she confirmed the difficult training regimen during Q&A after the film. I love knowing that A-list artists put in the work for their roles. In the current trend of grittier, pulse-pounding action films, stunt doubles could look obvious and obtuse. Fight scenes are now filmed for impact and to showcase a character's talent and ferocity. Filmmakers must be able to keep their character intact, committing to intention and personality during combat scenes.
Taking place in 1989 Berlin, right as the wall is about to come down, Atomic Blonde uses the political landscape to create a sense of energy and atmosphere in the film. The movie doesn't delve into politics at all, and uses it more as an esthetic backdrop. It gives the movie that sense of an impending and major shift in culture, and Leitch uses this brilliantly during the climactic third act. The time period also allows the film to use fantastic music, electrifying many scenes with beloved songs by artists such as David Bowie and New Order. This is a movie that should be viewed with the volume turned up and the lights out. It's just so much fun.
Fast-paced once the action gets going, this is a must-see for those who like their martinis shaken and not stirred, sans the misogyny. I can't wait to see what David Leitch comes out with next. I'll happily shiver in line in the cold if he continues to deliver this caliber of film.
Thanks for reading,
The Diva Del Mar