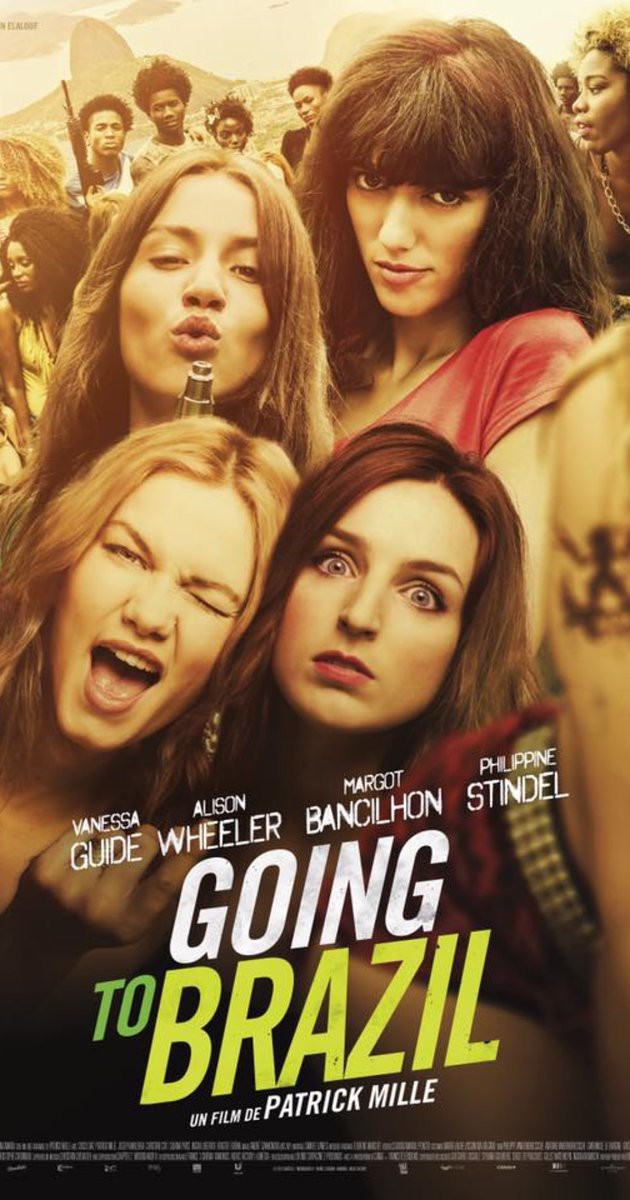 On day two of SXSW, I had the pleasure of being at the international premier of Going To Brazil. The director Patrick Mille, introduced the film, humbly stating how proud he was to debut his film at the festival. It was sweet and genuine, making me want to really enjoy the film before it even started. Or maybe it was the sexy French accent, who knows? The movie was indeed a hilarious and vastly entertaining ride, even if it needed a bit of polishing overall.
The movie revolves around three French friends, Lily, Cloe, and Agathe, played respectively by Philippine Stindel, Margot Bancilhon, and Alison Wheeler, who receive a wedding invitation from Katia, their estranged pal. Katia has been missing from the group for quite a while, having up and disappeared some time ago. The invitation comes out of the blue with plane tickets to Brazil, where the wedding is to take place. The three friends come willingly, excited to have an all-expense paid trip to an exotic location. Once they arrive in Brazil, they discover that the bride-to-be is nowhere to be found, having been snatched away by her Brazilian friends on a surprise bachelorette party in Florida. Over the phone, she refers them to a party to keep them busy until she returns from her bachelorette, and we start to see why Katia may have burned a few bridges with her buddies. She's selfish and spoiled, but she isn't the only one with flaws. Each of the main ladies exhibits some sort of personal issue, Cloe has low self-esteem with men, Lily is anti-social, and Agathe is a bit of a weirdo. This interpersonal dynamic adds to the humor and some depth to the film, giving the characters their motivations when interacting with each other.
Quickly getting over the fact that Katia was not there to greet them, the girls dive into the incredible party. Of course, events spiral out of control, and the three of them end up in a nasty fix when Lily accidentally kills a man while defending herself from a sexual assault. They run from the scene, terrified and the next day, Katia returns having no idea about the startling events of the previous night. Unfortunately for them, the first-class asshole that Lily innocently sends to his death is very well connected, and they must embark on a dangerous road trip to get the hell out of Brazil. Due to extreme circumstances, the pregnant Katia must join them for the sake of her unborn child and the adventure begins!
The movie is a fast-paced, laugh-a-minute comedy and I'm sure I missed plenty of jokes in translation. Despite this, I giggled through it happily, enjoying a gender-bender on the party-gone-horribly-wrong genre. It has a similar spirit to The Hangover but I found Going To Brazil easier to relate to as a woman. As the ladies struggle to get out of the country by any means possible, they encounter hilarious side characters and ridiculous situations. The vibe throughout is fun and quirky. It's not a deep film, and that allows you to forgive some of the flaws. The biggest being the ending. It offers absolutely no closure and is dissatisfying. It almost feels like a rushed finish, and it's frankly a bit sloppy compared to the rest of the film. Also, there are a few plot devices that don't make sense and were obviously written in to move the story along without complications. This is forgivable because in the end, we are in for a fun ride with Going to Brazil, and not a life-changing cinematic experience. That being said, it would have been wise to work out these kinks before filming, as comedies can still be great, without asking the audience to take that grain of salt.
A silly romp with plenty of laughs, I really liked Going To Brazil. As a foreign independent film, I'm curious to see if it makes it to a few theaters here in the U.S. If not, I'm sure it'll be available on Amazon, and it's worth a viewing or two.
Thanks for reading,
The Diva Del Mar