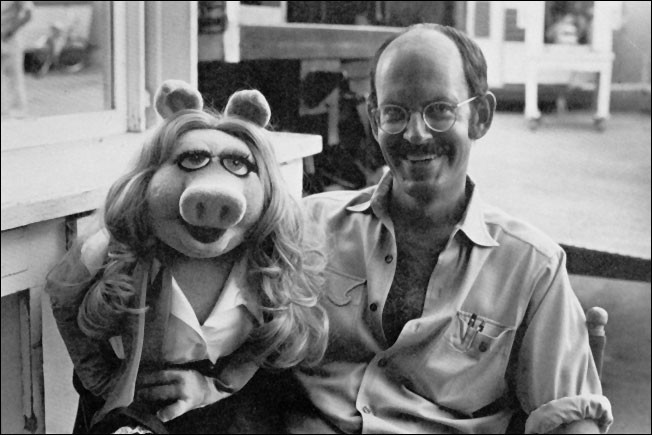 When I saw on the SXSW program that there would be a documentary on the famous Muppeteers with Frank Oz in attendance, I was jubilant. For those of us to grew up with The Muppets, these people hold a mythic place in our hearts. They are the voices and the incredible puppeteers that made the iconic puppets come to vibrant life. They filled us with laughter, music, and the endless possibilities of the imagination. Despite it being a surprisingly cold day in Austin and the first day of time zone shift, I woke myself up early and headed for The Paramount theater to wait in line for this film.
Technically, the full title of this documentary is Muppet Guys Talking: Secrets Behind the Show the Whole World Watched. It's a long title, and sums up the film accurately. Directed by Frank Oz, the documentary features the remaining original artists who, under Jim Henson's leadership, created Sesame Street, Fraggle Rock, The Muppet Show, and all of Muppet movies. Using a simple set design, two couches and a comfy chair, Oz seated Dave Goelz, Bill Barretta, Fran Brill, and Jerry Nelson. He invited them to chat about the days gone by and what it was like to work with their individual Muppets and with Henson himself. It's casual and comfortable, allowing the audience to be a fly-on-the-wall as some long-time colleagues and friends chat about their extraordinary past.
The result is an intimate and touching insight to the talent, heart, and dedication of these amazing people and a sense of wonder at the phenomenal work they were blessed to do. Usually docs on the Muppets are centered around Jim Henson as an artist and his colossal talent. This is discussed in Muppet Guys Talking, but the focus is more on the creative process of the show. It was fascinating to learn about how each character was developed by his or her individual puppeteer. Henson gave his team a basic framework and creative license, allowing them to evolve each character individually. It was amazing to see how each puppeteer put different parts of himself into each of their respective puppets, growing into them, and sometimes surrendering to them. Frank Oz was particularly droll in his descriptions of two beloved characters: Miss Piggie and Fozzie the Bear. Hearing him explain the internal workings of my two favorite Muppets tickled deep and cherished connections to my childhood. David Goelz explanation of The Great Gonzo was also richly heart-warming and witty. Goelz's inherent charm and compassion stole the show for me throughout the documentary. As an adult, listening to these experts discuss their craft, reminded me that The Muppets are more than just puppets, they are brilliant creations full of dimension and endearing flaws. Muppeteering is a unique form of acting, where your intention and commitment is channeled through an alien creation attached to your arm. And yet, anybody who has enjoyed an episode of The Muppets knows that they are so full of humanity and spirit, that it is still astounding.
Decadent with inside stories of their time working on Sesame Street and The Muppet show, the conversation delves deeper, touching on the joy and meaning of their work. These guys had/have dream careers, able to work long hours doing something they loved fiercely and in an environment of acceptance, compassion, and a united endeavor to create something beautiful. They are the best of the best in puppeteering, not only because of their cumulative talent, but also because of the magic teamwork that Henson protected and nourished in his style of leadership. His cast and crew pay him homage, but also humanize him as they share memories and anecdotes of their years working under his guidance.
I enjoyed every minute of the film and my only critique would be to show more footage of the specific episodes in each discussion. They do this, pulling out footage to illustrate specific set designs or body mechanics needed to execute a particular scene, but I wanted to see even more. I would guess that this was limited to avoid spoiling too much of the magic and to keep the sense of an intimate chat.
Delightful and magical, I recommend Muppet Guys Talking to anybody who grew up with The Muppets and it would even be a fabulous way to introduce them to younger generations. I could see this film as an insightful source of inspiration for college students majoring in film, theater, or any creative niche. The film is a gift to all of us in creative fields. Thank you, Frank Oz and your amazingly talented friends.
Thanks for reading,
The Diva Del Mar