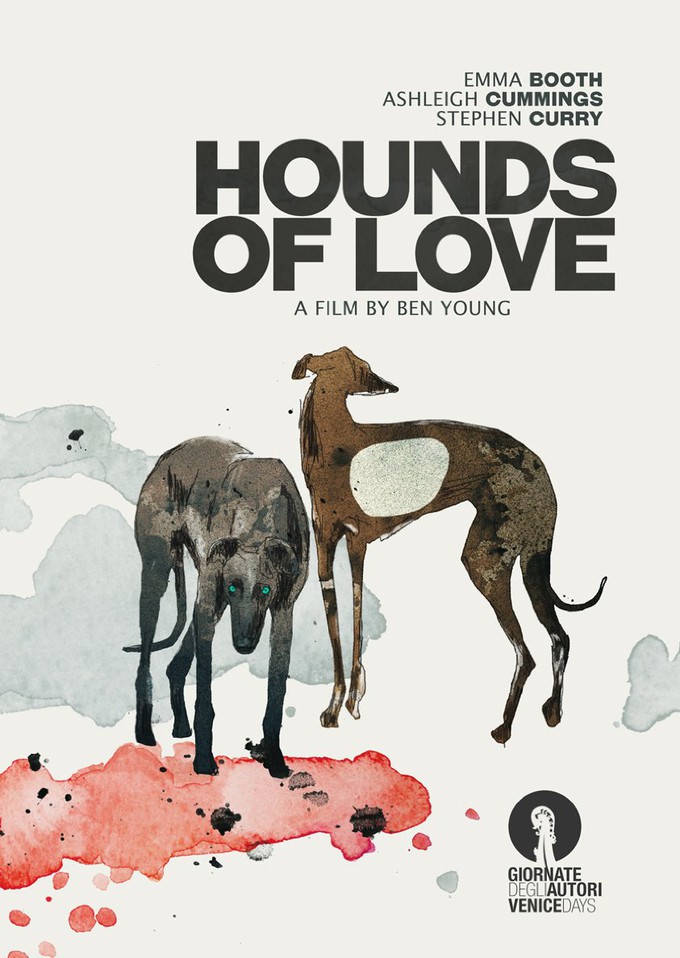 On day two of SXSW, I chose Hounds of Love to kick off my day of cinema. The rainy weather was perfect for my viewing of this dark film. It was brilliant and effective, telling a horrific story with a deft hand for impact.
Ben Young directed and wrote this powerful film revolving around the kidnapping and torture of a teenager, Vicki, and her two captors, Evelyn and John. Vicki, played by Ashleigh Cummings is your average Australian teenager in the 1980s. Entangled in an endless conflict with her mom, and defiant of being prohibited to attend a party, Vicki sneaks out for some fun. She's targeted as prime pickings for Evelyn and John, and they easily con her into a trap. It's revealed in the first few scenes of the film, that the nasty couple have plenty of experience in kidnapping, raping, and dispatching of young girls. The audience already knows what's in store for Vicki if she's caught and it is the worst of fates.
Evelyn and John are the frightening criminals. Their methods are polished and practiced, and it makes the audience shudder to understand that these guys snatch up young women on a regular basis. John, played by Stephen Curry, is the driving force of the crimes. With the help of his girlfriend, he's found a way to live out a dark and extreme fetish. He's beyond evil and Evelyn, played fabulously by Emma Booth, isn't much better. It's sickening to see them work as a team to manipulate and trap Vicki. They know what to say and how to say it, revealing a criminal cunning that gave me the heebie jeebies.
Smart and observant, Vicki, while terrified, stays focused throughout her ordeal. Even when she is unable to escape or avoid the worse of the abuse, she keeps a clear head. Her steady resilience offers her the opportunity to survive and working in her favor is the fact the John and Evelyn are reaching a breaking point in their twisted romance.
All the performances are solid and Emma Booth really stands out as the broken Evelyn. She plays the insecure yet ferocious woman brilliantly. After this performance, I'm going to keep Booth in my radar and check out more of her work. The lovely woman has a lot of talent. Cummings and Curry do a great job too. Many of these scenes must have been difficult to film, and the cast delivers an earnest execution.
Hounds of Love is violent and tense, boasting moments of strong suspense and the rich atmosphere of a psychological thriller. It also deals with the ugliness of sexual violence without being graphic or exploitative, which was a relief. And for me, the overarching creep factor was how easily violence of this nature could exist amongst normal people. John and Evelyn were good at what they did and had created a lifestyle around their kidnappings. They were petty criminals to the world around them, scraping out a simple existence in a lower-middle class neighborhood. And yet behind closed doors, they proved to be accomplished serial killers. I found this concept chilling and it stayed with me long after the movie was over.
Hounds of Love is also a nod to the power of maternal love. Vicki's mother, Maggie, played by Susie Porter, stands out as an independent woman of the times. She has left her husband to live by her own means. This separation from Vicki's dad is the source of friction between her and daughter. Vicki openly mocks her mother for her attempt at independence in the beginning of the film. When Vicki goes missing, it's her mother's very sense of self-trust that guides her in her search for her daughter. She knows something isn't right, that Vicki didn't just run away. She refuses to let the men around her cajole her into staying patient and quiet. She takes action, and her love for her daughter fuels her convictions. We also see the power of the maternal bond in Evelyn's character, but from a very different angle.
Harrowing, yet very well-crafted, Hounds of Love is a movie for those who don't mind films that delve into the darkest sides of human nature. Weaving a taut, suspenseful story that expertly plays on your psyche, this film is worth watching if you can handle violent, serious stories.
Thanks for reading.
The Diva Del Mar