Hey folks, Harry here… Last night as I was about to hit the sack to start the day bright and early at SXSW to acquire my credentials and badge with FatherGeek… for our 21st Consecutive SXSW together! It's always a joy to do the fest with him. There are times where we'll split up and see different things, just because well – contrary to popular belief we're not a symbiotic unit. Oft times, he misses out on the films I see via online screeners.
I checked out the press site for SXSW, but all those films are delayed access till certain junctures at the festival, but I had written several films that I just know looking at my schedule, there's no way to see given other priorities… and the wonderful folks representing the films sent a handful, the first came as I was checking my email one last time to see if I had a screener… and up pops… PREVENGE!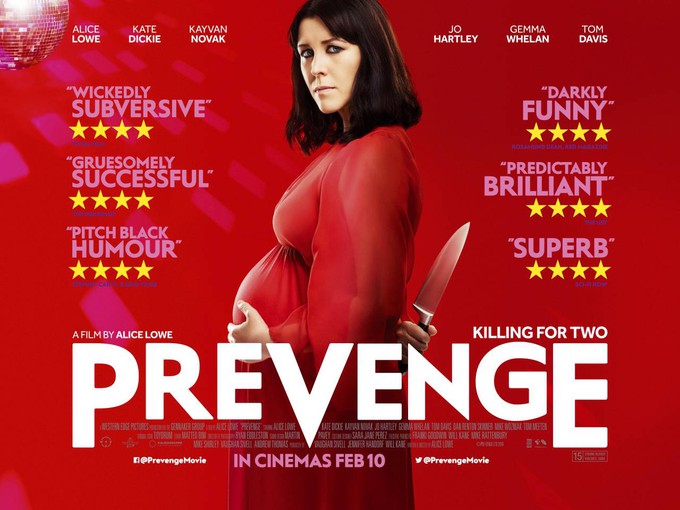 I'd heard of PREVENGE, it played Venice, Toronto, AFI, Chicago… but it had yet to play here – and I heard some that liked it but wished it had been better & I've heard from folks that just flat out love it, but a Pregnancy Horror film. Oh Hell Yeah, that's totally in my wheelhouse.
PREVENGE is written, directed and starring the fantastic Alice Lowe. In the film, she's OMG pregnant. The big ol Soccer Ball or Basket Ball sized belly – and she has this utterly harmless demeanor… BUT… The Baby she's carrying… giggle. It's like a Kuato type of situation. Only it's a baby girl that mainly stays inside – and only Alice's Ruth can hear the demon spawn's anger and fury and desire for revenge upon a group of people that seem very… separate from one another.
The structure of the film has Ruth lulling various "strangers" into a false sense of security until she treats them a bit like Animals for Slaughter. Then doing pregnancy stuff like her doctor check ups, relaxing after a hard day's kill. It's utterly delightful to see a vengeful pregnant woman having internalized conversations with her unborn child.
And just know… at some point she's gonna face off against Yara Greyjoy (aka the awesome Gemma Whelan) and that's a fight for the ages. At least mentally if you know – THAT'S YARA GREYJOY vs a PREGNANT PSYCHO WOMAN – and her choice of weapon… I kinda had a gigglefit with it. She has a host of targets she has to kill – and I found the film to be a spiritual cousin to Roger Corman's LITTLE SHOP OF HORRORS and BUCKET OF BLOOD. Her Ruth is a sad sack sort of character that through an action you'll learn about later in the movie, she has this voice compelling her to do things that she would ordinarily not do. I mean, John Wayne Gacy had that fucking Dog – and if my dogs told me to kill someone, I suppose I'd listen. They're so cute and they love me, so obviously you must die. And as a somewhat horror demented geek, I found this film delicious.
I've had lots of friends locally do the whole baby thing. Women that are – proper twisted correctly like me, well far more innocent – not, but this film will make them snicker.
It's got all sorts of fun locations and characters like DJ Dan (Tom Davis) who has his own rinky dink 70's 80's Disco, or the crazy guy in the Pet store with all the dangerous animals and innuendoes. It was a fun horror flick, to make us all afraid of pregnant women… as we should be. Alice Lowe did a great job on this film, I wanted her to succeed in being a serial killer. And so will you!
Went to the Austin Convention Center, ran into the famous Johnny Wadd, nearly got ran over by a gaggle of Segways zooming around like Dash from THE INCREDIBLES! It was so exciting! Sigh.
After acquiring badges exceptionally fast and with zero waiting at all. Finely tuned machine, those volunteers and professionals! Afterwards, I thought we were going to head back to my place to watch screeners that would become available at Noon, but wound up being noon tomorrow. But I swore it said that yesterday. Argh.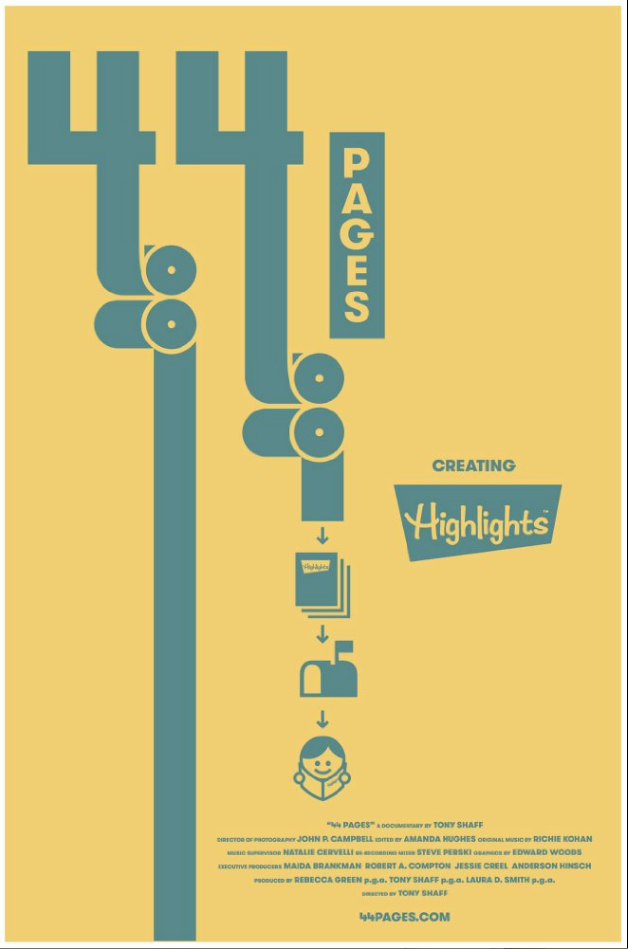 But I did have two more screeners that I received links to, so we put on 44 PAGES!
44 PAGES? Yes, that's what I said! You may know the publication as HIGHLIGHTS MAGAZINE – that children's magazine that is in every doctor and dentist office in this country. You know, the one with Ask Arizona or Goofus and Gallant or that had that Hidden Pictures you'd spy over for a bit! I remember it in Doctor and Dentist appointments as far back as I go – and according to this documentary, it goes back 70 some odd years. Which is back in the era of stone wheels I believe.
The documentary begins by setting up the history of the Magazine, which has stayed owned by the founders' original family. Never having been sold. It's a hell of a story, and they tell it really well in the first 45 minutes or so. But when it comes to putting together the 70th Anniversary issue… It was a bit torturous due to the amount of repetitive material they seemed to be stating over and over and over again. I get why to watch it, especially if the Magazine was a hallmark of your own youth, but in a documentary where we are repeatedly told about the merits of editing – to then have an hour and thirty-seven minute documentary, with people all speaking on the same even tone about how fantastic it all was. Crazy. It kind of made me want to pull my hair out a bit.
It's a great progressive educational magazine and outlet for generations of kids, but I never want to hear another thing about the magazine again. It exhausted me.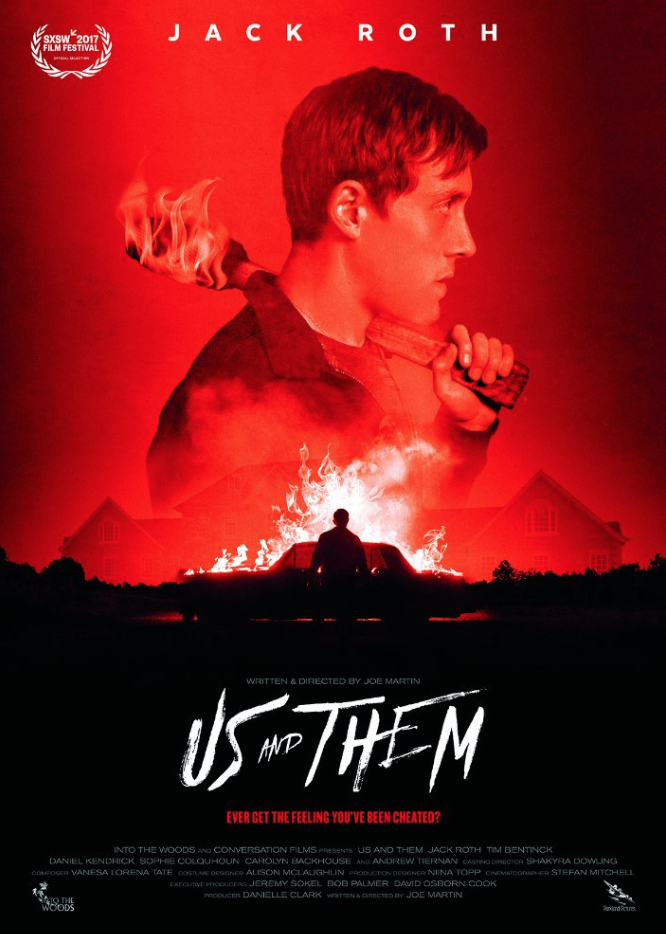 So naturally I put on US AND THEM!
Directed by Joe Martin, who directed a documentary all of you should check out last year called KEEP QUIET, but this year he has his first narrative film called US AND THEM. Like KEEP QUIET – it has a political steel spine and instead of taking on AntiSemitic rhetoric, this film deals with the tensions over the Austerity Gap between the Haves and the Have Nots.
It is also a bit of a home invasion film, but it's all being done with a wicked black sense of humor. The key reason you wanna see this is Jack Roth, that's Tim Roth's kid. He plays Danny, a young fiery emotional young man for whom the breaks clearly never go his way. He and his mates hit pubs, see the well to do drinking the finer drinks and they steam – they get angry – why them and not us. They've all got ideas about what to do…
Now, that's getting ahead of the story a bit, because it initially begins with Danny arriving with Sophie Colquhoun as Phillipa, the well to do daughter of a man at the top 1% in the UK. Jack is going to terrorize them, he's going to torture them and he's going to film it to strike a blow for the oppressed when it loads up to the internet.
At least that's the brilliant plan. The film is violent. You hear both sides of the argument, you see the quicksand of best intentions grip and start pulling people under. I love that Mickey Rooney film QUICKSAND, cuz once you start down a path of wanton stupidity, you might as well flush your life – and by the way you won't be going to the Ministry of Magic either!
Tim Bentinck plays the Father, who counts his sins by the billions apparently – or so we're told by people that I don't necessarily trust – given the untrustworthiness of Roth's Danny. I love Jack Roth in this. He's got a taste of that Tim Roth magic, but there's something even hungrier about his turn in this movie. You can see the utter disgust for the wealth he sees and yet… there's a humor to it all. A wicked humor. I was actually taken with his performance and that of Tim Bentinck and Andrew Tiernan's Tommy – a friend of Jack's character – who seems to be set on broil for a whole lot of this film, but it's a powerful thing. He's more of a savage, wanting to take what he wants, whereas Danny has a political message he wishes to shock the nation with.
Won't tell you how things come apart, only I found it quite satisfying. You'll see!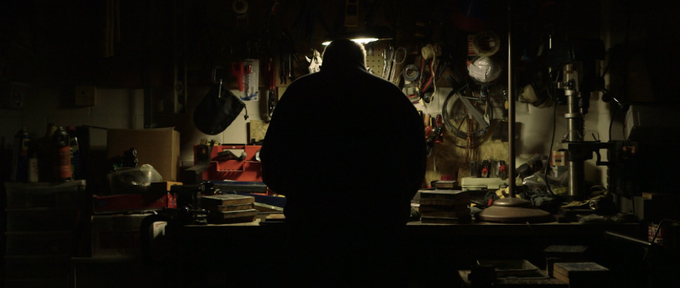 After US AND THEM, there was only one more SXSW film I could play instantly and it was an 11 minute Documentary Short by Adam Roffman called THE COLLECTION, which had the description, "Two people stumble upon the mother lode of movie memorabilia in the most unexpected of places!" Well, given Dad spent a great deal of his life hauling our family around selling Movie Memorabilia all around the country – and know a thing or two or ton about that world.
What this couple found in Omaha, Nebraska in an Antique Store were the block printing plates for an off-set printing press company that specialized in Movie Advertisements. From the Silents through to the early 80s when the practice was phased out largely. It is amazing. When you look at the plates everything is reversed, and when cleaned with vinegar, they really look pristine. Some unknown person apparently evaluated the haul as being worth $10 million dollars – and they've been cataloguing and cleaning all of these things – and… well, I wish them the best of luck.
You got an old style printing press – you could print up vintage ads all day long, and still never quite get the $10 million back. Dad and I sold quite a few of those over the years as curiousities mainly. The being in reverse bothered people, I just told them to set a mirror behind it and with face facing it, and that seemed to seal the sale. But this is a truly tremendous archive of these things. They belong at an Advertising school or an arts school. It is a long history of the medium never explored at this detail before.
And that's it. Tomorrow I see Terrence Malick's new film SONG TO SONG and see Ridley Scott introduce ALIEN! Giggle. BRING IT SXSW! I'm fired up!
Keep it cool,
Harry