Hey everyone. Capone in Chicago here.

The idea behind the horror anthology XX seemed simple enough. In an effort to capitalize on the current wave of female-directed horror breakthroughs—such as Karyn Kusama's THE INVITATION, Ana Lily Amirpour's A GIRL WALKS HOME ALONE AT NIGHT, Jennifer Kent's THE BABADOOK, and even another recent festival highlight, Julia Ducournau's RAW—the makers of XX wanted to assemble the first-ever horror anthology (like the recent ABCs OF DEATH and V/H/S films) with all components directed entirely by women. Gathering such filmmakers as Kusama; Roxanne Benjamin (who directed a section of another recent anthology, SOUTHBOUND, and also produced the first two V/H/S movies); producer Jovanka Vuckovic (who directed the short THE CAPTURED BIRD and was essentially the ringleader for gathering talent for XX); and first-time director Annie Clark (better known by most as the musician St. Vincent), XX also features truly creepy interstitial stop-motion animated work from Mexican filmmaker Sofia Carrillo.

The film had its world premiere at Sundance last month to largely positive reviews, and I hope that gives the film the boost it needs to make a second installment happen. I had a chance to sit down with four of the five XX filmmakers (Kusama was not in town), and we chatted briefly about their individual segments and a bit about the place of women in the current horror landscape. Please enjoy this truly fun conversation…





Capone: I know you originally had an almost entirely different group of filmmakers lined up for this project, Jovanka, so I can't even imagine what a daunting task it would be to have to start from scratch, with the exception of yourself and Sofia. Talk about the logistics of pulling this group together.

Jovanka Vuckovic: It was really, really—we thought it would be so easy. "This is going to be easy. We're going to make a list of 10 women, and we're just going to go down the list, and it's going to be so easy." But then some are working, this person is not available, and you start going down further. Then this person is not considered enough of a name or whatever, and it just became more difficult. And then we would lose a director to her just being very busy, which is great, right? We want that. And then having to find another one sometimes actually took months.

We were in talks with Rose McGowan at one point to direct something. And we really wanted to reach out to the Wachowski sisters, because we thought it would be great to have some representation, right? So it was very time consuming, but we weren't going to let it stop us. We could have caved and said, "Oh, fuck it. We'll hire a couple of guys and just put it out there as a horror anthology. That's fine." But we'd committed to the concept, because it is a political statement a bit, because there were no all-women horror anthologies, and now there is. So in that way, it is a political statement. In the end, we just want to tell stories. That's really all it is. We just want to tell stories and have access to tell those stories as freely as anyone else does.

Capone: How did Annie's name get into the mix? Did you put it out there that you were interested in directing something for the first time?


JV: That was Todd [Brown, producer].





Annie Clark: Yeah, Todd. I guess we had a mutual friend in Sufjan Stevens, so he thought of me and reached out.



Capone: What was your initial reaction?



AC: Yeah, my initial reaction was—I mean, the best things that have happened to me in my life have been things that I was afraid of but said yes to anyway.



Capone: So fear is a motivator for you at times?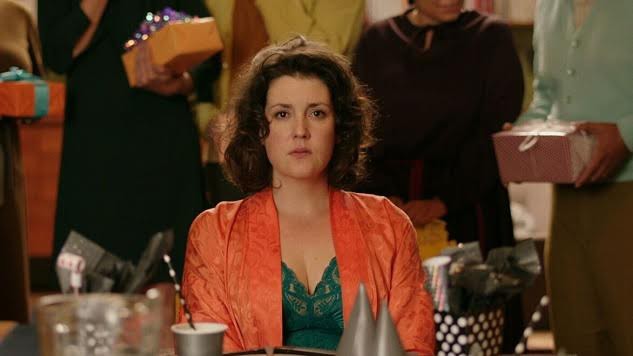 AC: Yeah! I have a limbic brain that's deeply confused, so if you're afraid of everything you just say yes to everything. Also I was going to say, I'm new to the film world, and it's just an incredibly rare situation where someone in music—no one just says here's a bunch of money, go do something creative, and don't pay us back. It was a whole new world, and I'm very glad that I said yes to it.



Capone: I've talked to musicians who have taken a stab at acting in the past, and it's funny, because sometimes they're like the kings or queens of whatever musical genre they're in. But when you step into acting, or in your case directing, you're just like a student out of film class. Was that daunting to be the least experienced of the bunch?



AC: I wouldn't say daunting. Roxanne was on as a producer and co-writer from the beginning, and I have done enough creative projects to know that everything's about collaboration, and if you don't know how to do something, get someone in your corner who really does. That's the most exciting thing too, to learn and get a team in there that raises the bar of the whole thing. So Roxanne held my sweaty little palm though the whole process.



[Everyone laughs]

Capone: Most of these stories have a family element to it—a family member protecting another family member—but more importantly, each one embodies a very different style of horror. If you had gotten two directors who wanted to make a monster movie, what would you have done? Were you cognizant of the fact that you wanted to make each segment different, or was it a complete crapshoot?



Roxanne Benjamin: We all just had different kinds of stories that we wanted to tell. It all comes from that same place of "What's the anxiety or fear or thing that's motivating you in this story right now that you feel like you have to like vomit out into the world?" That's just how the chips happened to fall. I think if they were more similar tonally or in subject matter, they would still feel completely different, the same way that you could have like the same story told by two different people no matter what. It's filtered through so much internal gunk that it's always going to come out completely different no matter what. Even if we all worked out the same script and told the exact same story, it would be so different.





JV: Actually, that would be kinda fun.



Capone: That's the next anthology.

[Everybody laughs]

JV: Everybody does the same script and sees how wildly different the execution is. John Landis always says "There are no new ideas; it's all in the execution." Right? But we didn't talk to each other, to answer your question. We didn't talk to each other about what we were doing. Todd and I knew what everyone was doing, because we were working together on it. So I didn't read her script but I knew the kind of movie she was making. We were like "Yeah, yeah, that's good."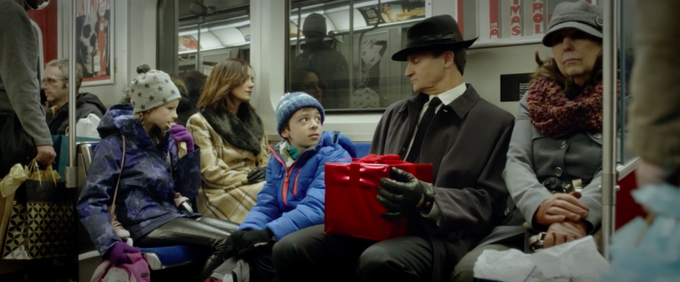 We didn't want to have four existential horror movies or four horror comedies. We wanted a mix. When he suggested Annie, he was like, "I think this is a really exciting choice, because who knows what she's going to come up with. It could be anything. " We kind of know what Sofia's going to do. And he knew I was going to do THE BOX, and mine would be more of a Twilight Zone, creeping-dread-type movie, but hers was the wild card. We had no idea what she was going to do.

Capone: In terms of the animation, did you have a sense of what everybody was doing? Did you try to stylistically line up what your work with the theme of each of the other films?



Sofia Carrillo: I wanted to, because [my work was] before each short film, so I wanted to give kind of a summary of the story. But no, it was like a phrase. It was like a strange synopsis of the short film you are about to see. But it became very difficult because, as Jovanka has said, the names of the directors begin to change as did the stories, so I had to say "In Todd we trust."



[Everyone laughs]



SC: I trusted all the time in Todd to guide. I was like, "I don't know what's going to happen."





JV: All she had were log lines—one sentence.





SC: Yes, it's like Karyn mentioned something about ROSEMARY'S BABY and what happens if the boy grows up.



Capone: Annie's is the least traditional horror story, but you've still got the elements there, but you're playing with them in a really unique way. To me, it feels European from the '60s or '70s—something about the color, the costumes It's almost like it's taking place on another planet.



AC: Alright! Yeah, stylizing the film was really important. I took a lot of inspiration from this book called "Toilet Paper," which is just this immaculate but absurdist furniture and design, people as chairs. So the shot in my mind that we kept calling the Magna Carta shot was based on a still photo in this magazine called "Toilet Paper," where it's this immaculate living room, these beautiful Italian-designed sofas, and then there's someone's feet sticking out from under the rug. It's just like "Yep, that looks like life. That resonates with me." It's just morbid and absurdist.





JV: You described it once yesterday in a funny way. You said it was WEEKEND AT BERNIE'S meets…





AC: …WHO'S AFRAID OF VIRGINIA WOOLF? [laughs]





JV: Right.



Capone: I know that in the Jack Ketchum short story that yours was based on that you switched the parenting emphasis, which is a great idea. It looked like to me that the dad was the one making the meals?



JV: She's the one that works, and he's the one that's staying home writing the great American novel, right?



Capone: And making these elaborate meals that no one's eating.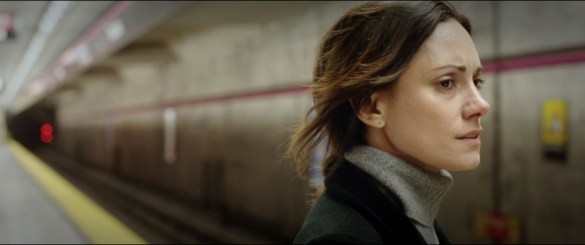 JV: We had to to fit the mandate of the anthology. Otherwise, I would not have been able to adapt the story, and I asked Jack for his blessing, and he gave it to me and he loved it. He said "You absolutely captured the spirit of this story entirely," and we just switched the genders of the parents. When he wrote it and he's a man, so from his experience, it was the dads who went to work and were lousy at making connections with their kids because they're too busy and have other things on their minds, their career or whatever. So I turned it around.





AC: Yeah, it's a really interesting choice and challenge to make the protagonist this flawed person who has no connection to her kids, and you see that unravel. But the challenge of making an audience still like her and care—





JV: She's playing a role. Susan is playing the role of a mother, but she's not very much like one, but she plays the role very well. She's always nice, neatly impeccably dressed, her hair is perfect, she's got these pins. So she plays the role very well. And I've met a lot of women like this in my life—a lot of women like this. So people have said to me, "That's not how mothers would behave." And I'm like, "Bullshit." [laughs]



Capone: Because every mother's exactly the same.



JV: You haven't met my mother. [laughs]



Capone: But by changing the sex of the lead character, you're basically saying "Look how easy it is to do this. This isn't like rocket science. We can do this with other stories."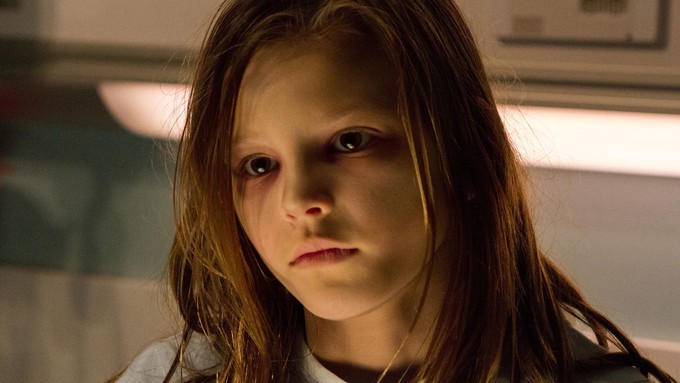 JV: I get a lot of scripts, and I always that's the first thing I suggest is "Can I make the protagonist a woman?" And they're like, "I don't know…" "Why is that a problem? Ridley Scott did that with ALIEN, and it was not a big deal at all." He didn't change anything else about the script, he just made Ripley a woman instead of a man. He didn't change the way she had to behave or how she interacted with her crew mates, or how she responded to stress, because that's just who she is, right? Nine times out of 10, they say, "No, I don't know how I feel about that." So then I pass, because if you can't switch it out for a woman, then I'm not really interested.



Capone: I almost think it makes it more, in the case of your specific story, interesting, because that's not usually how we see mothers portrayed.



SC: Definitley not in a horror movie.



Capone: So those of you who have not made a feature yet… Sofia, you haven't, right?



SC: No, I haven't. It's going to take me like 10 years with animation [laughs]. But I'm going to do it.



Capone: For those of you who haven't made features yet, are you raring to go?



JV: Oh, yeah. I'm more than ready.



Capone: Annie, is this just like a one-time thing, or have you got the bug now?



AC: I've got the bug.



JV: And I'm not waiting. I've played my cards very carefully. I could have directed plenty of features by now if I wanted to make WRONG TURN 7, do you know what I mean? A lot of the scripts I get are shit, or they're about dudes, or the women that are portrayed in them are portrayed not as human beings, so I pass, especially if they're not interested in me making the women an actual human being in the story.

So I've just been patiently developing my own stuff, and XX was one of the projects. I have a couple of features—one that I've written that is hopefully going to go to camera next year, and I'm also directing a sci-fi action, apocalypse film with kids next year, that's also written by a woman, produced by a woman, directed by a woman and stars two young girls as the leads, and one of them is gender queer. It's a great little love story. It's a post-apocalyptic love story. A coming-of-rage love story.

Capone: Once this gets out there and people see it, would you and Todd try to do it again?



JV: Yeah, that was always the goal to make sequels with this. The whole idea was that we would get a couple of well known names and sneak in some up and comers, so that would be the format. So if XX is successful, I think absolutely he wants to do sequels, and it will be the same thing. It's always been about trying to create opportunities for women where there are very few.



Capone: See that? You're an up and comer.



AC: Yeah! Who knew? [laughs]





JV: From the beginning, I was the up and comer. I was the least experienced woman of the bunch. It evolved over time to become something else, and so I wasn't like "We're going to give Annie this opportunity." It was a blessing that she was willing to do it.





RB: Yeah, because you're working with someone who's already an artist. They're just expressing their art in a new medium. The language is already there, it's just like "What's the interpretation in this?" I had never worked with a first-time director before, and she was great at it right out of the gate and knew how to talk to the actors. It was just like learning the sea legs of set, then it was like "We're off and running." I feel like her piece is extremely visual and extremely stylized in a way that is a very unique look on horror that might not have been that way for someone who was coming from another side of the arts. So it's really fascinating to me.



Capone: Well best of luck with this. Thank you so much, it was great to meet you.



AC: Great to meet you.





JV: I hope you enjoyed some of it. [Everybody laughs]



-- Steve Prokopy
"Capone"
capone@aintitcool.com
Follow Me On Twitter