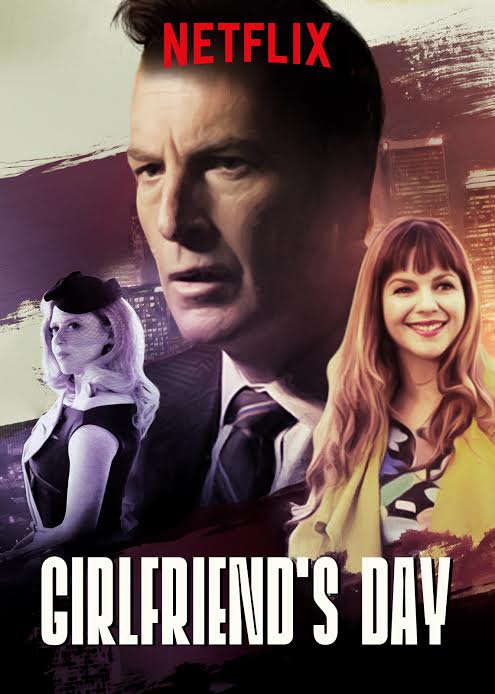 We've all done it. You trudge into the local drug store to grab a quick greeting card for whichever birthday, baby shower, graduation, anniversary, or made up "Hallmark holiday" you are celebrating, but you get sucked in for longer than you had planned searching for the perfect card to match your sentiment. After narrowing it down to a few finalists, you eventually choose the card that fits the occasion as well as the recipient, and you are on your way with your pre-fab tidings in hand. Did you ever stop to think who might have written the various missives over which you just poured? Who are these writers that are capable of perfectly capturing so much emotion and intention in just a few (and sometimes only one or two) beautifully crafted sentences? Such is the underlying theme of the new Netflix Original Film GIRLFRIEND'S DAY starring Bob Odenkirk, where a writer from a greeting card company is suddenly sucked into the unexpected underbelly of the otherwise innocuous industry.


The film begins with Odenkirk's Ray regaling his younger co workers with tales about his early success in the world of card writing. Very soon, however, it becomes apparent that Ray's glory days are long gone. A crippling case of writer's block has taken hold ever since his wife left him for a competing card writer a few years prior, and the inspirational nuggets he once channeled are now far behind him. Following a hand injury, Ray's career takes an even bigger nosedive leaving the self-proclaimed poet so desperate for a buck he begins selling off his stuff and babysitting his landlord's nephew to avoid eviction. When the governor announces the official observation of the new "Girlfriend's Day" as well as a greeting card competition in commemoration of the new holiday, Ray's luck turns around as his once-legendary skills are now being sought after by a number of increasingly questionable parties. As madness ensues, Ray finds his new muse but is left questioning the merits of extolling his romantic notions to a blank page instead of a living, breathing human.


Michael Paul Stephenson's (BEST WORST MOVIE, THE AMERICAN SCREAM) narrative directorial debut is a quirky look at the type of writer for whom the average person gives little to no thought, yet pays for their words to convey intense emotions they would otherwise be unable to communicate themselves. Stephenson does a terrific job of guiding the story along in a straightforward manner even when the plot starts to lean toward the absurd. With a supporting ensemble cast including Amber Tamblyn, Stacy Keach, Natasha Lyonne, and Andy Richter among others, Stephenson also proves himself capable of collaborating with an amazing amount of talent without compromising the momentum and plight of the film's protagonist.


Bob Odenkirk as Ray exudes just the right amount of hangdog energy without delving too far into the pathetic. Though he may be down, he's nowhere near out, and Odenkirk balances his character's tenacity with an endearing level of sensitivity that keeps the audience rooting for him throughout the film. Orbiting around Odenkirk as the story unfolds, numerous supporting players chew up the screen in various secondary, off-the-wall roles that keep the audience guessing. From Ray's dejected coworkers, his hard-talking landlord, the lady love who sparks his inspiration once again, to a pair of "former racists", GIRLFRIEND'S DAY is wall to wall with hilarious and fascinating characters from all walks. Think the Coen Brother's THE BIG LEBOWSKI or even A SERIOUS MAN but with a lighter noir vibe.


With a quick running time of 65 minutes, GIRLFRIEND'S DAY is the perfect antidote to the bevy of other romantic fare littering the landscape this time of year. It's a sort of UN-Valentine's Day Valentine's Day movie, if you will, with the sensibility of a sweet love story in the context of a wacky underdog tale. GIRLFRIEND'S DAY premieres today on Netlfix and is a perfect way to celebrate Valentine's Day with or without a sweetheart. Check it out!


Rebecca Elliott
aka Annette Kellerman