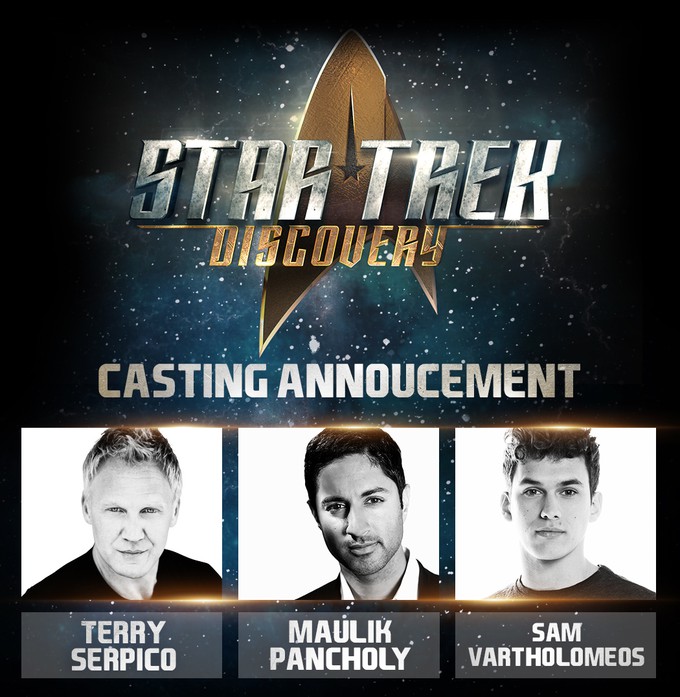 A long-ago teaser promised us new "crews" for CBS All Access' new sci-fi drama "Star Trek: Discovery" and it's becoming clearer that the "s" at the end was no typo.
The action will shift between at least three starships, the titular Starfleet vessel Discovery, the Starfleet vessel Shenzhou and an unnamed Klingon vessel. Kind of the way the action shifts between King's Landing, Meereen and Castle Black in another series with a lot of episode-to-episode continuity.
Casting for three new members of Starfleet were announced Monday:
1) Terry Serpico will star as "Admiral Anderson," a high-ranking official of Starfleet. Serpico's credits include "Army Wives," "Rescue Me" and "Sneaky Pete."
2) Maulik Pancholy will star as "Dr. Nambue," the chief medical officer of the Starship Shenzhou. Pancholy's credits include "30 Rock" and "Weeds."
3) Sam Vartholomeos will star as "Ensign Connor," a junior officer fresh out of Starfleet Academy assigned to the Starship Shenzhou. His credits include "The Secret Life of Walter Mitty" and "The Following."
Previously cast:
* Sonequa Martin-Green ("The Walking Dead") will play Starfleet Lieutenant Commander Rainsford, the lead character on "Star Trek Discovery."
* James Frain ("Gotham" "24," "True Blood," "Agent Carter," "True Detective") will play Sarek, father of Spock.
* Michelle Yeoh ("Crouching Tiger, Hidden Dragon") will play the Shenzhou's Capt. Georgio.
* Doug Jones ("Falling Skies," "The Strain") will play Lt. Saru, a Starfleet science officer and a member of a species new to the Star Trek universe.
* Anthony Rapp ("Rent," "The Knick") will play Lt. Stamets, a gay astromycologist, fungus expert, and Starfleet science officer aboard the Starship Discovery.
* Chris Obi ("Roots," "American Gods") will play T'Kuvma, the Klingon leader seeking to unite the Klingon houses.
* Shazad Latif ("MI-5," "Penny Dreadful") will play Kol, the Commanding Officer of the Klingons and protégé of T'Kuvma.
* 6'0" Mary Chieffo will play L'Rell, the battle deck commander of the Klingon ship.
The premiere date for twice-postponed "Star Trek Discovery" is still up in the air but I'd wager it will happen along sometime this year. The new series is set a decade before the events of the Kirk-Spock "Star Trek" NBC aired in the late 1960s.