Hey folks, Harry here... The below review of Danny Boyle's T2 aka TRAINSPOTTING 2 comes from RENI... Now RENI is a UK secret agent/scoundrel type that has written on and mostly off AICN for going on 18 years or so now. If you lived in our chatroom from the late 90s through about 2008 or so, RENI was in the chatroom seemingly always. When he heard he was going to see T2 with Danny Boyle to introduce and do a Q&A, he contacted me to see if I'd like his views. ABSOLUTELY! This goes out to the rest of you... Whenever you see anything early, drop us a line. Any of us here on the site, we love communicating with you dear readers about this shared passion of ours... the movies! Now - here's RENI on T2....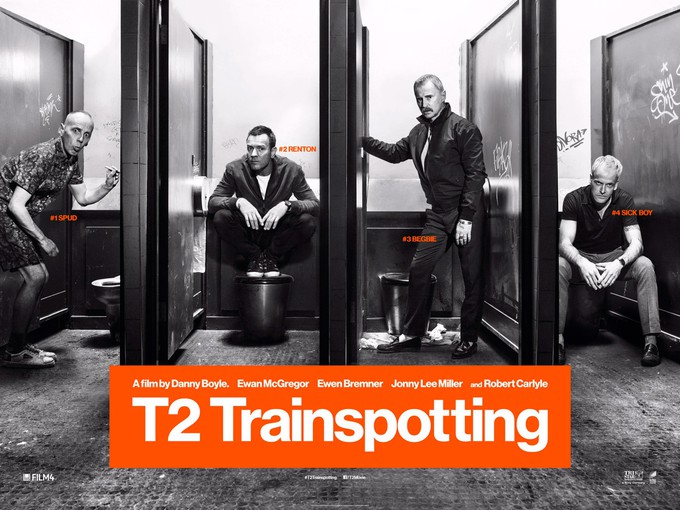 "… The majority of people in this country take drugs… like getting up and having a cup of tea…" – Noel Gallagher

Didn't realise how much I'd missed these 'doss cunts'. The stupid, hapless boy-men of Trainspotting: Renton, Sick Boy, Spud and Begbie; returning after twenty odd years to clean up the mess they left at the end of the first film. But I admit it – I really missed them.

It's impossible now - after all this time - to expect T2: Trainspotting to have the same impact the original film had back in '96. The soundtrack, the poster, the 'Choose Life' slogan mainlined straight into the cortex of the Brit Pop scene.

What T2 does succeed at is capturing the spirit of the original. The same punk energy, the same familiar characters slipping back into bad habits. It also explores new themes, as well. The importance of fathers – good ones and bad ones - and friendship - which men don't seem to be very good at - is central to the plot.

In the film, Renton (Ewan McGregor) is back in Edinburgh from Amsterdam, where he escaped with £16,000 of drug money. Spud (Ewen Bremner) is trying to stay off drugs and failing miserably. Sick Boy (Jonny Lee Miller) is using an Eastern European Madam (Anjela Nedyalkova) to extort money out of her clientele. Begbie (Robert Carlyle) is an escaped convict – hell-bent on revenge after Renton ripped him off at the end of T1.

The first 30 minutes retrace old steps. Familiar music cues. The teasing of The Prodigy's remix of 'Lust For Life'. No Renton narration either, this time. That's because he's not the main character. Instead, the film focuses on the child-like Spud, writing his memories of the original Trainspotting on messy, yellow legal pads.

Boyle and his editor, Jon Harris (127 Hours, Kingsman), do great work keeping the humour and energy levels up. The film is pretty hilarious all the way through. The cast are on good form, too; especially Bremner (the heart and soul of T2) and Miller (roguish as ever).

Perhaps we've seen too much of McGregor (and Carlyle, too) in the intervening years. They look too familiar as themselves. Not as characters. And there is a sub-plot about using an EU grant to turn Sick Boy's pub into a brothel which feels over worked – by the way, this is a loose adaptation of Welsh's sequel novel, 'Porno'.

Overall, though, T2 is good, not perfect. It's more introspective than you might expect - more mainstream, too. And while the film probably won't have much impact in the short run, I think it will improve on repeat viewings.

At the Q&A I went to last night, Boyle mentioned the possibility of making a third film out of Irvine Welsh's Begbie-centric shorter novel, 'The Blade Artist'. I hope he does. It was good seeing the old gang back together again.

RENI
For those of us Stateside, we won't see this till March 17th... Boy, I can't wait!!!
Keep it cool,
Harry