Mel Gibson!
Known to Chinese audiences for his role in Braveheart, Oscar-winning director and actor Gibson was invited to join the production of The Bombing by leading Chinese producer and director Dr. Shi Jianxiang, founder and CEO of Shanghai Kuailu Investment Group. "Mel is interested in what happened during that period of time, and provided relevant suggestions on how to make the movie," said Dr. Shi. "He is very insightful."
…says a press release, the whole of which can be found HERE. The issuance goes on to explain that the picture is…
…based on the bombing of Chongqing by the Japanese air force in World War, and portrays the hardship suffered by Chinese people at that time. Of all the major air raids throughout WWII, the bombing of Chongqing is the only one that has not been featured on screen…
…and that…
Oscar-winners Vilmos Zsigmond (Close Encounters of the Third Kind) and Ronald Bass (Rain Man) were invited to join the production as photography consultant and screenplay consultant respectively.
Despite the ongoing controversy surrounding Gibson, I truly do think he's a remarkable talent. While his becoming an 'Art Director' is certainly an unexpected turn, his tremendous appreciation for dense, detailed design and visual texture is clearly evidenced in his historical films. His intuition for how to capture such qualities on-screen makes such a turn…strangely logical. If not 'logical,' at least compelling?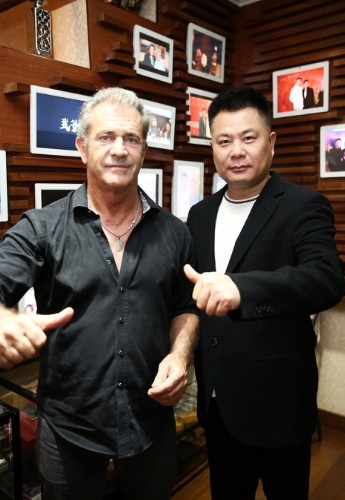 [Gibson & Dr. Shi Jianxiang]
————
Glen Oliver
"Merrick"
- e-mail
- Twitter