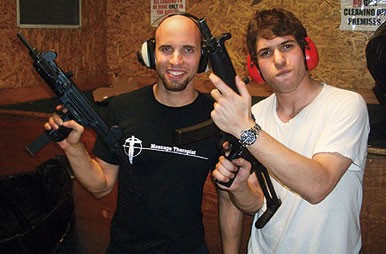 Warner Bros. is giving Todd Phillips the go-ahead on his Jesse Eisenberg/Shia LaBeouf comedy called ARMS & THE DUDES. The flick, written by Jason Smilovic (LUCKY NUMBER SLEVIN), is based on this Rolling Stone article by Guy Lawson about two stoner-y 20-somethings who got involved in a $300 million arms deal.
Yes, those two guys in the above pic.
Phillips has been developing this for a while, and it's not hard to see why it's an attractive project, especially given its resemblance to the sorta similar and absolutely terrific WOLF OF WALL STREET. Pairing Eisenberg and LaBeouf could prove to be something far more interesting than, say, Taylor Kitsch and Aaron Taylor-Johnson in SAVAGES. They both have very specific, manic energies, and watching them bouncing off of each other could be interesting. Liking them as these characters is going to be crucial if we're going to have to watch them for a full movie.
This sounds like exactly the kind of more-serious project that Todd Phillips has clearly been aching for while pumping out lame-o HANGOVER sequels. Hope he finds his footing after struggling with those big, loud, unfunny "crowd pleasers".
And hopefully, Shia's newly-restored jones for acting comes along with an uptick in talent and screen charisma; though I feel for the man and his troubles, I can't pretend I'm as big of a fan of his work as Eisenberg's. But hey, who knew Rob Lowe was funny in the '80s?