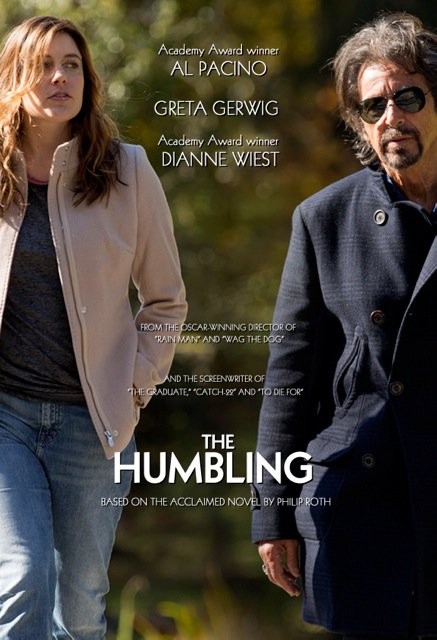 The trailer for Barry Levinson's THE HUMBLING has come out, and I don't think many of us were aware of just how stacked a cast and crew this flick is boasting.
The latest film by Levinson (legend behind DINER, AVALON, and GOOD MORNING, VIETNAM) is based on a book by Philip Roth (The Human Stain, American Pastoral), which was adapted by Michael Zebede and BUCK HENRY (THE GRADUATE, TO DIE FOR), and stars Al Pacino, Greta Gerwig, Dianne Wiest, Kyra Sedgwick, and, in his first big screen role since '06 (and only his second in the past 20 years) CHARLES freakin' GRODIN!!
*ahem* But yeah, this story has Pacino as an over-the-hill actor hunkering down and trying to get his bearings so he can have some peace in his twilight years. Along the way, he enters into an affair with the daughter of a friend (Gerwig), who has lusted after him since childhood even after coming out as a lesbian.
The content of the trailer doesn't quite live up to that list of talent, but I'd bet Pacino had an easy time relating with this actor who, after decades of fame, becomes conflicted between his persona as a performer and his real, human personality. Levinson got a great latter day Pacino performance for YOU DON'T KNOW JACK, and Henry, Roth, and the cast are all well-proven artists, so I'm holding out hope that the story, the jokes, and the romantic chemistry come off stronger in the film than they do in this trailer.
But I'll be seeing it anyway, if only to see if Pacino-Grodin can even land in the same ballpark as De Niro-Grodin.
THE HUMBLING should appear on U.S. screens sometime late this year or early 2015.
-Vincent Kim-Zahedi
"Papa Vinyard"
vincentzahedi@gmail.com
Twitter