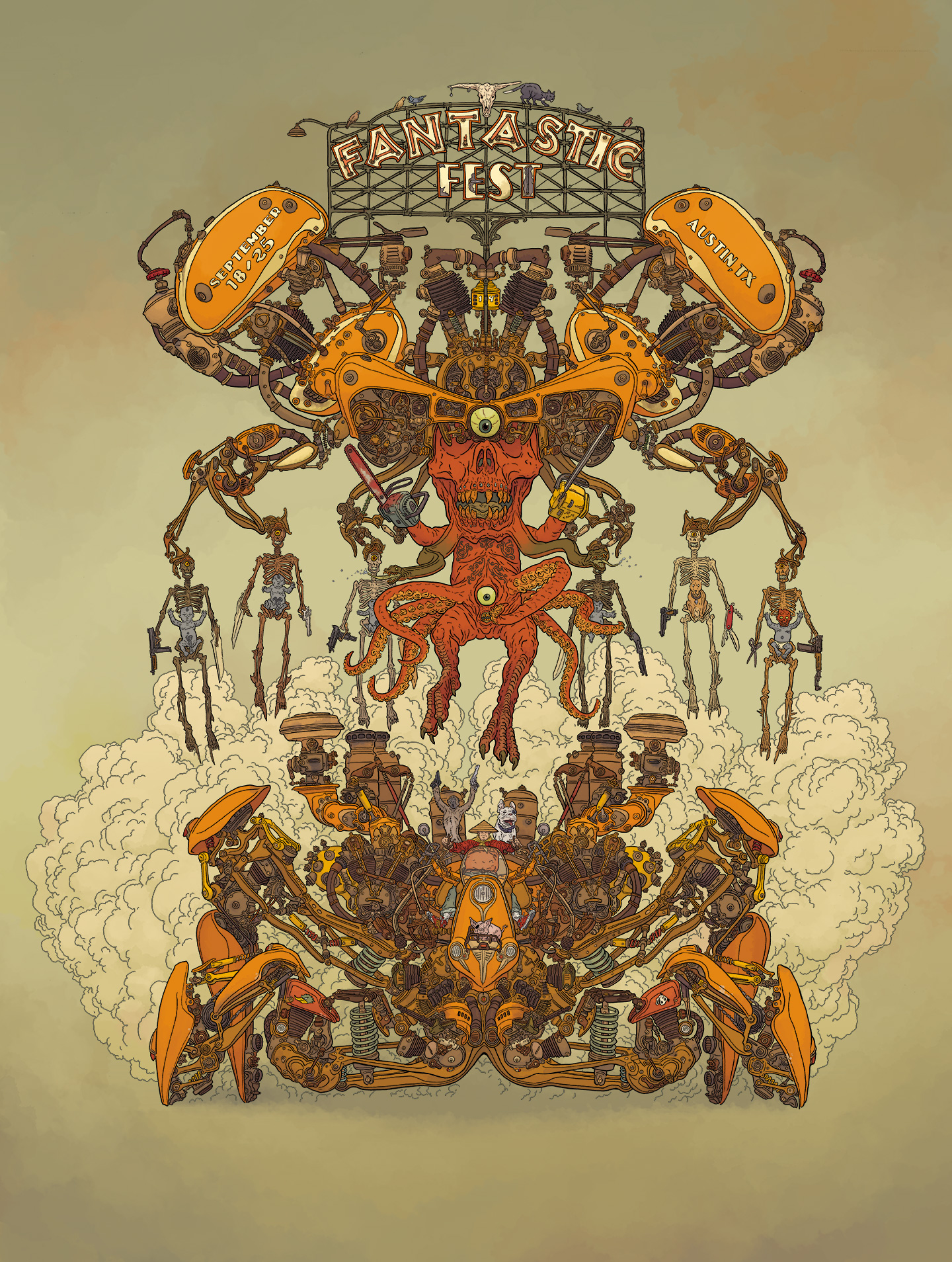 Nordling here.
I can't wait for Fantastic Fest. Just three more weeks of going through the daily slog, and then it'll be karaoke, parties, and movies, movies, movies. Some great films were announced for the second wave of programming, and I found as many trailers I could find. Sadly, there are no trailers yet for JOHN WICK, ELECTRIC BOOGALOO, and a couple of others, and some of these trailers do not have translation on them, but the imagery alone sells many of them to me. I'm happy that Keanu Reeves is returning to Fantastic Fest this year - I imagine he dug the vibe of the fest last year, and who could blame him? It's a pretty joyous event, and I'm excited to see JOHN WICK. We get a new Studio Ghibli this year, and THE TALE OF PRINCESS KAGUYA looks amazing and unlike any Studio Ghibli film so far.
We're getting a new Takeshi Miike horror film, and OVER YOUR DEAD BODY, even without translation, looks terrifying. We also get a new Sion Sono film, TOKYO TRIBE, and with his loyal following at Fantastic Fest, I imagine that one will be a tough movie to get into, especially since it appears to be a... yakuza musical? That one should be a blast. I'm really liking the intensity and creepy factor of many of the European films playing this year, and we get Stellan Skarsgård as a hitman in IN ORDER OF DISAPPEARANCE. That one looks pretty great. Of course, we also have the return of the kickass Marko Zaror in REDEEMER, and Dan Gilroy's NIGHTCRAWLER closes out the festival in grand fashion. Finally there's WASTELANDER PANDA: EXILE, which must be seen to be described. That one I have to see.
Fantastic Fest starts September 18th and runs through the 25th. It's going to be a hell of a year. Here are some of the trailers for the second wave of programming!
THE ABSENT ONE
AS SEEN BY THE REST (ULIDAVARU KANDANTE)
THE CREEPING GARDEN
DEAD SNOW 2: RED VS. DEAD
THE EDITOR
FORCE MAJEURE
FREE FALL
IN ORDER OF DISAPPEARANCE
MAN FROM RENO (Kickstarter Video)
NECROPHOBIA 3D
NIGHTCRAWLER
OVER YOUR DEAD BODY
PURGATORY
THE TALE OF PRINCESS KAGUYA
TOKYO TRIBE
THE TREATMENT
WASTELANDER PANDA: EXILE
WHISPERS BEHIND THE WALL
Nordling, out.